News & Announcements
TFS junior putting leadership lessons to work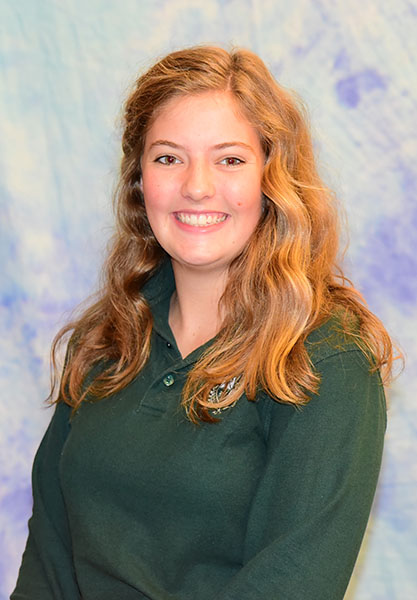 Brewer
One Tallulah Falls School junior is taking leadership to the next level this summer.
Grace Brewer of Clarkesville has been selected to serve as a junior staff member at a Hugh O'Brian Youth [HOBY] leadership seminar.
Brewer attended a 2016 HOBY session, as one of two TFS rising juniors selected to attend the conference each summer.
She is excited to "pay it forward" by putting her leadership skills to work leading her peers at this year's Northwest Georgia session set for June 2-4 at Agnes Scott College.
"It was a great opportunity to represent my school," Brewer said. "I really liked the conference last year...I liked being there with other leaders. It helped me to consciously think about getting more involved in community service."
One of the key lessons from last year was learning about personal leadership styles, she said. An exercise aligned characteristics of leaders with four types of birds – peacock, owl, eagle and dove.
Brewer learned her self-described "quiet" leadership style was that of a dove.
"I'd never thought of myself as a leader," she said. "I realized that I can be a leader. I know I'm a quiet leader."
TFS Board of Trustees Chairwoman Amy Atkinson has been involved with HOBY for many years, raising funds and providing support for events. Over the past four years, she has worked as a group facilitator.
"I would like to congratulate Grace on being selected to serve as a HOBY Junior Staff member. As a Junior Staff member, Grace will assist with event set up and clean up, greeting new ambassadors and most importantly, setting the example of volunteerism to younger peers," Atkinson said. "The HOBY experience helps young people to discover and develop their leadership abilities through service to others. Grace exemplifies the volunteer spirit by her willingness to help lead the next class of HOBY Ambassadors."
Brewer is required to raise a portion of her expenses to serve at the HOBY event. She has a neighborhood bake sale planned from 10:30 a.m.-12:30 p.m. on Saturday, Feb. 11 at 118 Swain Street, Clarkesville.
HOBY hosts leadership events for young people throughout the United States. For more information, visit www.hoby.org.