News & Announcements
Yearbook staff members earn high honors
A special delivery to the president of Tallulah Falls School came with an additional surprise.
Members of the TFS yearbook staff – juniors Grace Brewer and Abby Hulsey along with senior Julia Nichols – delivered a sneak peek of this year's annual to President and Head of School Larry A. Peevy on April 27.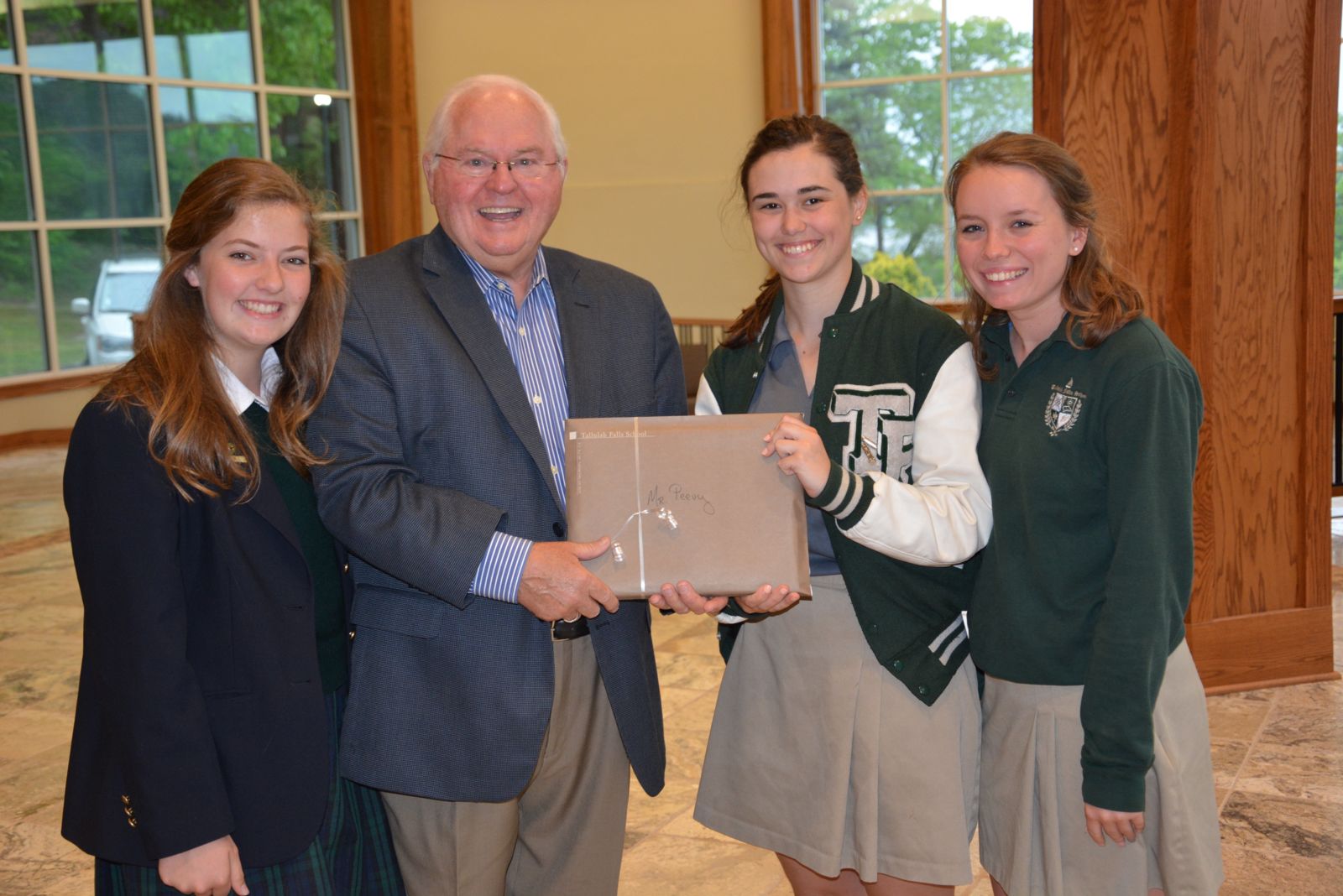 In addition to working on the largest yearbook in school history, the trio of staff members recently learned they had earned a spot on the National Scholastic Press Association Student Journalist Honor Roll.
The NSPA Honor Roll recognizes students who have worked on an NSPA member publication for two more years and have maintained a 3.5 GPA.
"All three of these students are leaders and have special strengths and talents when it comes to this class," said new yearbook advisor Shelby Day. "Julia is very conscientious and detail-oriented. She always made sure that everyone was on the right track. Grace's smile lights up the room and she easily motivates those around her. She has a natural gift for design and photography. Abby is one of the most organized people I know. She could catch minute details during editing that amazed me. We could not have made such a great book without these young ladies."
According to Day, the TFS yearbook was known as The Retrospect from 1973 to 2016. This year, the staff wanted to change the name to reflect the many changes happening in the class. In addition to Day taking on the class, she enlisted the assistance of Georgann Lanich to provide guidance on photography.
Additionally, the staff added 60 more pages to the book to expand coverage. Attention was put more into journalistic design than ever before and the staff set a goal to become recognized by student journalism associations within the next three to five years. "Legend" was chosen as the new name by a series of different steps. The yearbook staff came up with five possible names that better aligned with the school mascot and mission. A group of yearbook staffers then met with Peevy to get the names approved. Afterwards, the names were put before the student body for a vote.
---
Photo:
Brian Boyd/Tallulah Falls School
Shown, from left are Brewer, Peevy, Nichols and Hulsey.