News & Announcements
TFS names co-valedictorians and salutatorian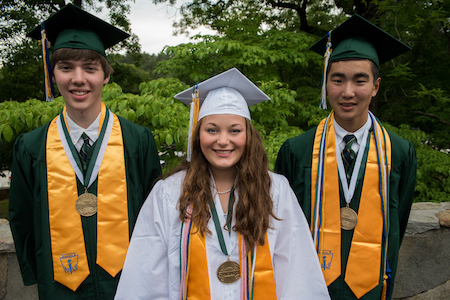 The Class of 2017 will be well represented by the top three graduates on May 12.
Thomas Draper Smith of Eastanollee and Michael Shon Weidner of Clarkesville have been named co-valedictorians and Emma Elizabeth Peacock of Dillard has been named salutatorian.
According to College Counselor Bobby Hammond, III, Smith plans to attend Clemson University, Weidner plans to attend the University of Georgia and Peacock plans to attend Georgia Tech.
"These graduating seniors embody the mission of our school," said President and Head of School Larry A. Peevy. "We are proud to have them represent the Class of 2017."
TFS Academic Dean Kim Popham said the determination for top spots came down to the last final exam.
"This is a special group," Popham said. "To my knowledge, we've never had a tie for valedictorian."
Hammond agreed.
"It's been this close for the last two years for valedictorian and salutatorian. These exceptional students all deserve the honor. In my 10 years here, I have never seen such a high-achieving class," Hammond said.
The trio will deliver remarks during commencement ceremonies, set for 2 p.m. Friday; they paused during a busy day of graduation practice and other activities to share a few thoughts about the recognition.
Draper Smith
"I never thought it would actually happen. It was something that I wanted but didn't say it. It definitely makes school feel worthwhile," Smith said. "It makes the hard work worth the effort."
Michael Weidner
"Like Draper, it feels good to know the late nights staying up doing homework has paid off and we are rewarded. It's cool and it's a nice accomplishment. More than anything," Weidner said. "I'm grateful. I didn't get good grades just because I worked hard. I got to this point because God has blessed me with intelligence and a strong work ethic. I've prayed for God to give me the will to work hard and study; He's done that."
Emma Peacock
"I didn't work for the title – I set myself up for a successful future. For me, it's that I got into a college that I didn't think I could [Georgia Tech]. Now I can continue that work ethic and continue the late nights. Like Michael, God's blessed me with a work ethic and God's going to get me through it.
All three spoke highly of the TFS experience – specifically the dedication of the faculty and staff.
"Also, speaking for all of us, I want to say thank you to our teachers; it's like a family, We respect them but they are also our friends. There's not been a single time that they haven't been willing to go out of their way to help," Weidner said.
"They care about us as much as we care about them," Weidner added.
"That's going to make it tougher [to leave]. We aren't just leaving our friends we are leaving teachers who are friends, Smith added.
"I'm sad, I'm not just leaving high school but I'm leaving the family we've created," Peacock added.
For the first time, TFS will hold commencement ceremonies in the new Student Activity Center on the campus of the middle school at 2 p.m., Friday, May 12.