News & Announcements
TFS hosts area public safety officials in advance of cycling event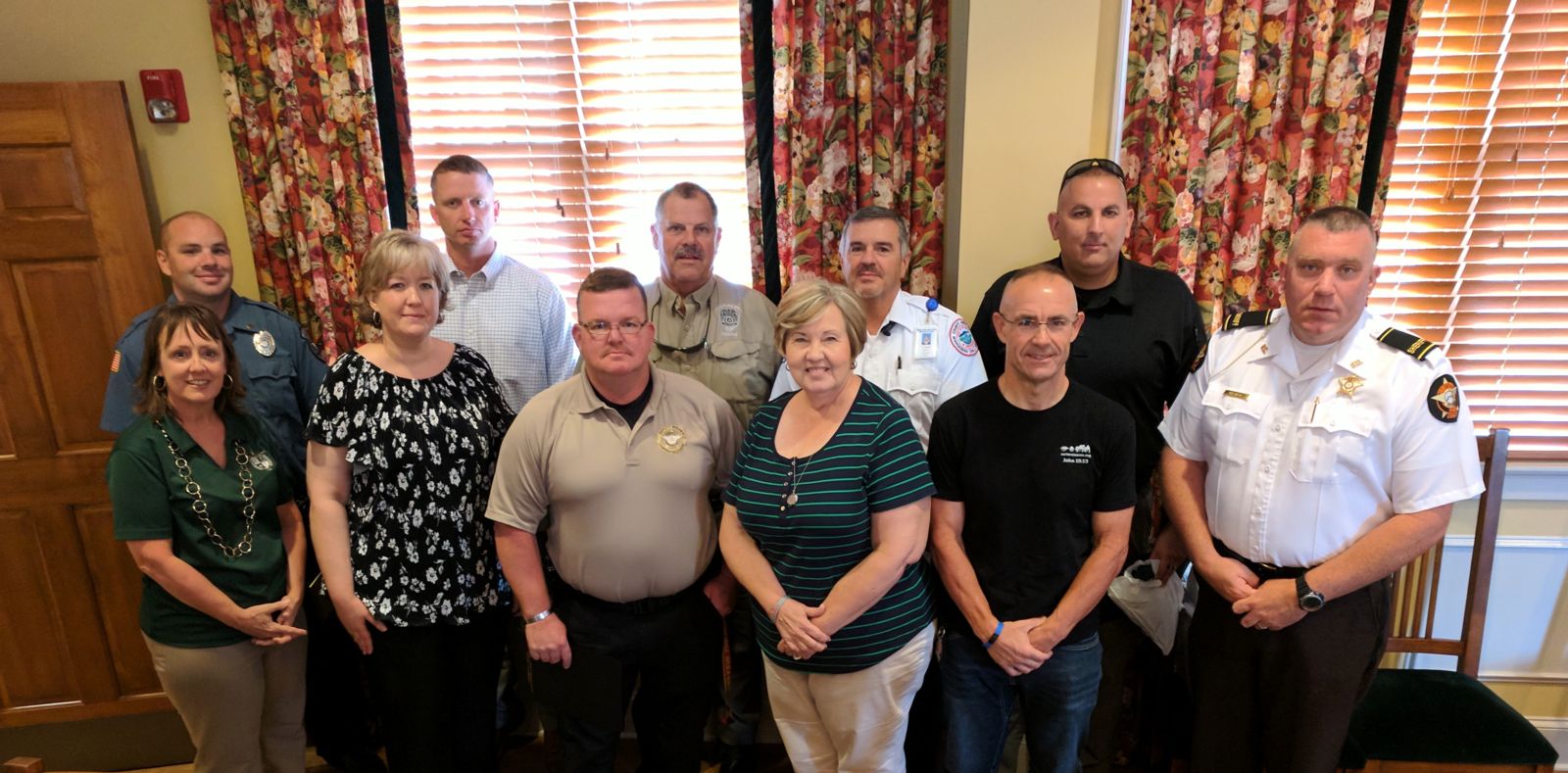 Working to ensure the safest possible event is paramount for planners at Tallulah Falls School.
Representatives from four public safety agencies met with members of the security department, the TFS Advancement Team and event co-chairs on Aug. 29 to discuss logistics, traffic safety and emergency response for the upcoming Twin Rivers Challenge, a cycling event to benefit student scholarships at TFS.
On-campus event safety efforts are led by Director of Security Dustin Rogers, with off-campus support from the Tallulah Falls Police Department, Habersham County Sheriff's Office, Rabun County Sheriff's Office, Habersham County Emergency Management Services, Rabun County Emergency Management Services and the Georgia State Patrol.
According to Rogers, safety for the riders is a top priority.
"Without the support of these community partners, we could not stage an event like this," Rogers said.
Riders at the third annual Twin Rivers Challenge can choose one of three routes – 37K, 72K and 100K. The routes take cyclists through portions of Habersham and Rabun counties, cross two rivers and provide challenging terrain surrounded by the beauty of the Northeast Georgia mountains.
During the meeting, officials discussed how to enhance the staging of the ride. At the start of the event at 9 a.m., law enforcement officials will coordinate with event planners to halt traffic briefly on U.S. Highway 441. This will allow cyclists to exit campus, cross the highway at Tallulah Gorge and quickly turn onto Terrora Circle where traffic is much lighter for the majority of the three routes, said Joey Brown, event co-chair.
All three route options return back to the school via a short segment of U.S. Highway 441, Brown said. Law enforcement officials pledged to monitor traffic throughout the event to ensure safe travel for both cyclists and motorists.
The ride is a fundraiser for student scholarships, said Dr. Judy Forbes, event co-chair and grandmother to three TFS students.
According to Forbes, 70-percent of TFS students receive some portion of financial aid. "This event helps to make a quality college-preparatory education possible for area children," she said.
All rides begin at 9 a.m. with all routes returning to Tallulah Falls School where cyclists can enjoy a post-ride meal and live bluegrass music.
Riders will be supported with SAG [Support and Gear] Stops at regular intervals on all routes.
"We look forward to extending warm hospitality to returning riders and newcomers," said President and Head of School Larry A. Peevy.
For more information about the Twin Rivers Challenge, visit tallulahfalls.org/TRC or find the event on Facebook. To register as a rider, visit active.com.
---
Cutline:
Shown, front row, from left, are TFS Director of Community Relations E. Lane Gresham; TFS Executive Director for Advancement Sonya Smith; Lt. Matt Wurtz, Habersham County Sheriff's Office; TRC committee co-chair/TFS Board of Trustees member Dr. Judy Forbes; TRC committee co-chair Joey Brown; Rabun County Sheriff Chad Nichols; back row, from left, Matt Nall, Tallulah Falls Police Department; TFS Director of Security Dustin Rogers; Tallulah Falls Police Chief Bill Goatcher; Habersham County EMS Director Chad Black; Deputy Chris Hall, Habersham County Sheriff's Office.