News & Announcements
D.A., judge bring cybersafety conversation to TFS
Published with permission by The Clayton Tribune
By Chris Stiles/Staff Writer
TALLULAH FALLS — Tallulah Falls School students were lectured on the importance of cybersafety in a presentation by Mountain Judicial Circuit District Attorney George Christian and the Honorable Judge B. Chan Caudell on Sept. 27 at the school.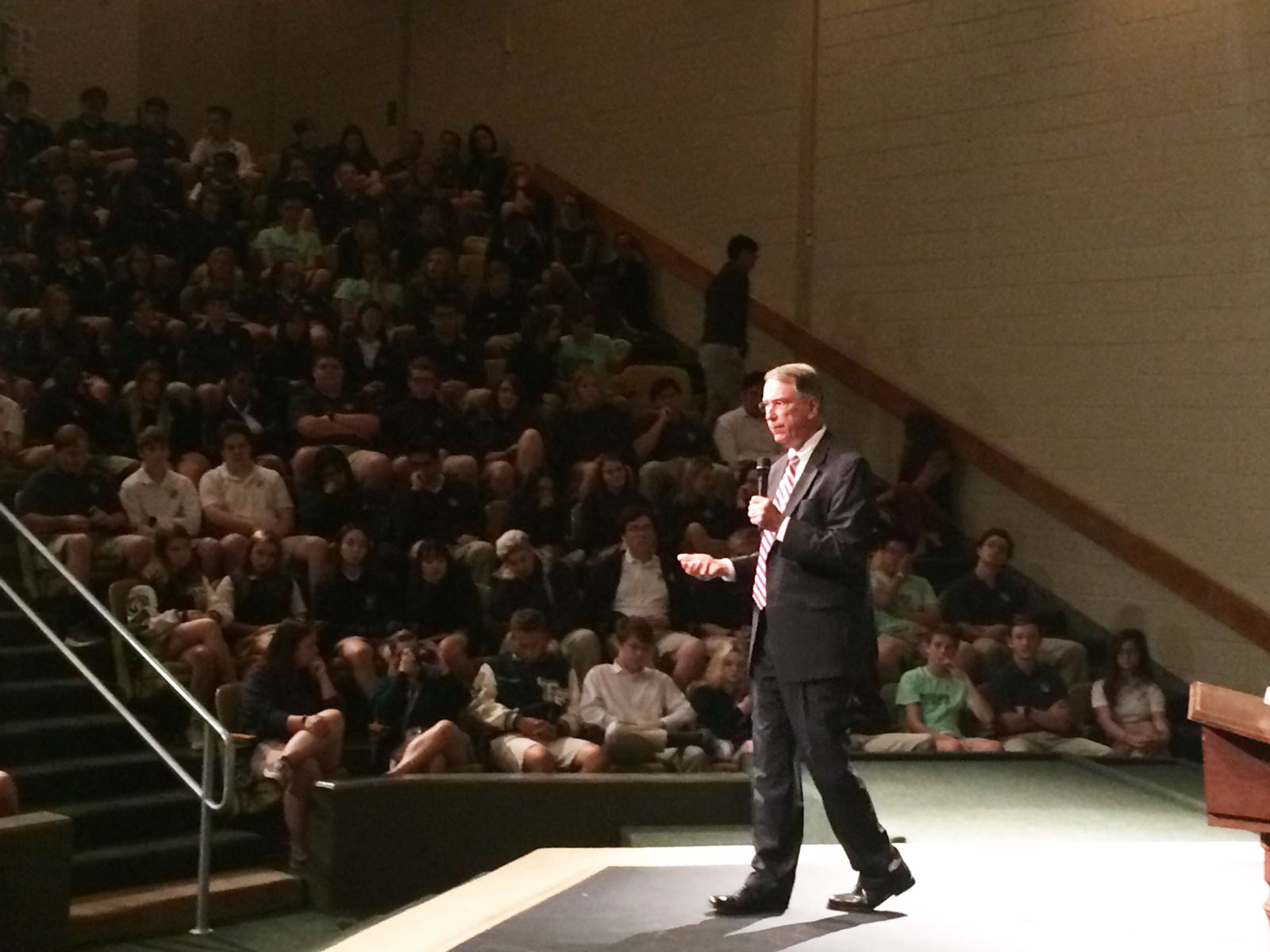 The presentation, which was given to both middle and high school students, focused on the unintended consequences of online decisions made by students. Topics covered included cyberbullying, sexting, social media and online predators.
"Cyber exposure is so much greater now," said TFS President and Head of School Larry Peevy. "The kids know how to access it much better than adults, but sometimes they don't realize the consequences, and some are not always positive. And what we try to do is not preach to them about it but educate them, through professionals like George and Chan, to the realities of their actions."
Students were also told how both colleges and potential employers browse the social media accounts of applicants as part of the hiring process.
"(I realized that) in the moment of something you have to really think about how that action is going to affect your future, because it does really affect you getting a career and getting into the college you really want to," said TFS student Abby Hulsey of Cleveland. "So it has long-term effects you don't really think about."
Christian reminded students that once something is posted to the internet, it never goes away, and that not everything on the internet can be trusted at face value.
"Young people generally are naive about the evils of the world," Christian said. "They don't have life experience by which they can judge what's going on. They don't fully appreciate the consequences of their conduct, and it's only through those life experiences that they learn that, and hopefully by exposing them to 'what ifs' and 'this is the reality of the world' you'll at least have some impact on their thought process."
The topic was important for all students who attended the event, as 42 percent of teens with access to the internet report cyberbullying each year.
"This thing has more power than the first computers that sent men to the moon," Caudell said, pulling his phone from his pocket. "And that power can change your life."
---
Chris Stiles/The Clayton Tribune
Mountain Judicial Circuit District Attorney George Christian speaks to students on cybersafety in a presentation at Tallulah Falls School on Sept. 27.