News & Announcements
Sponsors confirmed for Twin Rivers Challenge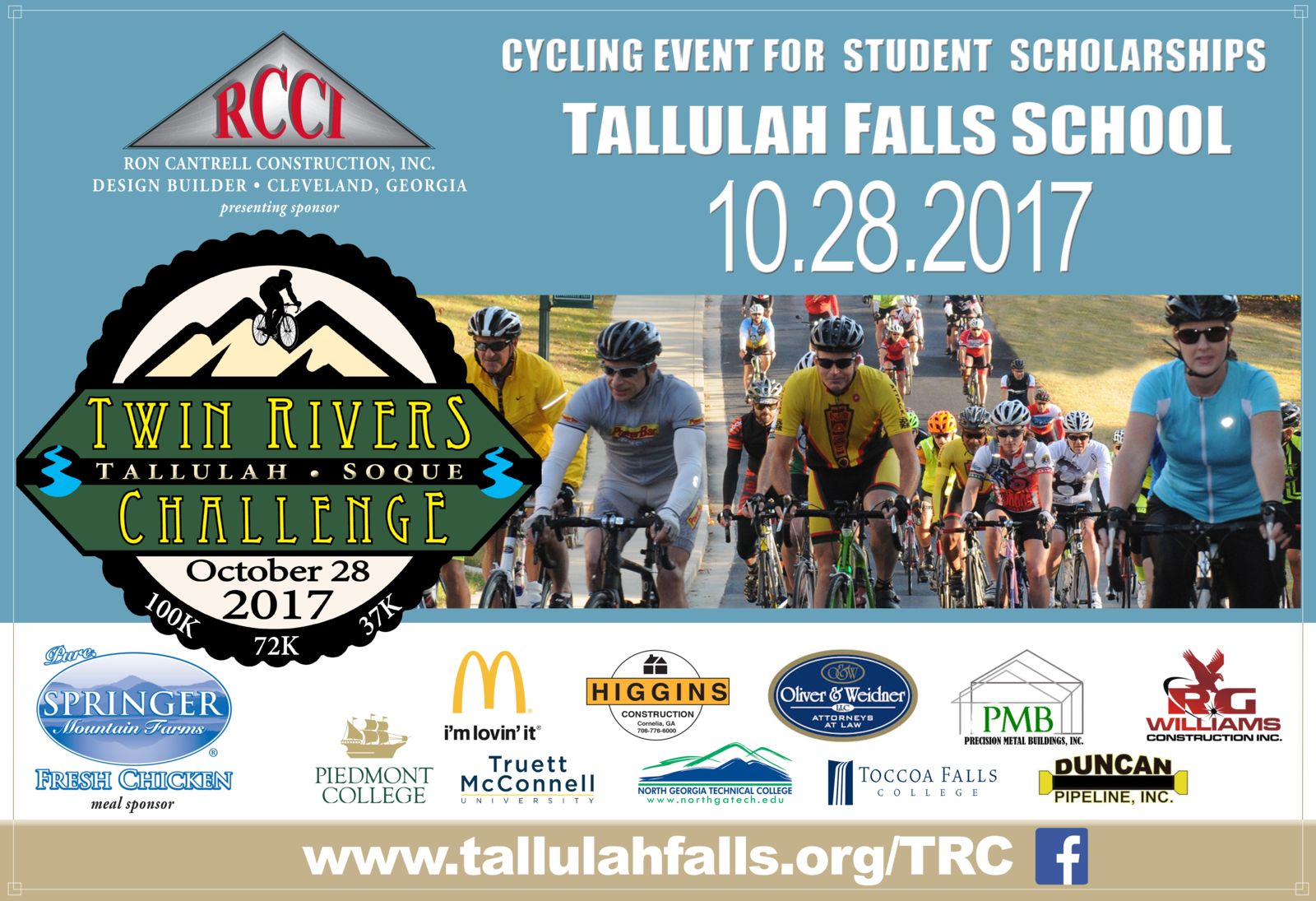 More than 110 corporate, organization and individual sponsors are now confirmed for the upcoming Twin Rivers Challenge cycling event hosted by Tallulah Falls School.
The event, set for Oct. 28, is a major fundraiser for student scholarships.
"We are thrilled with the growth of this event over the past three years," said President and Head of School Larry A. Peevy. "Thanks to the hard work of the ride's scholarship committee under of leadership of co-chairs Joey Brown and Judy Forbes, many of our existing supporters increased their commitment this year and we've added a great many new sponsors. We very much appreciate the show of support of our mission to elevate character and intellect; we look forward to greeting our riders on Oct. 28."
With Ron Cantrell Construction, Inc., making an early commitment as the presenting sponsor to cover the cost of the ride and Fieldale Farms/Springer Mountain Farms taking care of the post-ride meal, all other sponsors and supporters were assured that 100-percent of their contribution went directly to fund scholarships for motivated students.
Returning to lead the ride this year is TFS alum Chris Pic, class of 1988. Pic is a former professional cyclist.
"After spending seven years from middle school through high school at TFS, where the staff really prepared me for university and in some cases life, it is a great honor to be able to come back home to participate in a really cool event in such a great area of the United States."
Students, faculty, staff, parents and community members volunteer on ride day.
"It's a great way for our guests to experience our community's hospitality, often for the first time," said Sonya Smith, Executive Director for Advancement. "This event has become a favorite tradition for the TFS family."
The number of pre-registered riders is also increased this year, said E. Lane Gresham, Director of Community Relations.
"We expanded our promotional reach this year, and many of our registrants are returning to experience a breathtaking ride through Northeast Georgia when the region is showing off its fall splendor."
Many of the riders express appreciation for the post-ride experience, with a meal provided along with a warm serving of TFS hospitality. Again this year, live bluegrass music, performed by the Tallulah Falls Opry, will enhance time spent with friends after conquering the challenge of the ride.
"My favorite part of the ride was the enthusiastic students along the course…," said Scott E. Buwalda of Cumming, after the 2016 ride. "A bus full of students was at the intersection, absolutely losing their minds for me as I passed through the intersection... I went out fast...so by marker 59, I was a little bit fatigued. But their screams and cheers were uplifting, and were all I needed to finish strong."
In addition to the strong support from presenting sponsor Ron Cantrell Construction, Inc. and meal sponsor Fieldale Farms Corporation/Springer Mountain Farms, the following companies, individuals and organizations are confirmed for 2017.
Committed at the Platinum Level of $1,000: Duncan Pipeline, Inc., Higgins Construction, McDonald's, North Georgia Technical College, Oliver & Weidner, LLC, Piedmont College, Precision Metal Buildings, RGWilliams Construction, Inc., Toccoa Falls College and Truett McConnell University.
Committed at the Gold Level of $500: Blake Rainwater & Associates, Inc., Clarkesville Dermatology & Medical Associates, Construction Components Truss Division, Dixie Precast, Inc., Dr. & Mrs. Ronald MacBeth, Duvall Automotive Group, Edison Concrete, Ethicon, Eubank Family Dentistry, Greg & Mina Brown, Habersham County Chamber of Commerce, Hayes of Baldwin, Kenneth C. Johnson, First Vice President, Investment, Raymond James & Associates, Inc., Kevin & Taylor in the Morning, McDonald's, MCG Mechanical, Inc., Michael Mixon and Associates, CPAs, Milton Martin Toyota, Omega Technology Group, Precision Blasting, Inc., Pro Turf & Landscape Maintenance, LLC, Professional Clean Janitorial, RBC Aerostructures, Tallulah Falls School Board of Trustees, The Norton Agency, Thomas Bus Sales of Georgia, Wells Fargo, Wilkinson Concrete & Construction, Windstream and ZAP Cooling & Heating.
Committed at the Silver Level of $250: Acree Oil Company, Barbara and Ed Strain, Carl Patterson Flooring, Central Atlanta Tractor Sales, Inc., Century 21 Community Realty, Chris & Amy Atkinson, Coca-Cola Bottling Company United, Crossroads Cafe, Davies Contracting, Inc., District 10 State Representative Terry Rogers, District 50 State Senator John Wilkinson, Domino's Toccoa, Eagle Cleaning Services, Environmental Management Services, Inc., Financial Supermarkets, Inc., First American Bank & Trust, First Care of Habersham, Foothills Land Design, Gateway Fence Company, GFWC Sylvania Junior Woman's Club, Glen-Ella Springs Inn, Golden Sun of Clarkesville, Gresham Planning and Development, Habersham Electric Membership Corporation, Habersham Medical Center, Halbrook Quality Roofing, Hillside Memorial Chapel & Gardens, Homestar, Hulsey Wrecker Service, Inc., J. Kenneth Weldon, Jr., DMD, Jack Bradley Agency, Little Dreamers Academy, London Land Surveying & Associates, Inc., Lowell's Tire, Northeast Georgia Signs & Service, Inc., Meghann Brackett, REALTOR®, Harry Norman, REALTORS® Luxury Lake and Mountain, PFG - Milton's, DeMore Financial Services, South State Bank, Southern Bank & Trust, The Kiker Firm, The Wicker Barn, Third Wave Digital, Thornton Brothers, Inc., 360 Detailing, Town of Tallulah Falls, United Community Bank and Whitfield Funeral Homes & Crematory.
Other donations: Duane Hartness State Farm, Matthew E. Mixon Insurance Agency, Inc., McDowell Environmental, LLC, Milton Martin Honda, ProContractor Supply, Inc., Renew Dental, Inc. and the Stone Mountain Woman's Club.
Gifts-in-Kind: Bluegraphics, Boelter Restaurant and Kitchen Supply, Chick-fil-A-Cornelia, Flowers Baking Co., Happy Jack Graphics, Holland Produce, Mayfield Dairy, McGahee-Griffin & Stewart Funeral Home, MHM Family Gym, Sutherland's Foodservice, The Clayton Tribune, The Northeast Georgian and WCON.
Other supporters include: Georgia Dept. of Economic Development/Explore Georgia, U.S.D.A. Forest Service, Georgia Power, Georgia State Patrol, Habersham County Sheriff's Office, McGahee, Griffin & Stewart, Rabun County Sheriff's Office, Tallulah Falls Opry, Tallulah Falls Police Department and the Town of Tiger.
---
About the ride
The Twin Rivers Challenge is an autumn ride through some of Northeast Georgia's most spectacular scenery and follows routes carefully designed by an area cyclist. This high-profile cycling experience is expected to attract more than 200 riders this year.
Cyclists will have the choice of three challenging and scenic routes – 100K, 72K and 37K. Three King of the Mountain competitive climbs are also planned, with prizes awarded to the first rider to reach each designated crest. The ride will begin and end on the campus of Tallulah Falls School with routes taking riders through both Habersham and Rabun counties and across two rivers – Tallulah and Soque.
All rides will begin at 9 a.m. on Saturday, Oct. 28. Registration opens at 7:30 a.m. Parking is located directly in front of the Tallulah Falls School upper school classroom building. Registration/Check-in on the day of the event will be in the TFS upper school classroom lobby. Support and Gear (SAG) stops will be available at regular intervals along the selected route. A post-ride meal will be provided for all riders.
For route details, visit www.ridewithgps.com (keywords: Twin Rivers Challenge). Online registration is open through Oct. 25. Registration/day-of registration is $45.
The Twin Rivers Challenge is operated by the trustees, faculty, staff and students of Tallulah Falls School. Proceeds from the ride provide student scholarships at TFS. For more information or to register, visit active.com, tallulahfalls.org or find the event on Facebook.