News & Announcements
Gresham signs with Sewanee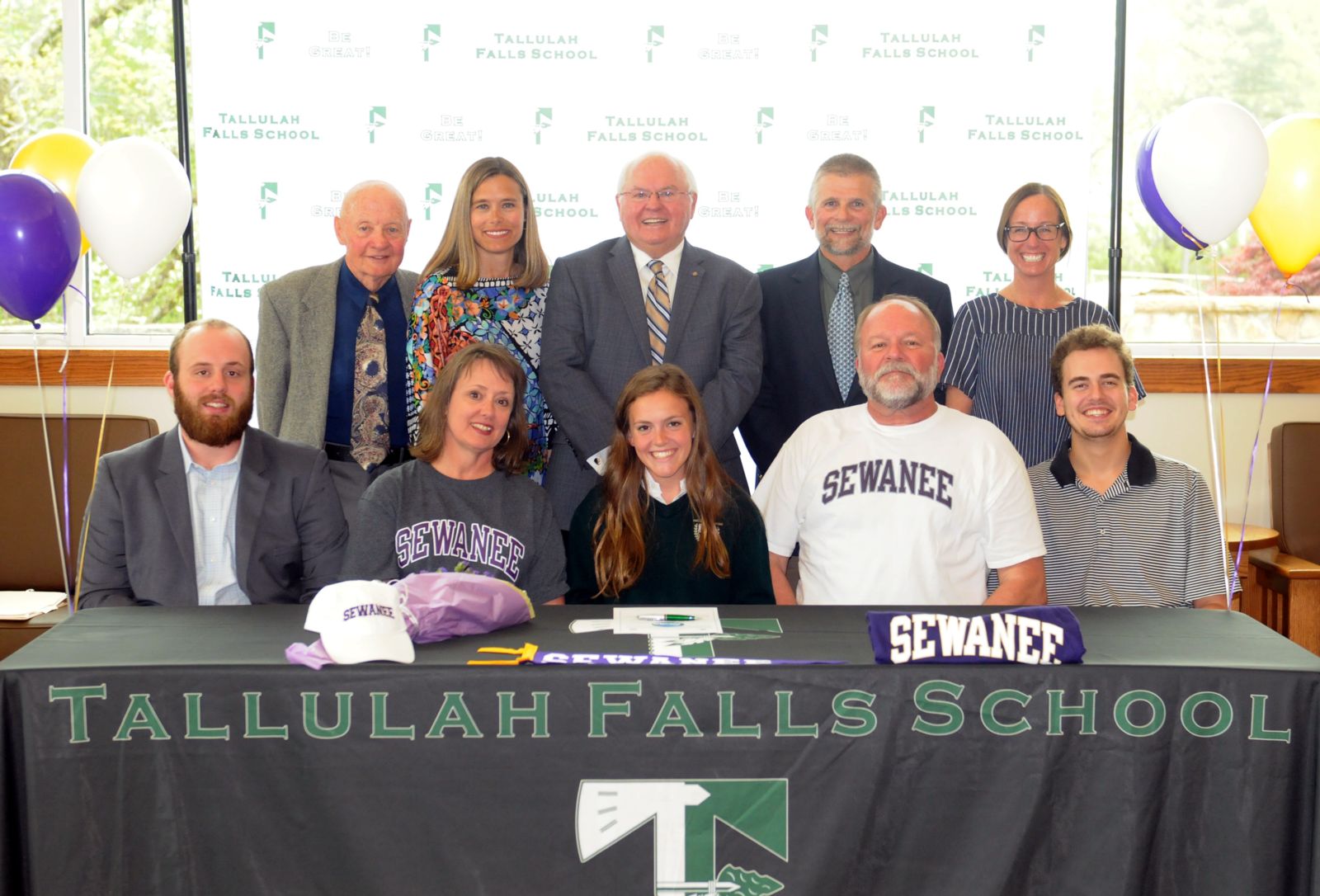 Tallulah Falls School senior Perry Gresham of Clarkesville will continue her education and compete in cross country and track & field for the purple and gold Tigers of The University of the South (NCAA Division III – Southern Athletic Association) in Sewanee, Tennessee. TFS hosted a celebratory signing ceremony for Gresham on April 25.
Coach Jeff Heitzenrater, Sewanee's head cross country/track & field coach will be working with Gresham as she moves to the next level of competition.
"We really look forward to having Perry with us next year at Sewanee," Heitzenrater said. "It has been a pleasure getting to know her during the recruiting process and her solid academic and athletic talents will be a real asset to our program and to the university community."
TFS cross country/track & field coach Scott Neal commended the senior captain's GREAT leadership, deep sense of team loyalty and her balanced approach to training, competition and team unity. Gresham holds school records in cross country, 1600m, 4x4 relay and 4x8 relay and qualified to compete at the state sectionals this season in the 1600m relay.
"Coaching for 34 years provides vast opportunities to see the rare few at the high school age who actually follow a life code, who have figured out that life and people are more important than getting or achieving, yet Perry competes wholeheartedly," Neal said. "She is that role model for our teams and our school for an inspired, mature, sincere and disciplined approach to training, competing, living and interacting."
Gresham was recently named as a member of the 2017-18 class for Positive Athlete America, Northeast Georgia Region.
---
Photo:
Shown, back row, from left, are track & field coach Herb Snedden, Upper School Academic Dean Kim Popham, President and Head of School Larry A. Peevy, Athletic Director Scott Neal and cross country coach Jennifer Dunlap; front row, from left, are Joseph Gresham, E. Lane Gresham, Perry Gresham, Bill Gresham and Jackson Gresham.