News & Announcements
120+ corporate, organization, individual sponsors step up to support TFS students
Community support for the upcoming fourth annual Twin Rivers Challenge, a cycling event to benefit student scholarships at Tallulah Falls School, continues to grow.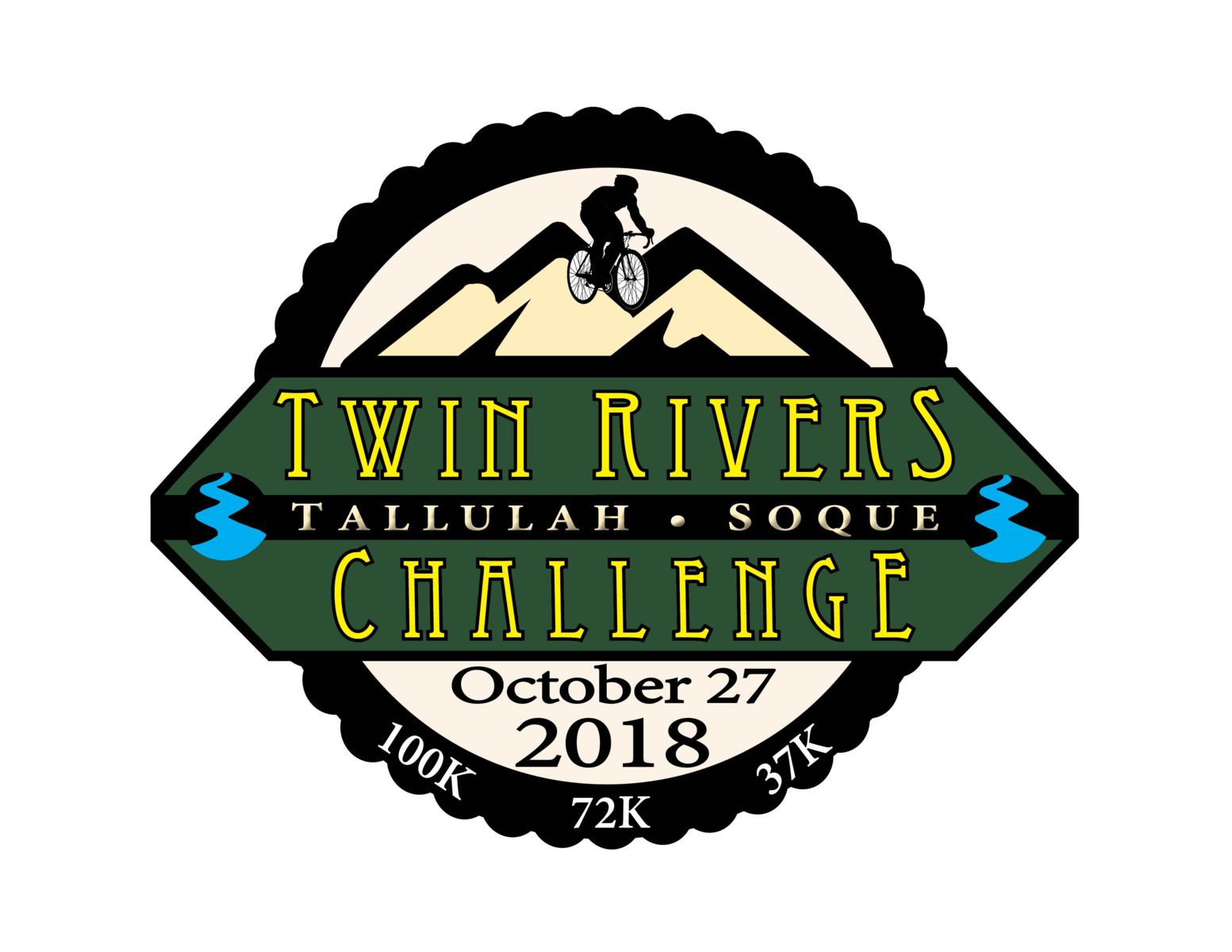 More than 120 corporate, organization and individual sponsors are now confirmed for the ride set for Saturday, Oct. 27.
"We are excited about how the community has embraced this event over the past four years," said President and Head of School Larry A. Peevy. "We've expanded our volunteer scholarship committee under of leadership of co-chairs Judy Forbes and Joey Brown. This has been the key to the expanding awareness of our school and its mission."
With Ron Cantrell Construction, Inc. again making a strong commitment as the presenting sponsor to cover the cost of the ride and Springer Mountain Farms taking care of the post-ride meal, 100 percent of all other donations and support goes directly to fund scholarships for motivated students.
"It's a great way for our guests to enjoy the natural beauty of our area, often for the first time on their bicycles," said Sonya Smith, Executive Director for Advancement. "This event has quickly become a favorite tradition for the TFS family."
The number of pre-registered riders is also rising, said E. Lane Gresham, Director of Community Relations.
"We continue to hear from returning riders about the hospitality at Tallulah Falls School," Gresham said. "This has helped us grow our event."
Many of the riders express appreciation for the post-ride experience, with a meal provided along with a warm serving of TFS hospitality. Again this year, live bluegrass music, performed by the Tallulah Falls Opry, will enhance time spent with friends after conquering the challenge of the ride.
In addition to the strong support from presenting sponsor Ron Cantrell Construction, Inc. and meal sponsor Springer Mountain Farms, the following companies, individuals and organizations are confirmed for 2018.
---
Committed at the Platinum Level of $1,000:
Allied Interior Services, LLC; Construction Components; Kenneth C. Johnson, First Vice President, Investments, with Raymond James; Ledford & Parker, Inc. (2); McDonald's of Toccoa & Hiawassee; Oliver & Weidner, LLC; Piedmont College; Precision Metal Buildings, Inc.; RGWilliams Construction, Inc.; Toccoa Falls College; Tallulah Falls School Board of Trustees
---
Committed at the Gold Level of $500:
Auburn AV; Augusta Aquatics, Inc.; Carl Patterson Flooring; Citizens of Georgia Power, Tallulah Falls Chapter; Clarkesville Dermatology & Medical Associates; Duvall Automotive; Ethicon;
Eubank Family Dentistry, LLC; H.E. Hodge Company, Inc.; Habersham County Chamber of Commerce; Harry Norman REALTORS, Luxury Lake and Mountain; Hayes of Baldwin; Headrick Signs & Graphics; JFM Contracting, LLC; Lawson Air Conditioning & Plumbing; Dr. and Mrs. Ronald A. MacBeth; Mixon, Mixon, Brown and Tench CPAs; North Georgia Technical College; Omega Technology Group; Peach State Federal Credit Union; PFG - Milton's; Pro Turf & Landscape Maintenance, LLC; RBC AeroStructures; Truett McConnell University; United Community Bank; Viewsonic Corporation; Virtucom; Windstream
---
Committed at the Silver Level of $250:
A to Zinc Health Store; Airtight Insulation of NE Georgia, Inc.; American Water Services, Inc.; Blackhawk Fly Fishing; Blake Rainwater & Associates, Inc.; CentiMark Corporation; Chris Mote's Pumping Service; Deal's Appliance Service; District 10 State Representative Terry Rogers; Your Local Domino's; Edison Concrete; Financial Supermarkets, Inc.; First American Bank & Trust; Friends of John Wilkinson; Gateway Fence Company; Gateway Investments, Inc.; Gilbert Foods; Glen-Ella Springs Inn; Gresham Planning & Development, Inc.; H&H Enterprises; Habersham Bicycles; Habersham Electric Membership Corporation; Habersham Medical Center; Hulsey Wrecker Service; Darrin and Leigh Johnston; Ken-Clay LLC; Life Point Medical; Mama G's; Matt Mixon State Farm; McDonald's of Habersham; MCG Mechanical, Inc.; Milton Martin Toyota; Professional Clean Janitorial; Melanie Sims, MD Pediatrics; South State Bank; Southern Bank & Trust; Southern Geotechnical Consultants, LLC; Sweetman's Plumbing Service; Sylvania Junior Woman's Club; Sysco Atlanta; TAG, Inc. - Electrical Contractors; Tatum Tutorial & Consulting; Third Wave Digital; Thornton Brothers, Inc.; Town of Tallulah Falls; Universal Joint; Whitfield Funeral Homes; Lucy A. Willard.
---
Committed at the Bronze Level of $100:
Acree Oil Company; All Service Printing & Associates, Inc.; Blue Willow Floral; Mike and Sherry Callahan; Clayton Paint & Flooring Center; Compass Pest Management; Crossroads Cafe; First Care of Habersham; Foothills Land Design, LLC; Stacy & Ivy Hall; Jerry Harkness - Realtor; Tina Howell - Insurance Office of America; Jacky Jones Ford; Kennlock Construction, LLC; Lowell's Tire; Lamar Mauney; Michael Melnik; Milton Martin Honda; Patterson Pump; Peachtree Glass; Rabun County Bank; Dick & Donna Sergent; Side Movers of Rabun, Inc.; Simco Interiors, Inc.; Stout's Construction Company; Thomas Enterprises; Tony's Towers; Dr. Ken Weldon; The Wicker Barn; Your Time Fitness.
---
Gifts-in-Kind:
Bluegraphics, Boelter Restaurant and Kitchen Supply, Chick-fil-A Cornelia, The Clayton Tribune, Flowers Baking Company, Happy Jack Graphics, Holland Produce, Mayfield Dairy Farms, The Northeast Georgian, WCON Radio.
---
Other supporters:
Georgia Dept. of Economic Development/Explore Georgia, U.S.D.A. Forest Service, Georgia Power, Georgia State Patrol, Habersham County Sheriff's Office, Habersham Emergency Management Agency, Rabun County Sheriff's Office, Tallulah Falls Opry, Tallulah Falls Police Department and the Town of Tiger.
---
About the ride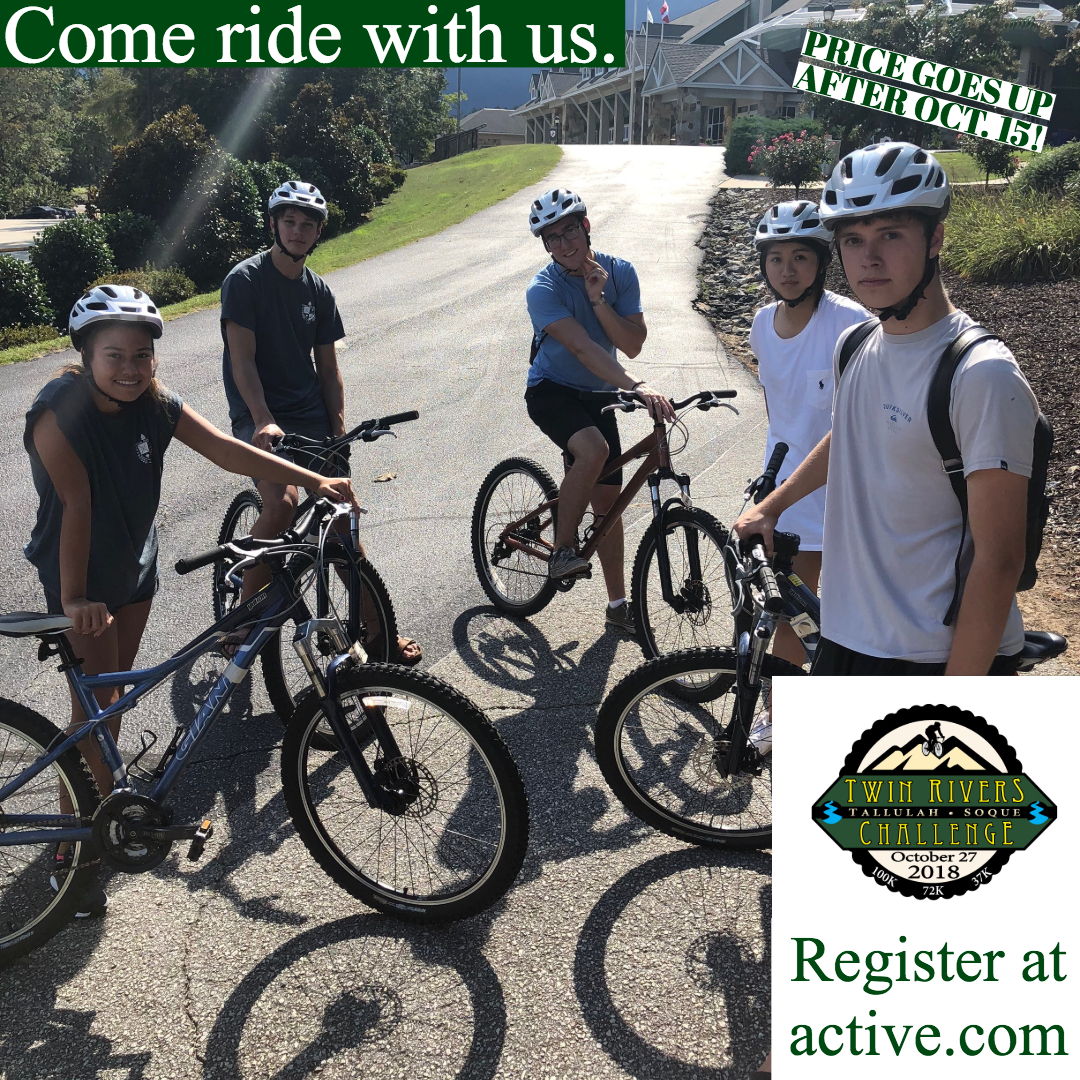 The Twin Rivers Challenge is an autumn ride through some of Northeast Georgia's most spectacular scenery and follows routes carefully planned by an area cyclist. This year's event is set for Oct. 27.
Hosted by Tallulah Falls School, the road cycling event is a fundraiser for student scholarships at the school.
Riders will have the choice of three challenging and scenic routes – 100K, 72K and 37K. The ride will begin and end on the campus of Tallulah Falls School with routes taking riders through both Habersham and Rabun counties and across two rivers – Tallulah and Soque.
All rides will begin at 9 a.m. on Saturday, Oct. 27. Registration opens at 7:30 a.m. Parking is located directly in front of the Tallulah Falls School upper school. Registration/check-in on the day of the event will be in the TFS upper school classroom lobby. Support and Gear (SAG) stops will be available at regular intervals along the routes. A post-ride meal will be provided for all riders, with live bluegrass provided by the Tallulah Falls Opry players.
For route details, visit www.ridewithgps.com (keywords: Twin Rivers Challenge). Early registration is $35 through Oct. 15 and $45 after Oct. 15.
For more information or to register, visit active.com, tallulahfalls.org/TRC or find the event on Facebook.