News & Announcements
TFS alumni homecoming event stirs memories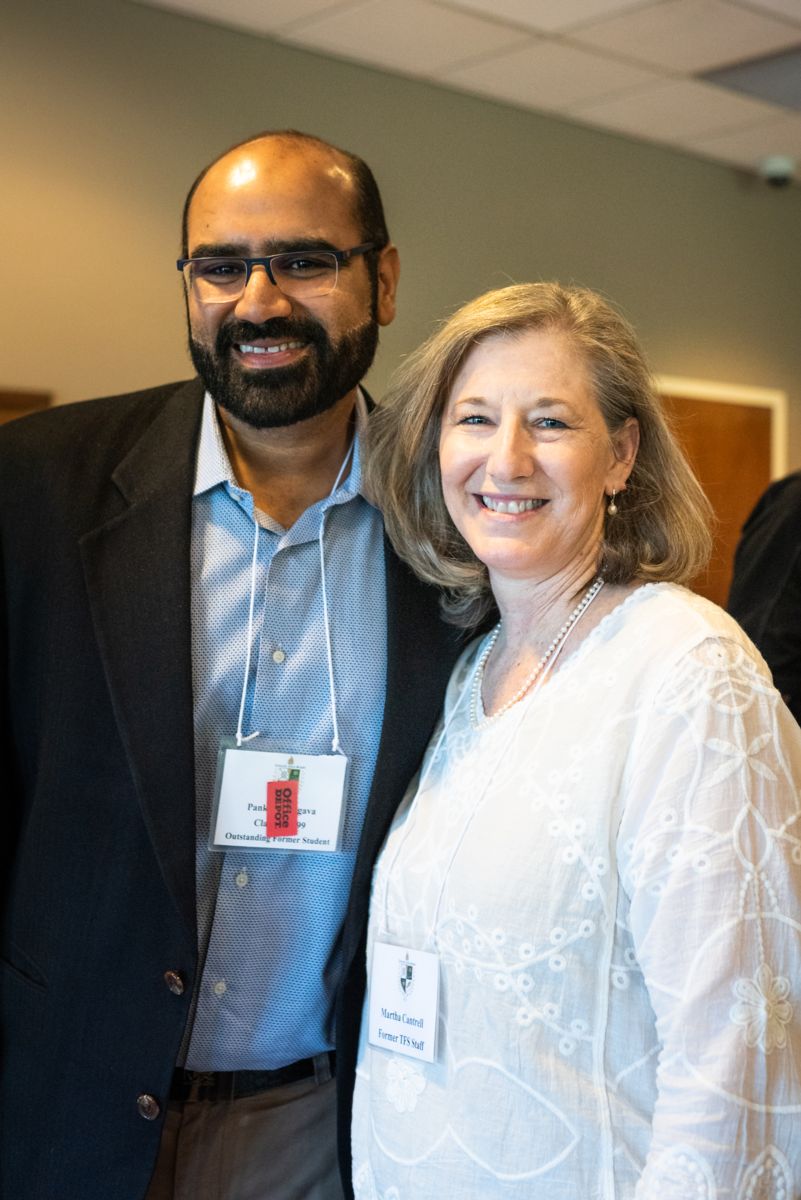 Iced tea and shared memories sweetened the day for Tallulah Falls School alumni and guests on April 27.
The special visitors were treated to campus tours, a showcase of art by current TFS students and an awards luncheon.
"We were delighted to welcome alumni from many classes," said President and Head of School Larry A. Peevy. "Hearing stories from our former students reminds me of the positive impact this special place has on so many. Through the solid educational foundation imparted to our graduates, we are building quite an impressive legacy."
During the luncheon, the 2019 Outstanding Former Student Pankaj Bhargava of Jaipur, India shared the story of his life's journey.

His experience at TFS was pivotal in his success, he said. Teachers, coaches, dorm counselors and staff all invested in him, he said.
Thrilled when he heard of the award from alumni committee member and TFS registrar Irene Gray, he didn't hesitate to say 'yes' to making the trek across the globe.
"I immediately booked my tickets from India. TFS holds that special place in my heart that cannot be explained in words," Bhargava said.
"Not to forget the years were tough for me but they instilled one very important quality in me – that is discipline," he said. "Today I manage multiple businesses with ease. It's only because these multitasking skills were inculcated here."
Especially poignant was his tribute to former mathematics teacher Dr. Martha Cantrell, who attended the event.
"My mathematics teacher back then...A beautiful soul. I always miss her," he said. "She was a wonderful teacher not just for me but for all."
Cantrell also served as the mentor for the National Honor Society (NHS), adding another layer of connection with the accomplished alumnus and his classmates.
"I have immense love for her – thank you ma'am," he said.
"Today I feel that I am back home. I can't explain my feelings at the moment but I am extremely overjoyed to be back here again," he said.
Bhargava owns three companies – a construction firm specializing in high end, luxury bungalows; an interior design firm that redesigns, renovates and restructures private and commercial properties; and a pharmaceutical company that manufactures and trades leading generic medicines.
He also serves as secretary of the Resident Welfare Association, an organization that works toward the maintenance of registered residential societies, environmental preservation and infrastructure development.
While at TFS, Bhargava served as a Student Life Assistant in the dorm, was a member of NHS and earned MVP status in tennis for two years.
After graduation, he attended Southern Polytechnic State University. Bhargava and his wife, Pooja, have one daughter.
---