News & Announcements
TFS Pit Vipers smoke competition in second KCBS event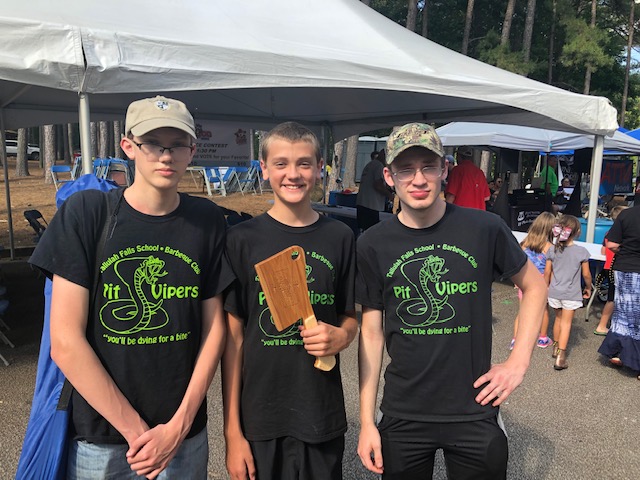 The Pit Vipers of Tallulah Falls School are now ranked No. 11 in the state among 45 backyard competition barbecue teams.
Three members of the team traveled to Peachtree City for the first-ever Smokin' Bike Fest, held May 31-June 1, finishing third overall in the cooking portion of the event.
Individual awards of sixth in People's Choice Pork, sixth in Pork Ribs and fourth in Chicken contributed to the overall ranking, according to club advisor/coach Tom Tilley.
"Ultimately, senior Darren Fortner of Mt. Airy, junior Tyrus Tilley and seventh-grader Teryk Tilley, both of Tallulah Falls, were up to the task," Tilley said. "The Vipers finished with an amazing third-place overall."
More than 3,000 people sampled offerings from the state's top pro and amateur KCBS (Kansas City Barbecue Society) and GBC (Georgia Barbecue Championship) teams assembled for the overnight event, Tilley said.
"We competed with the best pro and amateur teams in the state of Georgia in this event," Tilley said. "The competition was strong; almost every team in the amateur division had previously won a KCBS/GBC Grand Championship. The Vipers have only been smoking for 13 months. I am so proud of these kids."
Club members will attend barbecue school in late June with the next KCBS competition set for Aug. 2 on Lake Lanier.