News & Announcements
TFS Players stage final production for 2018-19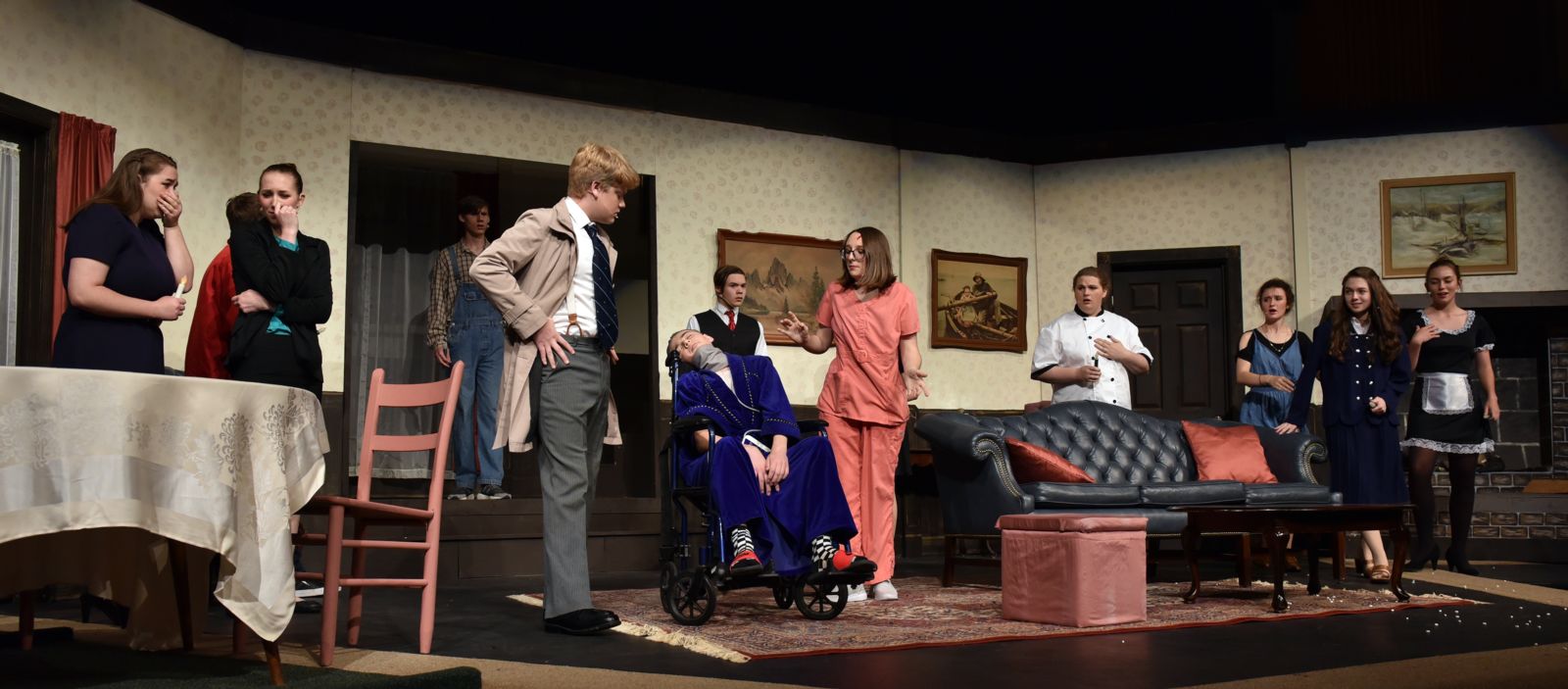 The TFS Players performed the audience-interactive murder-mystery-comedy Murder's in the Heir on May 3-6 in the school's Gertrude Long Harris Theater.
The entertaining play by Billy St. John has been described as what you get when you turn the board game Clue into a play. Nearly every character in this tongue-in-cheek mystery has a weapon, opportunity and motive to commit the murder of tyrannical billionaire Simon Starkweather before he changes his will and disinherits members of his family and household staff.
TFS drama instructor Carrie Layer was excited to have the opportunity to bring Murder's in the Heir to life with her talented students.
"Murder's in the Heir is full of wacky characters that the actors really enjoyed getting to know and perform," Layer said. "Also the show is audience-interactive with the audience voting for who they think is the murderer during an intermission. This creates an environment for discussion as well as surprise."
"One of the biggest challenges we faced was with casting. We are lucky to have many talented actors at TFS and I decided to have a flex cast to give more opportunity to the students so there were several roles that were performed by more than one actor. This added to the uniqueness of each performance."
"Another challenge was that each time the show began the actors did not know who would be the murderer until intermission. There was high tension and excitement while the ballots were counted to determine the ending for that show."
When asked about standout performances Layer was quick to single out two individuals who went above and beyond to bring Murder's in the Heir to the TFS stage.
"Senior Sidney Butikofer of Demorest really stepped up to the plate as assistant director," Layer said. "She not only assisted in running rehearsals and other organizational duties, but she created blocking for an entire section of the show."
Layer said middle school administrative assistant Jonathan Roberts was integral in creating the set and other enhancements.
"He also added new technical elements such as the lightning effect for the storm. He worked with students to refine their knowledge of design, construction and execution," she said. "I am so proud of this production! The students truly stepped up to create something special in all aspects of the production. They manned the front of house, created technical elements, acted superbly on stage and created individual costume and makeup designs. In addition, they created marketing aspects throughout the entire process. It was really a team effort."