News & Announcements
TFS Pit Vipers complete the season strong with another top 10 finish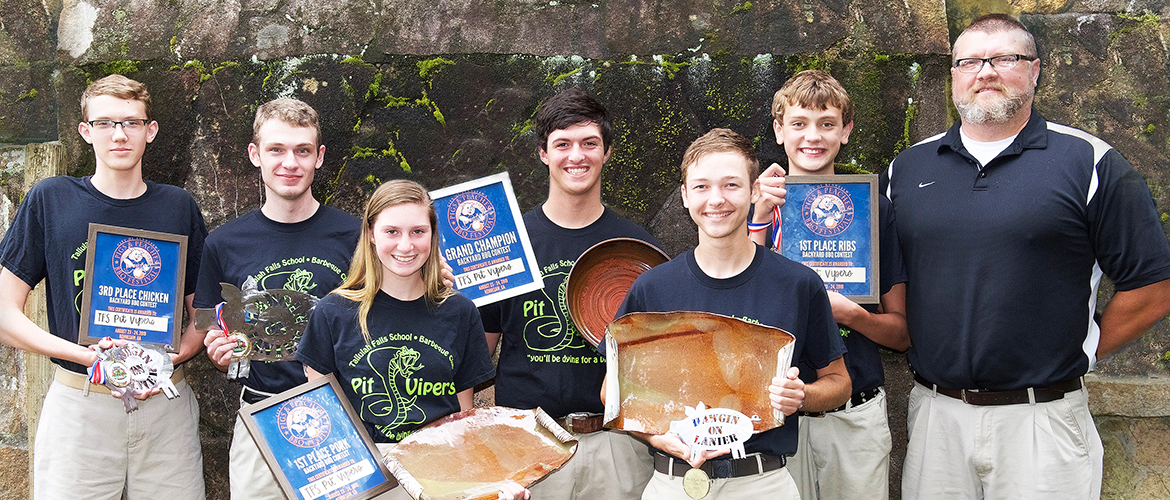 Tallulah Falls School's barbecue club, the TFS Pit Vipers, finished the season with a top 10 finish at the Georgia BBQ Champion Throwdown, coming in ninth.
The team finished seventh in chicken, 11th in ribs, and 12th in pork. Additionally, the team finished 2nd in the "Kids Que" division, ages 10-15, in ground beef.
"Most of our competitions are Georgia teams, this event included the top teams from Tennessee and Alabama," said head coach Tom Tilley. "So, this was a very competitive field with the No. 1 Team in Georgia, Zips BBQ, out of Winder finishing in 10th. The Vipers turned in three great boxes."
The Pit Vipers finished the season ranked 4th in the state in the amateur division, including four consecutive top 10 finishes, two third-place finishes and a Grand Championship. The team finished the season with Georgia Barbeque Championship (GBC) rankings of fourth in chicken, third in ribs and fourth in pork.
Members include Senior Darren Fortner of Demorest, senior AJ Hayes of Cornelia, senior Garrett Hunter of Talllulah Falls, junior Cainan Yaskiewicz of Highlands, North Carolina, junior Ty Tilley of Tallulah Falls, freshman Abigail Hunter of Tallulah Falls and seventh-grader Teryk Tilley of Tallulah Falls.
"I am so poud of this crew. We have only been competing for a year and a half," Tilley said.
The 2020 barbecue season will open March 6, in Lawrenceville, Georgia, at the Sip & Swine BBQ Festival and is poised to be the largest competition in the south with over 100 teams.