Athletics News
Davis, Wilcox named to BLITZ Sports Hall of Fame
Two former Tallulah Falls School student-athletes have been named to the 2018 BLITZ Sports Georgia Hall of Fame 2018 Class.
Inductees from TFS are Anna Davis of Clarkesville, a 2018 graduate and Trey Wilcox of Tallulah Falls, a member of the Class of 2017.
BLITZ Sports Georgia is a regional media outlet focusing on varsity athletes from the Northeast Georgia area. According to the BLITZ website, the Hall of Fame opened in 2016, inducting 27 players in the inaugural Class of 2016, 31 in 2017 and a record 62 in 2018. The Hall of Fame also consists of some 43 Hall of Fame teams. BLITZ has grown to include 11 schools. Creator, producer and host Brian Carter collects highlights, interviews and stories to give solid sports coverage in all varsity sports.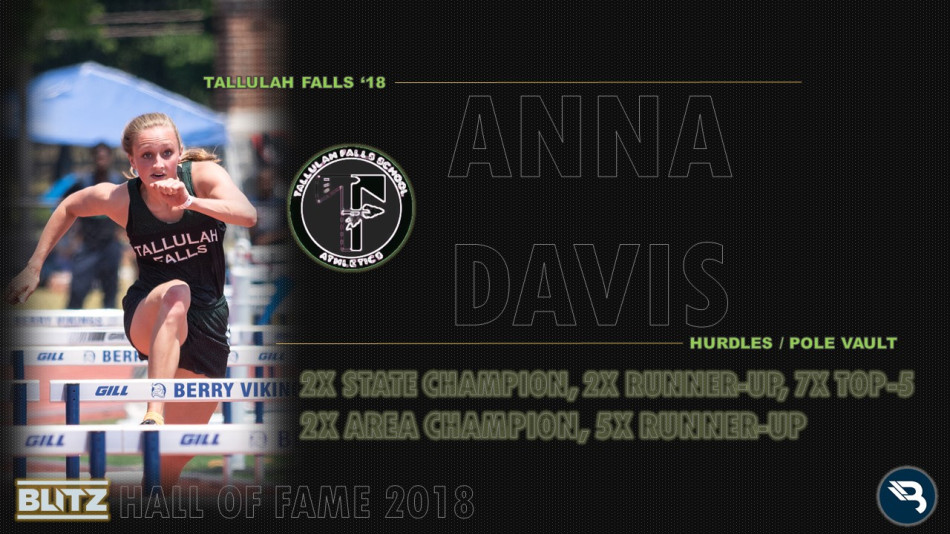 According to TFS Athletic Director Scott Neal, Davis leaves quite the legacy at TFS.
"It's not what Anna has accomplished that will be most remembered, as lofty as those achievements are, but how she did it," Neal said. "Most don't realize how much athletic adversity she has overcome, how much focused time spent in the off-seasons, how much she has researched and studied and honed skills and strategies, or how much winning for others and for TFS has influenced her tenacious mindset. She has exchanged entertainment, junk food, and the common distractions of youth for the less common principles of notable achievers, all while intentionally sharpening relationships with teammates and competitors. No one after her will be like Anna, but she has opened doors now that others, if they choose the road less traveled, can be even more athletically successful, and she will be happy for their triumphs!"
Davis' highlights from Brian Carter:
Davis made TFS history by becoming the first female to win a state title, and won two as a senior in 2018 in the 100-meter hurdles and 300-meter hurdles, earning her BLITZ T&F Athlete of the Year honors. She totaled two area championships in her career (300 MH in 2018, 400-meter dash in 2016), and six area runner-up finishes. At state, she had the two championships, two runner-up finishes in 2017, and seven top-five finishes and nine top-10 finishes. She qualified for state all four years, participating in the 100- and 300-meter hurdles, 400-meter dash, pole vault and long jump. Davis will now compete at Davidson College.
---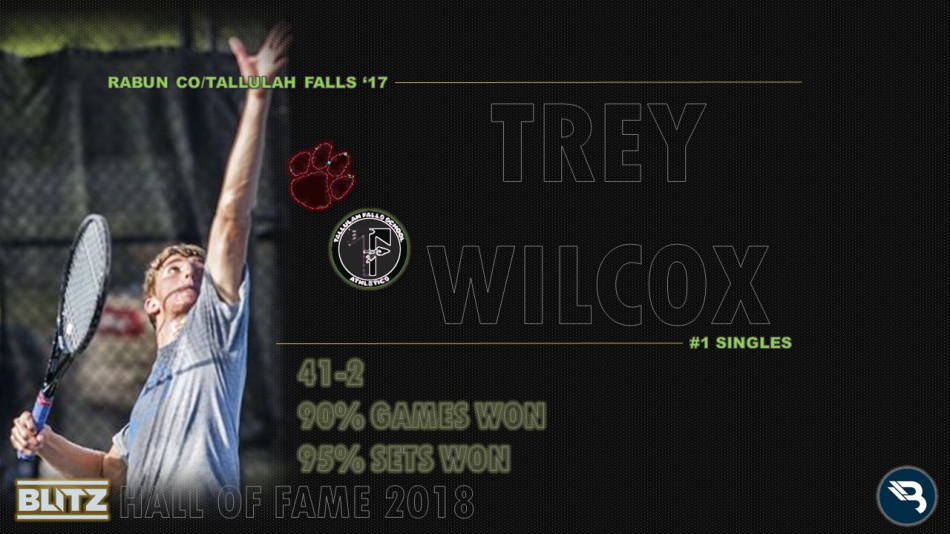 Neal praised Wilcox's combination of athletic achievement, academic success, and tenacious team mentality.
"In addition to being a top tennis player, Trey contributed significantly for the 2016-17 TFS hoops 25-4 Sweet 16 team, was a first-team All-Region baseball player, and was named Indian of the Year," Neal said. "Trey's team influence went well beyond his own goals and accomplishments. His teammates respected and admired him, and his coaches praised his work ethic and his influence upon our teams."
Wilcox's highlights from Brian Carter:
Wilcox played for both Rabun County and TFS, and had stellar success in both places on the court. He was good. 41-2 good over a three-year span from 2015-17, three-peating as Player of the Year. He was 10-1 as a senior at Tallulah Falls. As a Rabun junior in 2016, he was a perfect 19-0, winning 93% of his games within matches and 100% of his sets. That's domination. Even as a sophomore in 2015, Wilcox went 12-1, winning 91% of his sets and 75% of his games. Wilcox was first-team all-region all three years.