Athletics News
Epilepsy awareness event touches heart of TFS sophomore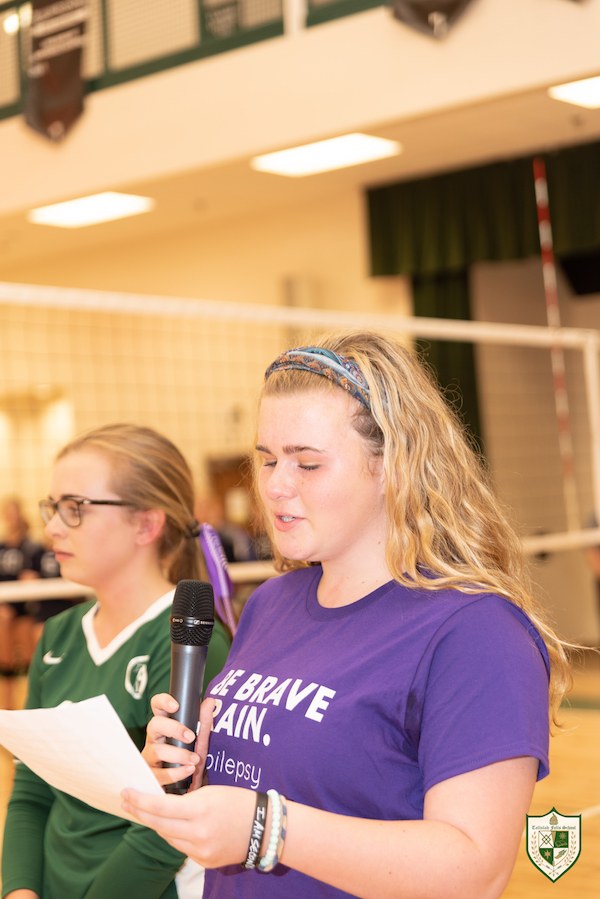 She cried when she saw the t-shirts with a message of support printed in purple.
It was a sweet surprise for Anna Paige Barrett to see friends and family wearing the special shirts in her honor at the Volley for Epilepsy awareness event.
On Sept. 19, at the Tallulah Falls Schools middle school volleyball game, the color purple marked cupcake toppers, bracelets and clothing as the team took inspiration from Anna Paige to plan the event. The t-shirts were just a visible example of the support for the TFS sophomore who was diagnosed with epilepsy at age 11.
Anna Paige's sister, Emma Barrett joined teammates in sharing statistics about the disease and its impact on young lives. During a break in the match against Habersham County, Anna Paige shared her thoughts on her journey, including what it felt like to experience a seizure.
"A big seizure just kind of grabs the inside of your skull and squeezes. It feels as if it's twisting and turning your brain all up and down and inside out," Barrett said. "Have you ever heard a washing machine suddenly flip into that bang-bang-bang sound when it gets out of balance, or a chainsaw when the chain breaks and gets caught up in the gears, or an animal like a cat, screeching in pain? Those are what seizures feel like."
She thanked her community, friends and family with special words for her mother Desi Barrett and her sister.
"I am pretty sure my mom hasn't really slept in four and a half years since I was diagnosed," she said. "But with all of the awfulness that epilepsy brings with it, I have learned how deeply loved I am. My school community, friends and family are always by my side. My mom has always had the saying that it takes a village to raise a child. Especially when you're a single mother. I never really understood that phrase until recently. I, we are never alone and for that, we are incredibly grateful. I would also like to thank my sister, Emma. I know that mom's attention is more times than not on me with doctor's appointments, seizures and everything else. She jokes but never complains. She goes into full-on little mama mode when I have a seizure. She's called 911 more times than I can count and remains totally calm."
As the presentation ended, the applause was followed by a standing ovation for the courageous young lady and her family.
"Our middle school volleyball team and parents did a terrific job spreading the word, organizing, and executing on game day," said Tim Corbett, middle school athletic director. "The event not only raised awareness, but the event also sparked emotion that filled the gym and will have a long-lasting impact on all who were present."
"I have never felt so loved," Anna Paige said after the event.
Anna Paige is one of the more than 150,000 individuals affected by epilepsy in Georgia.
For more information, visit https://www.epilepsy.com/georgia.