Athletics News
Harrelson signs letter of intent to fish at Young Harris College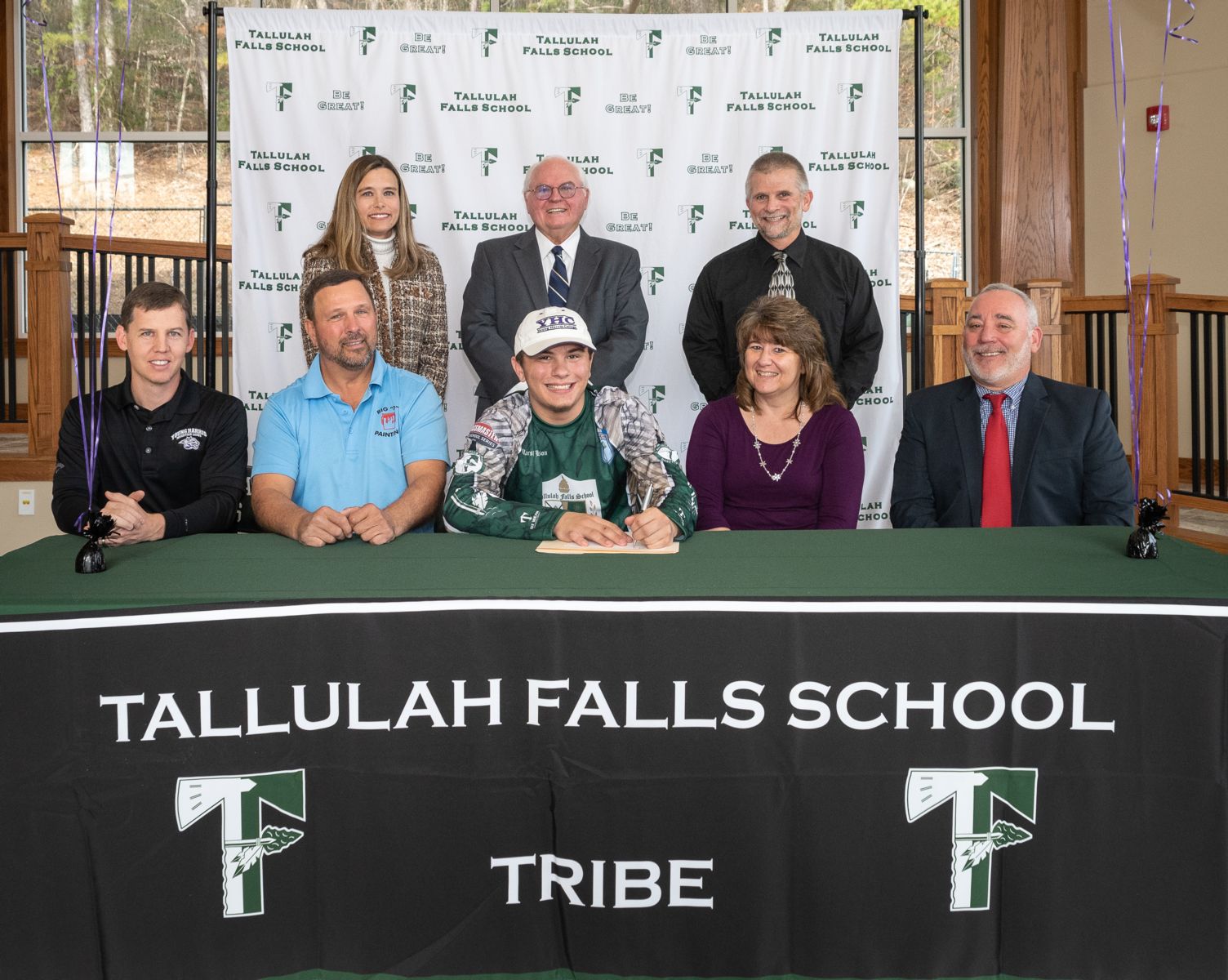 Tallulah Falls School senior Marshall Harrelson of Clarkesville on Dec. 12 signed a letter of intent to compete in bass fishing for the Young Harris College Mountain Lions, (NCAA Division II – Peach Belt Conference) in Young Harris, Georgia.
"We are so excited to welcome Marshall to the Young Harris family and excited about the leadership and skill he will bring as a college angler as we build a championship-caliber college bass fishing program," said Mountain Lions Coach Jonathan Davis.
The TFS fishing team, established three years ago, gained momentum quickly, according to President and Head of School Larry A. Peevy. Harrelson will be the first student-angler to receive scholarship dollars to fish competitively at the college level.
"Marshall and his teammate Marshall Williams, along with captain Russell Williams launched this activity at TFS," Peevy said. "These student-anglers were the first to compete on behalf of the school but it wasn't long before their excitement helped the team to grow."
The team currently has 10 members, three pairs at the high school level and two fishing pairs in the junior division, and fishes competitively through the Georgia BASS Nation High School tournament series.
"This is a milestone for our school community," said TFS Director of Community Relations E. Lane Gresham, who serves as the team's TFS staff advisor. "We are proud of Marshall and look forward to following his fishing success at the collegiate level."
Athletic Director Scott Neal has helped the team as it evolved from a club activity to an official sport recognized by the Georgia Independent School Association. The team now has varsity lettering criteria and is included in team recognition at school sports banquets.
"We are obviously quite proud of Marshall's ability to compete at the next level, but just as much honor him for the discipline, consistency, and vision he had over the years to make this dream a reality, said Athletic Director Scott Neal.
Team captain Russell Williams said the scholarship is well deserved.
"Having never missed a single tournament while traveling thousands of miles throughout each year, waking at 4 a.m. in the morning to get started, spending a great deal of his spare time practicing and competing, he has worked for and earned a place in TFS history with this first-ever fishing scholarship award," Williams said. "I am especially happy and proud for him to have this incredible opportunity because of what he has achieved. We look forward with high expectations to his future in collegiate bass fishing competition.
---
E. Lane Gresham/Tallulah Falls School
Shown, back row, from left, are Upper School Academic Dean Kim Popham, President and Head of School Larry A. Peevy, Athletic Director Scott Neal; front row, from left, Young Harris College Mountain Lions Coach Jonathan Davis, Darrin Harrelson, Marshall Harrelson, Reneé Harrelson and TFS Fishing Team Captain Russell Williams.