Athletics News
Season Recap: Girls Golf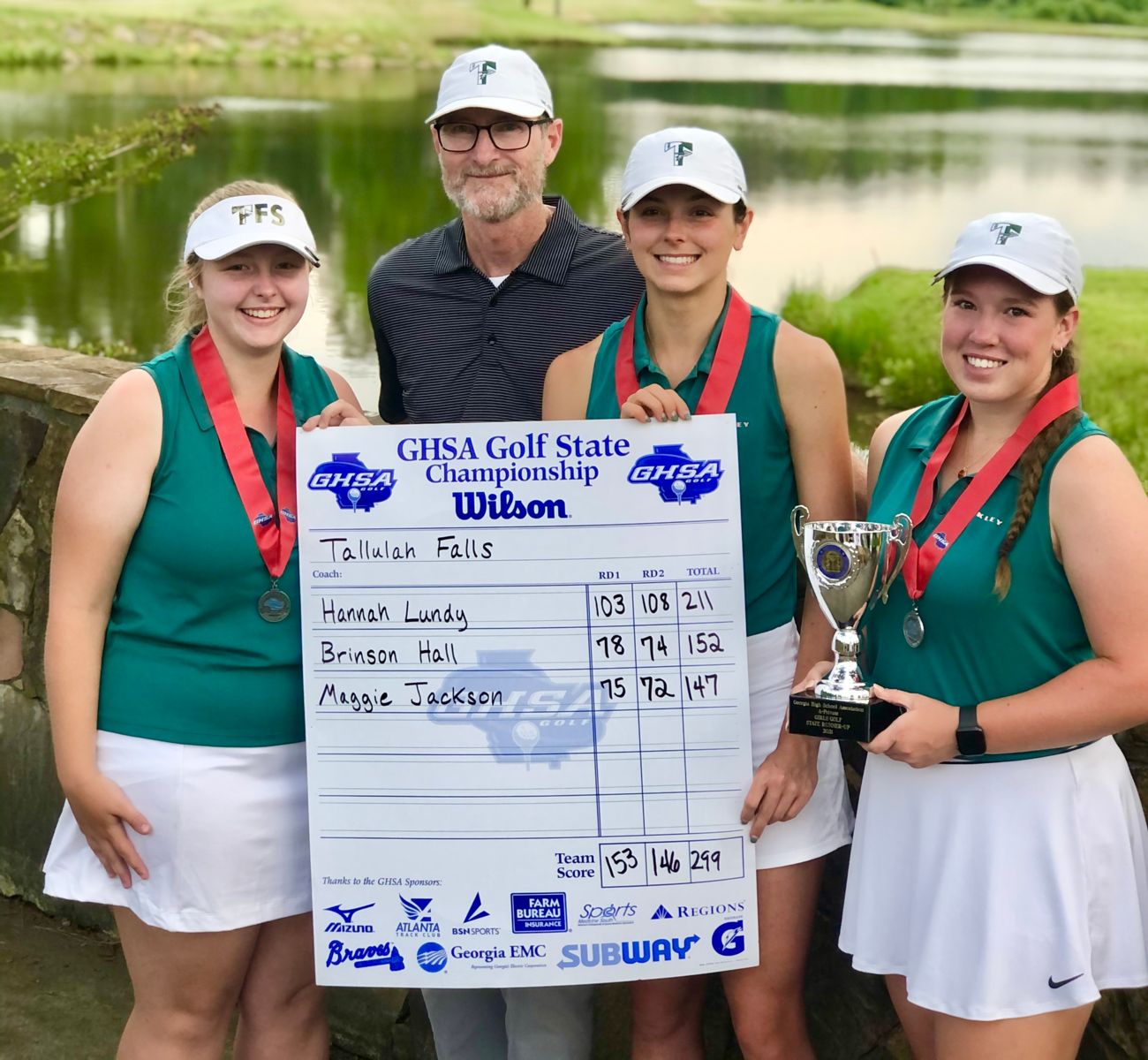 The trio of Brinson Hall, Maggie Jackson and Hannah Lundy were the final Tallulah Falls spring program left in action. It was truly the best for last, in terms of the finish at state. The girls competed at the GHSA 1A Private State Championship, closing with a State Runner-Up trophy. The 2nd-place spot is the best TFS has had in any sport in its history.
The success of the program dates back to 2016, when the girls won an area championship. 2021 marked the fourth such achievement, and third in a row. The top-10 finish at state was the fifth consecutive, and third time in the top five. Overall, TFS girls golf has qualified for state each year since 2015 (excluding COVID-shortened 2020).
Seniors Hall and Jackson continued to break their own personal and school records throughout the season, while sophomore Lundy thrived down the stretch and continued to improve her game.
Jackson was the Area Champion for the second time (2018, 2021), while also finishing fourth at state (school record). Hall was eighth at state, making for the third time she's finished in the top 10.
Among the many records that were set in 2021 include a new 9-hole record of 33 by Jackson in the Woodward Two-Day Tournament, the two-score team 9-hole record of 73 by Hall and Jackson at Apple Mountain, the 18-hole record of 68 by Jackson at the Woodward Two-Day Tournament and the 18-hole two-score team record of 146, which was achieved twice - once at the State Championships and prior at Apple Mountain.
Jackson's 37.56 9-hole average and 75.12 18-hole average are also new program records, while Hall is right there with 38.81 and 77.62, respectively. Hall was five times during the season a low medalist, while Jackson took the top spot four times. The team won eight total tournaments this season. Both Jackson (Wofford) and Hall (Troy) are moving on to play golf in college at the D-I level. Lundy will be relied upon heavily as the program will feature many new faces in 2022 and beyond.