School Uniform

Click here for Uniform Requirements
---
A personal note to all Tallulah Falls School parents and guardians
After several months of research and meetings with multiple companies, we are pleased to announce Tallulah Falls School has signed a contract with a new uniform vendor.
FlynnO'Hara Uniforms, a long-established, family-owned schoo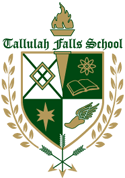 l uniform company, effective immediately, will serve as the only authorized provider of uniforms for our students. The company has an excellent reputation, serving more than 1,500 school communities and more than 500,000 students annually.
FlynnO'Hara is pledging its support to our school and is well respected for providing excellent professional customer care. We think you'll notice the quality of the clothing items is a significant upgrade, along with a reduction in price on most items. All items requiring an official school crest will be embroidered.
We encourage you to familiarize yourself with the company's website and go to the TFS section to order any new items that your student may need. In addition to lower pricing on most items, the company offers free shipping year-round on orders more than $50. Any currently owned uniforms previously purchased through another vendor can still be worn during this transition period.
We'd like to share another important adjustment related to formal uniform requirements for our middle school students – as an option to the school blazer, middle school families may now purchase an approved vest instead of the more expensive blazer. We hope this will offer a welcome choice to our middle school students experiencing overnight size changes.
Representatives from FlynnO'Hara will be on campus several times during the year to meet with families to ensure proper fit and to provide that all-important personal contact. The first site visit is set to take place in May or June of 2018 so that families can purchase uniforms for the 2018-19 academic year. Be sure to look for an email communication once these dates and additional details are confirmed.
Please join me and our senior staff as we embrace this new vendor partnership.
Warm regards,

Larry A. Peevy
President and Head of School
Click below to shop for Tallulah Falls School Uniforms.