History of TFS
A Narrative History of Tallulah Falls School
(As told by Mike Dale, Director of Giving, with excerpts from The Light in the Mountains: The Story of Tallulah Falls School (1975) by Carol Stevens Hancock; Not By Magic, But by Faith, Courage, and Earnest Work (1982) by Carol Stevens Hancock; and school newspapers, newsletters, magazines, scrapbooks and other archival materials.)
At the end of the nineteenth century, the town of Tallulah Falls, Georgia, was much like the Charles Dickens novel A Tale of Two Cities. To use Dickens' words, "It was the best of times, it was the worst of times…" For visitors who flocked to the town's resort hotels, and for city folks with sufficient wealth to have summer homes here, Tallulah Falls was a haven of unsurpassed beauty. The magnificent Tallulah Gorge and its series of majestic waterfalls were an awe-inspiring and cooling break from the summer heat of the cities—truly the best of times. But for many local residents, living in isolated log cabins dotting the hillsides and hollows, life was exceedingly hard. On small farms they toiled and sweated to scratch out a meager livelihood from the hilly, rocky, red earth. There was no school for the mountain children, and their prospects for any opportunities beyond their mountain existence were slim—the worst of times, as so much potential was going to waste.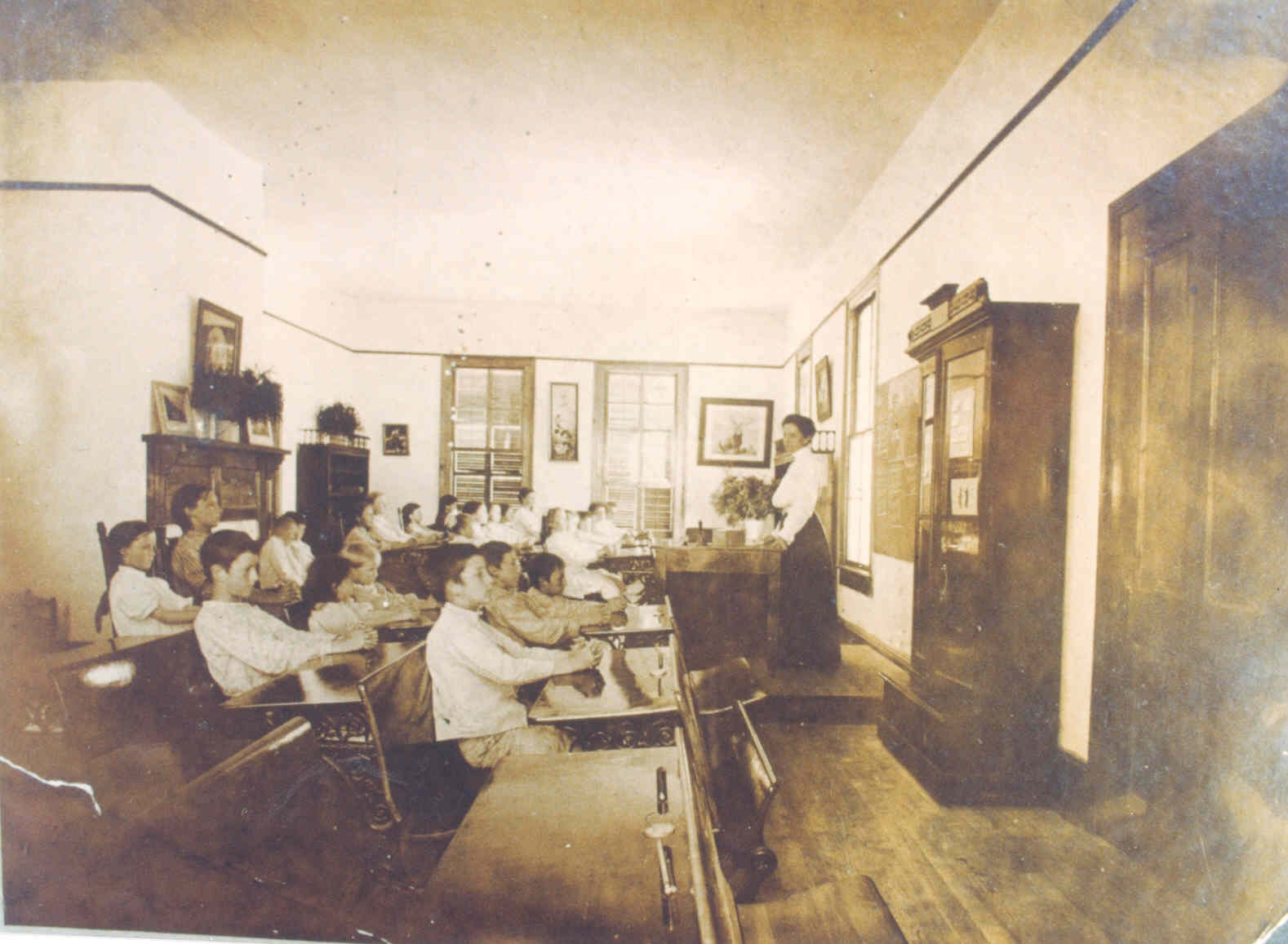 Tallulah Falls School classroom, circa 1909
When Mrs. Mary Ann Lipscomb, from Athens, Georgia, came up to Tallulah Falls to her summer cottage in 1905 and became acquainted with some of the mountain children and saw how eager they were to learn to read and write, she felt almost overwhelmed by the seeming impossibility of their achieving this desire. From her porch, she taught an assortment of shy mountain children to read. The mountain children deeply touched her, and she resolved to help them in any way she could.
Mrs. Lipscomb was a woman endowed with great determination, and as president of the Georgia Federation of Women's Clubs (GaFWC), she was also a woman with considerable influence. At the 1906 GaFWC Convention, Mrs. Lipscomb offered a resolution recommending the founding of a school by the Federation at Tallulah Falls. She concluded her resolution by saying: "My sisters, the question for you is not what you are going to get out of the world, but what you are going to give the world." The resolution was unanimously adopted.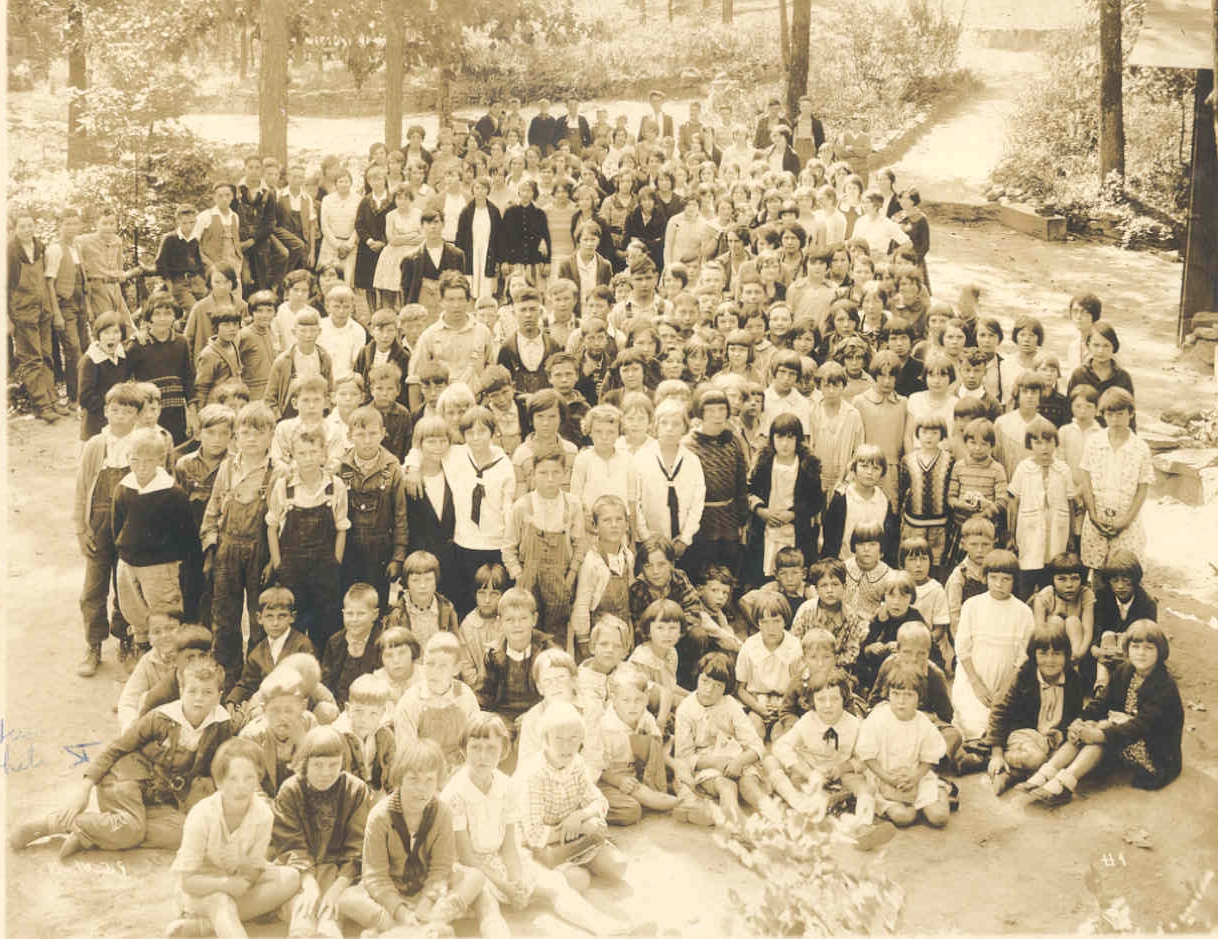 TFS students, circa 1929
On June 30, 1909, the Tallulah Falls Industrial School was formally opened. The school's one building sat on the original five acres of land given to the school by Miss Sarah E. White, whose father was one of the pioneer Tallulah landholders. The first day of school was held on July 12, 1909, as the school opened its doors to the children of Habersham and Rabun counties. Miss Annie Thrasher of Watkinsville, Georgia, was teacher, and 21 mountain boys and girls eager for learning were the school's first pupils.
Because of the remoteness of the mountain areas the school served and the distances some students had to travel daily to attend the school, a need was seen to build a model home with ample room for the school's teachers and perhaps a dozen pupils. To that end, "Lipscomb House," now known as Lipscomb Cottage, was constructed in 1910 at a cost of $1,500.
Mrs. Mary Ann Lipscomb served as the school's first director from its inception in 1909 until August of 1914, when poor health forced her to turn over the directorship of the school to Mrs. Lucy Lester Willet. Mrs. Willet was a most able woman placed in a difficult, almost untenable situation: there was, to put it bluntly, no money available even for basic operating expenses.
By 1915, Tallulah Falls Industrial School had grown to 96 pupils, 14 of them scholarship pupils, and there was a long waiting list for additional scholarships and places to board. The 1917-18 school term brought one catastrophe after another. Mrs. Mary Ann Lipscomb died, leaving all who knew her with a tremendous sense of shock and loss. In April of 1917, the United States entered World War I as a combatant, and the nation's thoughts and energies shifted to the war effort. As a result, the GaFWC Columbus Convention was canceled, and a major source of funding for the school was lost.
It was costing $3,000 a year, $250 a month, to run the school. At the April 1918 meeting of the school's executive board, the children of Mary Ann Lipscomb offered a gift of $5,000, provided that the clubs and friends of the school would raise $25,000 additional for the endowment fund in the succeeding five years. The challenge was accepted. Statewide local tax laws enacted in 1919 meant that all Georgia counties would be able to provide their own schools, and in 1920 the state school superintendent recommended "the separation of the public school at Tallulah Falls from the Georgia Federation's Industrial School."
The "leading men of Rabun County" insisted they did not want a school of their own and asked for the privilege of continuing to send their children from Rabun to the school. They offered to pay $75 a month (about $1 per child) for the privilege. Their request was granted, and Tallulah Falls School continued to be both a public and private institution for 50 more years (until 1970).
Work was, from the very beginning, an integral part of the curriculum at the Tallulah Falls Industrial School, for two fundamental reasons. First, the school wanted its students to learn practical skills that they could put to use either back at their mountain homes or in the world beyond. Second, the school depended on the crops and livestock which students helped to raise for food, for they could not afford to buy all of the goods necessary to feed a growing school (and growing children). Handwork, basketry, crocheting and woodwork done by students since a former pupil, Eliza Shirley, had joined the staff, were being sold as far away as Washington, D.C.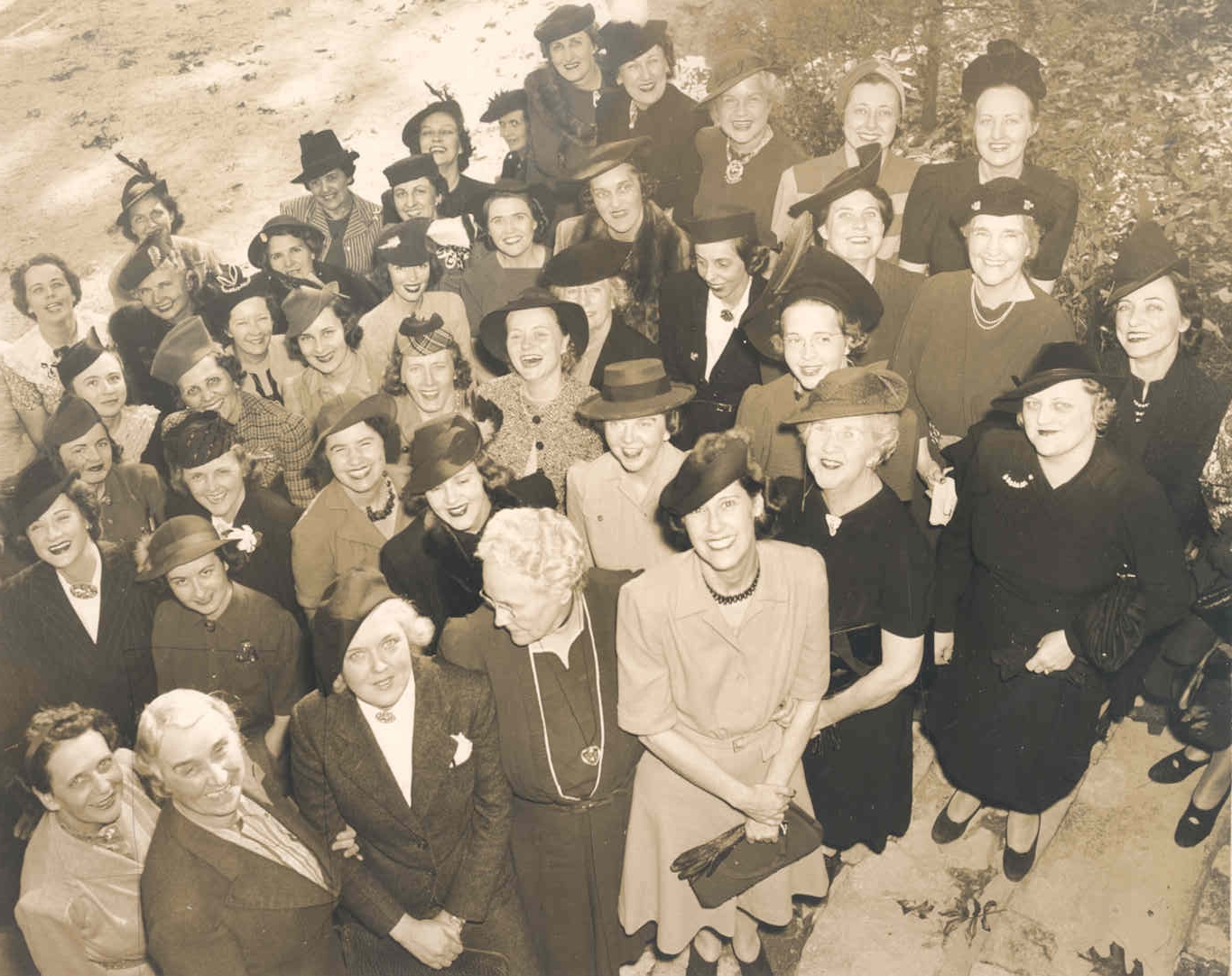 Mrs. Passie Fenton Ottley assumed directorship of the school in 1922, and she spearheaded the "Greater Tallulah Movement," a two-year campaign for "physical expansion and financial permanence." In 1922-1923 the Mary Ann Lipscomb Endowment Fund reached its goal with $30,000 raised. A feature of the Greater Tallulah program was the establishment of 25 perpetual scholarships of $2,000 each. The interest from these would in perpetuity provide annual scholarships. To date, more than 500 perpetual scholarships have been funded.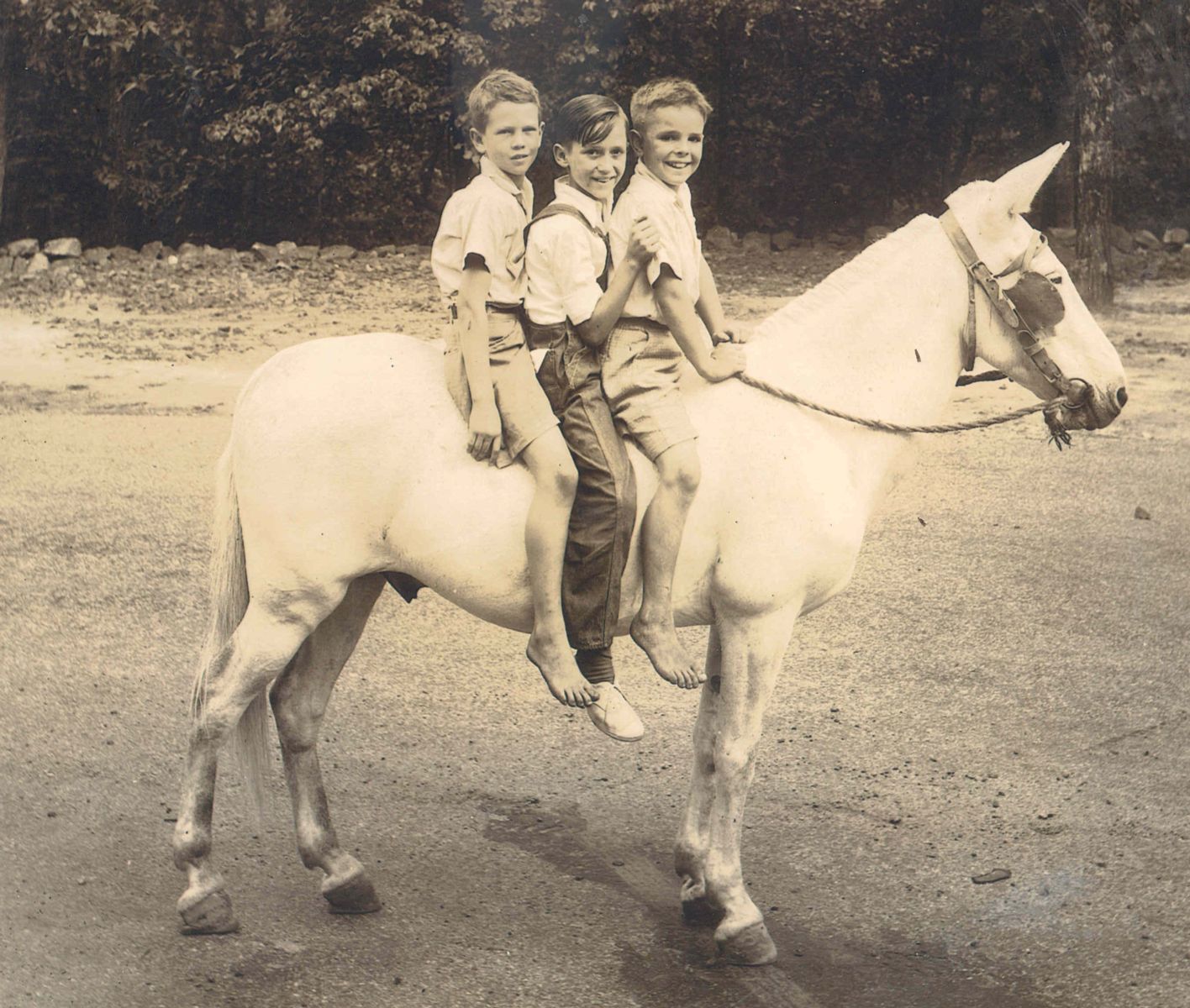 Old Frank Tallulah, according to Walter Hunnicutt's story The Legends of Tallulah, was ridden onto the school grounds in September 1924 by two boys who asked if they could "give the mule to Tallulah for their education?" The deal was gladly accepted, and Frank Tallulah did much of the heavy lifting for several decades, sledding down the big rocks for the new buildings from the slopes of nearby mountains, as well as garden and field work for the school. For several years prior to his death in 1951, Frank Tallulah enjoyed a comfortable retirement as school mascot and adored student companion.
Four Tallulah Falls School Circles were formed in 1927, including the Atlanta Young Matrons' Circle for Tallulah Falls School. The organization, now known as the Circle for Children, continues to provide financial support to Tallulah Falls School today.
The first graduation at Tallulah Falls School took place in 1928. Miss Anne C. Davis, principal, recommended to the Board of Trustees 10 students for this recognition, and under the authority of the State of Georgia, high school diplomas were issued.
In 1929, on the twentieth anniversary of the school, Mrs. Ottley detailed the school's growth. It had 11 buildings, 250 acres of land, $80,000 in invested funds, 265 students, 115 boarders, and was an eleven grade, fully accredited high school.
Mrs. Ida Fitzpatrick, known as the "Duchess of Tallulah," became director and resident trustee of the school in 1932. In 1934, the 25th anniversary of the school, the senior class sent their first Jubilee gift of $25 to the school trustees with the suggestion that "all friends of Tallulah make gifts this year in units of 25." Members of the Atlanta Young Matrons' Circle took the seniors' challenge to heart, and they raised $25,000 for the Jubilee.
In 1934, Arthur Brisbane, described as the "dean of American Journalism," wrote an article about his visit to the Light in the Mountains for his column Today which was read by 40 million people all over the world. In part it said: "If any man who has let his heart grow hard in the struggle against other men would like to feel as a man should feel once more before he dies, let him go to that school in the mountains of Georgia and see the children… Emotion you feel as you have not felt for many years, not since the days when life seemed real and everything seemed possible."
Mildred Seydell's story in The Atlanta Georgian summed up 25 years of achievements: "The school is called the Light in the Mountains because ignorance is darkness and knowledge is light…A small seed of a dream, it was planted; it prospered. Now, after 25 years, it has blossomed into the blessed beauty of an institution which is training boys and girls into upright, intelligent, happy, healthy men and women."
In 1937 the word "Industrial" was removed from the school's charter. By the 1930s the term "Industrial" had come to be commonly used in the titles of incarceration facilities for youthful offenders, a context totally inappropriate for the Light in the Mountains. For the first time the school officially became known as Tallulah Falls School.
World War II brought with it new challenges, among them the scarcity of fuel and the tightness of money. Many of the "Tallulah boys" entered the service of their country and many, like Lt. Owen Lee Buford, Class of 1939, would never return. Gifts of war bonds came in regularly. It was during the school's Christmas party in 1943 that Mrs. Fitzpatrick announced to everyone that the Treasury Department had decided to name a bomber airplane "Tallulah" in appreciation of the school. A whoop went up, and there was so much excitement the Christmas program was delayed for many minutes. Santa and Christmas gifts couldn't compete with an actual combat aircraft.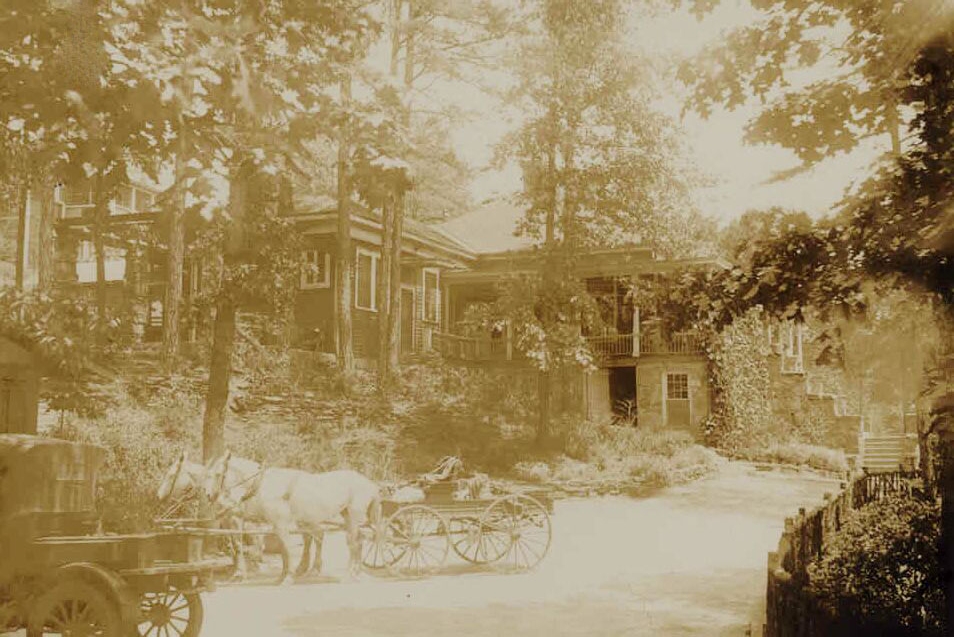 Only a few months later, on March 1, 1944, disaster struck. The Willet House, the school's original building and central structure, was destroyed by fire. Fortunately there were no injuries. Work began almost immediately on raising the funds to rebuild, and on December 13, 1946, the new Lucy Lester Willet Community Building was dedicated. Today, the Willet Building serves as an administrative office building housing the president's office, business office, IT, advancement, and admissions.
Original Willet Building, prior to it being destroyed by fire in 1944.
By 1952, the school had 130 day students and 118 boarding students from 24 counties. The school was accredited by the Southern Association of Colleges and Schools and accredited with quality by the State Board. In May of 1954, Mr. Kermett J. Harris took over the directorship of Tallulah, a move which resulted in seventeen years of tremendous growth and well being for the school. Funds for the Cannon Memorial Endowment became available in 1954 through the sale of the Henry Grady Hotel in Atlanta, and a planning committee was formed to guide and advise in the building program for the H.R. and C.R. Cannon Building. Today, the school's academic complex renovation has transformed the original Cannon Building into a state-of-the-art, modern facility more than twice the size of the original structure.
In February 1957, Mrs. Nannie Woodward Westmoreland died, leaving her entire estate to Tallulah Falls School. In her will, she directed the school to construct a native stone dormitory to house approximately 75 girls. The Board of Trustees passed a resolution to build the Nannie Woodward Westmoreland Dormitory. "A Golden Age, A Golden Future" was the theme for the celebration of Tallulah Falls School's 50th anniversary in 1959. Margaret Turner wrote a series of articles in The Atlanta Journal-Constitution, and the June-July issue of Georgia Magazine carried a spread on the school written by Ann E. Lewis. It was also during the 50th anniversary celebration that the H.R. and C.R. Cannon School Building and the Nannie Woodward Westmoreland Dormitory were dedicated.
In 1961, Tallulah Falls School received a special honor as it was recognized as one of 35 outstanding small high schools in the United States. It was the only school in Georgia to be so honored. It was also during this year that construction began on the Ida Fitzpatrick Dormitory for boys, which was completed in 1963.
Beginning with the 1970-71 school year, after much correspondence and planning with the State Board of Education, Tallulah Falls School became a privately-chartered institution and no longer accepted public funds for its operation. For accreditation reasons, the school discontinued grades one through seven.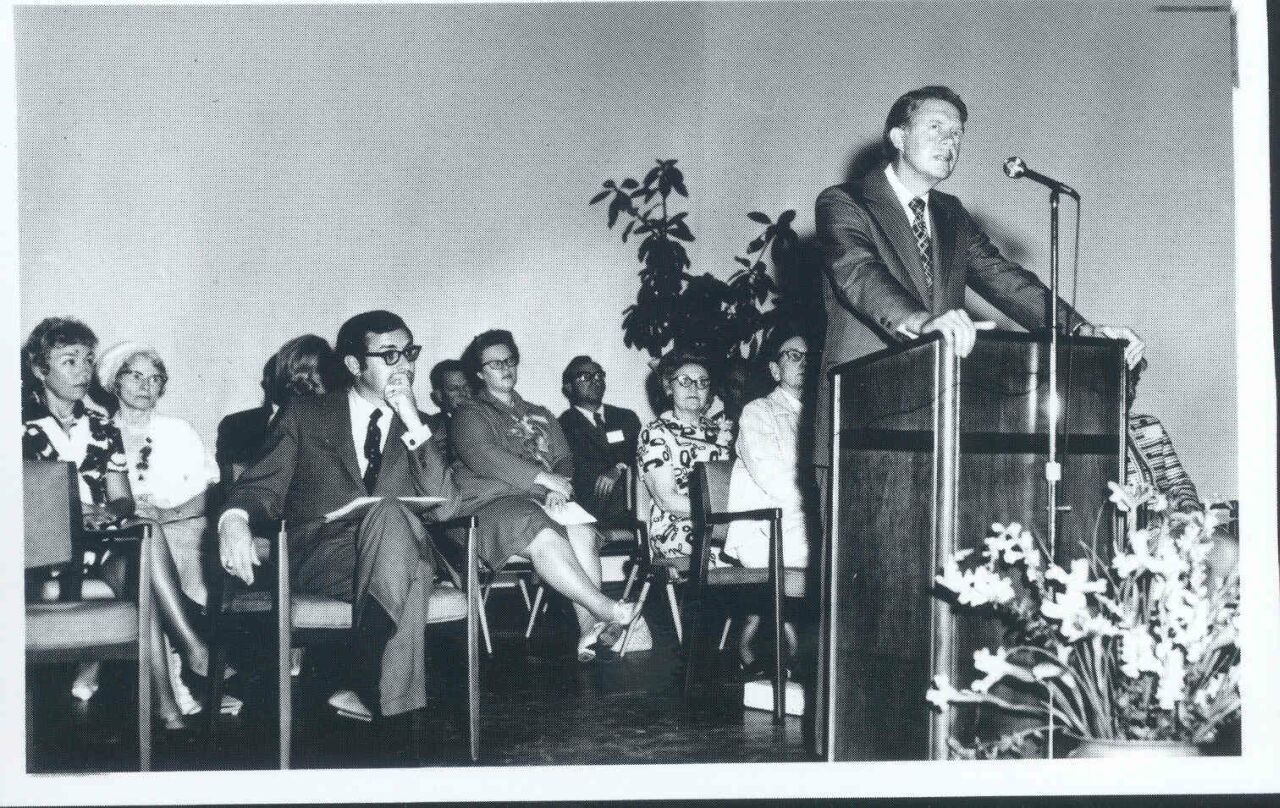 Then Georgia Gov. Jimmy Carter was the keynote speaker for the dedication of the Young Matron's Circle Building, right.
Dr. Franklin Shumake became president of Tallulah Falls School in 1971. On May 13 of that year, Governor (later President) Jimmy Carter was the keynote speaker for the dedication of the Young Matrons' Circle Building, a multi-use facility including a gymnasium, theater, and music rooms. Also dedicated that day was the Mary Ann Lipscomb Building. The original Lipscomb Cottage, the first dormitory, was restored and served for several years as the president's office as well as the school museum.
The first international students came to Tallulah Falls School during the 1972-73 school year. Geraldo Celso Menezes and Luiz Garcia, from Brazil, came to the school through the International Fellowship Program. One of the most exciting experiences for the two students was snow, which neither boy had ever seen until they arrived at TFS. Today the school has approximately 55 international students from virtually every continent (snowy Antarctica excluded).
The first annual Homecoming Day for Tallulah Falls School was held on Sunday, May 6, 1973. Efforts were made through various media to reach as many of the estimated 20,000 former students as possible. Alumni present at that first homecoming had attended the school from as far back as 1909, when the school was founded. A day of tours, food, and remembrances was enjoyed by all 600 attendees. Homecoming continues to be an annual event held in April.
The Light in the Mountains: the Story of Tallulah Falls School, written by Carol Stevens Hancock, was published in 1975. It was the first comprehensive history of the school, and remains today one of the best sources of information on the school's evolution from 1909 through the early 1970s. A second school history book by Mrs. Hancock, Not By Magic, But By Faith, Courage, and Earnest Work, was published in 1982. "Continuing To Tend The Light" was the theme for the school's 75th anniversary celebration. TFS students and staff members planted 2,000 dogwood trees on the school campus, many still flourishing today.
During Homecoming in 1984, 10 Outstanding Former Students were chosen from among those who had attended the school since its beginning in 1909. The Alumni Association continues to honor one or more Outstanding Former Students each year. Endeavour was Tallulah Falls School's winning entry in NASA's Orbiter-Naming Program. In honor of Christa McAuliffe, the school teacher who died in the 1986 Challenger accident, Congress directed that the orbiter being built to replace Challenger would be named by school children. The nine-student team at Tallulah Falls School named the shuttle Endeavour after the vessel used by Captain James Cook in his 18th century sea explorations. More than 6,000 entries were submitted nationally in two divisions, secondary and elementary. TFS won on the secondary level. President George Bush presented an award to the Tallulah Falls School students on May 16, 1989, in a ceremony at the White House.
Dr. Charles H. Green, who had served as superintendent of Griffin-Spalding County Schools, Griffin, Georgia, was elected president of Tallulah Falls School, and assumed duties on July 1, 1989. The new space shuttle Endeavour rocketed into the Florida skies at 7:42 p.m. on Thursday, May 7, 1992. That the students, faculty, and staff of Tallulah Falls School should be present for the shuttle's initial launch is only fitting, since a team of students from the school named the orbiter.
A tornado struck Tallulah Falls School shortly after 3 p.m. on Palm Sunday, March 27, 1994, destroying hundreds of trees and several automobiles, but miraculously inflicting no human injuries and causing little damage to campus buildings. Downtown Tallulah Falls received the most damage, with six primary and secondary residences and two businesses destroyed by the tornado. A group of students from Tallulah Falls School helped area residents clean up in the aftermath of the tornado.
On October 10, 1996, Tallulah Falls School held groundbreaking ceremonies for two new structures: Federation Hall, a new dining facility, and the Lettie Pate Evans Student Center. The school began a capital campaign in order to raise the $1.5 million needed to complete the $4 million project. School uniforms were introduced for the 1997-98 school year at TFS. The school blazer included the crest designed by students the previous year. School uniforms continue to be worn with pride today. "A Proud Past – A Promising Future" was the theme for the school's 90th anniversary celebration in 1999. During Homecoming that year Federation Hall and the Lettie Pate Evans Student Center were dedicated. Federation Hall was named in honor of the GaFWC, who had founded the school in 1909. The new student center was named in honor of Mrs. Lettie Pate Evans, a lifelong friend of Tallulah Falls School and the school's largest benefactor. When Mrs. Evans died in 1953, she directed that 10 percent of the earnings on her estate would go to Tallulah Falls School each year. The funds, administered through the Lettie Pate Evans Foundation, amounted to more than $6.5 million in a recent year.
President and Head of School Larry A. Peevy
In 2007, Larry A. Peevy was appointed president and head of school by the Board of Trustees. With a solid background in college administration, as well as classroom teaching experience and boarding school experience, Mr. Peevy was uniquely qualified to lead Tallulah Falls School. His first task was to determine the state of the school, and working closely with faculty, staff, administrators, students, and parents, he implemented a SWOT Analysis (Strengths, Weaknesses, Opportunities, Threats). From this analysis, a clearly defined college-preparatory mission evolved, and from that unifying mission all other successes have flowed: "Our mission is to prepare each student to thrive in life by elevating character and intellect in a challenging and diverse college preparatory environment."
Not wasting any time, Mr. Peevy set about a reorganization of facilities in 2007, giving the middle school its own separate area and identity, in the Cannon Academic Building by adding three new classrooms in the industrial arts shop area and using the original shop classroom as a fourth classroom. Renovation of both upper school science labs was completed, and industrial arts moved into an adjacent facility previously used by plant services. These facilities upgrades were literally the tip of the iceberg of changes to come in the not-so-distant future.
The 100th anniversary of Tallulah Falls School, in 2009, was a year-long celebration involving present and past students, faculty, and staff; GaFWC members; supporters; and surrounding local and state leaders. A special event was planned for each month. Highlights included an International Dinner honoring the school's students; a Business After Hours celebration bringing to the campus members of the Habersham County and Rabun County Chambers of Commerce; a special 100th anniversary presentation at the GaFWC Convention in Augusta; and the Centennial Finale during Homecoming including a Centennial Dance followed by fireworks. It was a time for remembrance and renewed pride in being part of a close-knit school community that has flourished for more than a century.
It is challenging to express all that has happened at Tallulah Falls School since 2009 when the school last received dual accreditation from the Southern Association of Colleges and Schools (SACS) and the Southern Association of Independent Schools (SAIS). Facilities, curriculum, information technology, enrollment, athletics, and student life have all taken quantum leaps forward in a few short years, far faster than our five-year strategic plan could have ever foreseen. The synergy among all of these facets working together as one has resulted in rapid, positive change. The whole truly is greater than the sum of its parts.
In terms of facilities, the school's $8 million upper school academic complex renovation project was completed in March of 2014. The renovation has added a new third floor to the academic complex with an additional 18,000 square feet of classroom space. A full renovation of the original two floors of the building has been completed, and a new high-tech media center has opened. Construction on the new school entrance, expanded office areas, health center, and other enhancements were included as part of the project. The renovation has been done in phases in a pay-as-we-go mode, so that the school did not incur any debt in dramatically expanding and upgrading the facility. This facility adds tremendous value to the school campus. Not only has it exponentially increased available classroom space, it has also created lobbies and entrance areas that can be used for special events and gatherings.
From a public relations standpoint, the appearance and functionality of the building, both externally and internally, have been transformed from a dated 1950s structure to a state-of-the-art technological 21st century showplace. The academic complex is now, appropriately, the jewel of the school campus.
In 2011, when the school came to possess The Lodge at Tallulah Falls, a 55-room hotel adjacent to the school farm property, much debate ensued as to the best school use of the facility. After consultation with architects, engineers, and builders, it was determined that hotel rooms could, with the removal of walls, become classrooms, and in a few short months, and thanks to diligent work by Ron Cantrell Construction Company and other contractors, the lodge was converted to a separate, beautiful new middle school campus. The Lucy A. Willard Middle School Academic Complex was completed in time for the opening of the 2011-12 academic year in August. Mrs. Willard, for whom the facility is named, is a member of the Atlanta Woman's Club and has contributed more than $1 million to the school.
Many campus facilities have been upgraded. The Circle Building has new lobby flooring, a new practice gymnasium, new bleacher seats in the main gymnasium, a new gym floor, new video screens and carpet in the theater, and the exterior of the building was spruced up with new awnings, doors, and landscaping. Just outside the Circle Building a new fire pit and plaza have been constructed. Federation Hall, the dining hall, received new tile and seating on the porch, as well as a new sound system and video monitors.
Willet Administration Building upgrades include the construction of a Trustees' Board Room, new information technology offices on the third floor, and a reorganized admissions area to better serve prospective students. The Chapel was in dire need of a facelift, and new carpet, a new entrance and vestibule, and a new roof have greatly improved the building's appearance. A new climate-controlled server room on the lower level of Federation Hall has consolidated much of the information technology equipment in one location facilitating maintenance and upkeep.
The bedrock of any strong college preparatory program is a challenging and stimulating curriculum. At Tallulah Falls School 10 college credit courses are offered on-campus to qualified juniors and seniors through a dual-enrollment program with Truett-McConnell College. In addition, honors courses are offered in all core subject areas—English, mathematics, science, social studies, and foreign language. The arts are well represented in the curriculum, with courses in dance, art, piano, concert choir, handbells, and instrumental music. A sampling of other electives provide an eclectic mixture of subjects sure to pique student interests, including critical thinking, graphic design, leadership in life, culinary arts, video production, creative writing, woodworking and architectural design, and American cultural literacy and speech.
The recipe for success is simple: combine intelligent and highly motivated students with highly skilled teachers (all of whom are certified in their subject areas) in a small classroom setting of 15 students per class; add generous portions of personal attention in a close-knit family atmosphere historically associated with Tallulah Falls School; and blend cutting-edge technology literally at the fingertips of every student. In an effort to prepare our students to lead and thrive throughout their lifetimes, Tallulah Falls School has skillfully balanced and blended tradition and innovation.
Information technology (IT) improvements since 2009 have been mind-boggling. All students in grades six through 12 are issued laptop computers for their use. Smartboards have been installed in all classrooms on both the middle school and upper school campuses. A new wireless system has been implemented, increasing campus coverage from one building to nine buildings. The school's internet bandwidth has been upgraded ten-fold, and we now have fiber connectivity. The implementation and expanded use of RenWeb have greatly facilitated information sharing for all groups within the school community. A new school website provides in-house control for information updating and future site expansion. Two new state-of-the-art media centers have been built, including a media center management system incorporating an e-book checkout system. Digital textbooks have been integrated into the system. A scalable digital camera system and mobile device synchronization system have been added. Multiple computers and peripherals have been added to the dormitories. To make sure that campus personnel know how to use all of the new technology, the IT department has greatly increased staff development opportunities.
Enrollment has more than tripled since the school's last accreditation visit, from 134 students, all boarders, in 2009, to 430 students, as of the beginning of the 2015-16 school year.
Tallulah Falls School was founded in 1909 to provide educational opportunities for local mountain children, and today that founding mission has been rekindled. Dramatic enrollment growth on a scale of this magnitude, at a time of economic flux, is highly unusual and can be attributed to multiple factors: parents believe strongly in the school's mission and its dual emphasis on elevating both character and intellect; in February of 2013 the school implemented an innovative tuition freeze in which a student's base tuition rate locks in at the time of initial enrollment and will remain fixed and frozen for all of that student's years at the school (and there is a legacy component covering siblings); quality students want to be part of a school community where they are challenged academically; word has spread to surrounding communities about academic successes (high test scores at all grade levels and millions in college scholarship offers to graduating seniors each year); outreach efforts have resulted in a stellar school image and heightened local awareness of the school; because the school is not tuition driven, with only about 20 percent of the school's budget funded by tuition dollars, need-based financial assistance is available (more than $2 million in aid awarded annually); and the school has top-flight admissions and communications departments and the vision to use those departments wisely and creatively. Growth has been implemented in incremental stages following a balanced enrollment management plan.
Today the school finds itself with a retention rate exceeding 90 percent, waiting lists for both dormitories, and waiting lists for every grade. Demand for student placements far exceeds supply. The school's athletic program has seen noteworthy growth and improvement in terms of facilities, participation, and outcomes. Facilities upgrades include: construction of a new 100 meter sprint track; building of a walking track around the soccer field; two new tennis courts; a renovated baseball field and facilities (named a top field in classification by the Georgia Dugout Club); new bleachers and gym floor in gymnasium; new bleachers for the soccer program; new practice gymnasium; enlarged and resodded soccer field; and the construction of a home cross country course, and future golf driving range, on the school farm property. In terms of participation, more students are engaged in more sports than at any previous time in the school's history. Growth has been especially significant in the middle school, which has grown from about 30 students a few years ago to more than 140 students today. Middle school teams have been added in basketball, cheerleading, cross country, golf, soccer, swimming, tennis, track and field, and volleyball. Within the last four years, upper school teams have been added in swimming and girls soccer. Increased numbers have also increased team competitiveness. Middle school cross country, golf, tennis, and track and field teams have won championships in the Tri-State Conference in which they compete. The upper school boys tennis team advanced to the state championship in 2013, and the No. 1 singles player on the team has been awarded a full college scholarship to compete at the next level. Several boys and girls upper school track and field athletes qualified for, and placed in, their state championship competitions in 2013. Our students are not only good athletes but good sports, winning region sportsmanship awards in virtually every sport in which they have competed.
Plans are currently underway to build a new gymnasium for the middle school. Students are the heart of our school. They are the best and the brightest, hailing from every corner of the state, the nation, and the globe. They interact with faculty and staff to become a close-knit extended school family. They are diverse, intelligent, curious, and accepting young people motivated to lead and to be successful. Students are challenged to demonstrate GREAT character (Generous, Responsible, Enthusiastic, Accountable, Thoughtful) in everything they do, from the classroom, to the dormitory, to the playing field, to the community at large. Our students don't just talk about character; they live it, volunteering for dozens of community service projects each year through the Interact Club, Key Club, National Honor Society, Juniorettes, and other service groups.
Within the past year, Tallulah Falls School students have volunteered at a local animal shelter, created and delivered cards to residents of nursing homes, raised money for victims of Hurricane Sandy through the American Red Cross, collected food for a local food bank, read to students at a local elementary school, and helped with various United Way service projects, to name a few. Student ambassadors serve as role models for their peers and project a positive image of the school on and off campus. Mrs. Mary Ann Lipscomb and our other founders would be proud of today's students who personify the traditions and spirit which have come to be synonymous with the Light in the Mountains. In partnership with parents and guardians, Tallulah Falls School focuses on nurturing and developing our greatest blessings, our students, and their futures are bright and full of promise. Our recently completed 10 year campus master plan prioritizes major and minor construction and infrastructure projects to be undertaken on our campus in the coming decade. This forward-looking approach will ensure that prioritized projects match available funds with appropriate building locations to maximize campus site utilization and minimize costs. Tallulah Falls School is student focused and mission driven, a winning combination for any school. Our strategic plan, thoughtfully compiled with input from all stakeholders, is not a finished document to be set up on a pedestal and admired, or tucked away on a shelf and forgotten. Instead, it is a blueprint for change that is itself subject to change as future circumstances and opportunities dictate. These are indeed exciting times to be a part of the Tallulah Falls School community!
An update to this history is pending.