International Applicants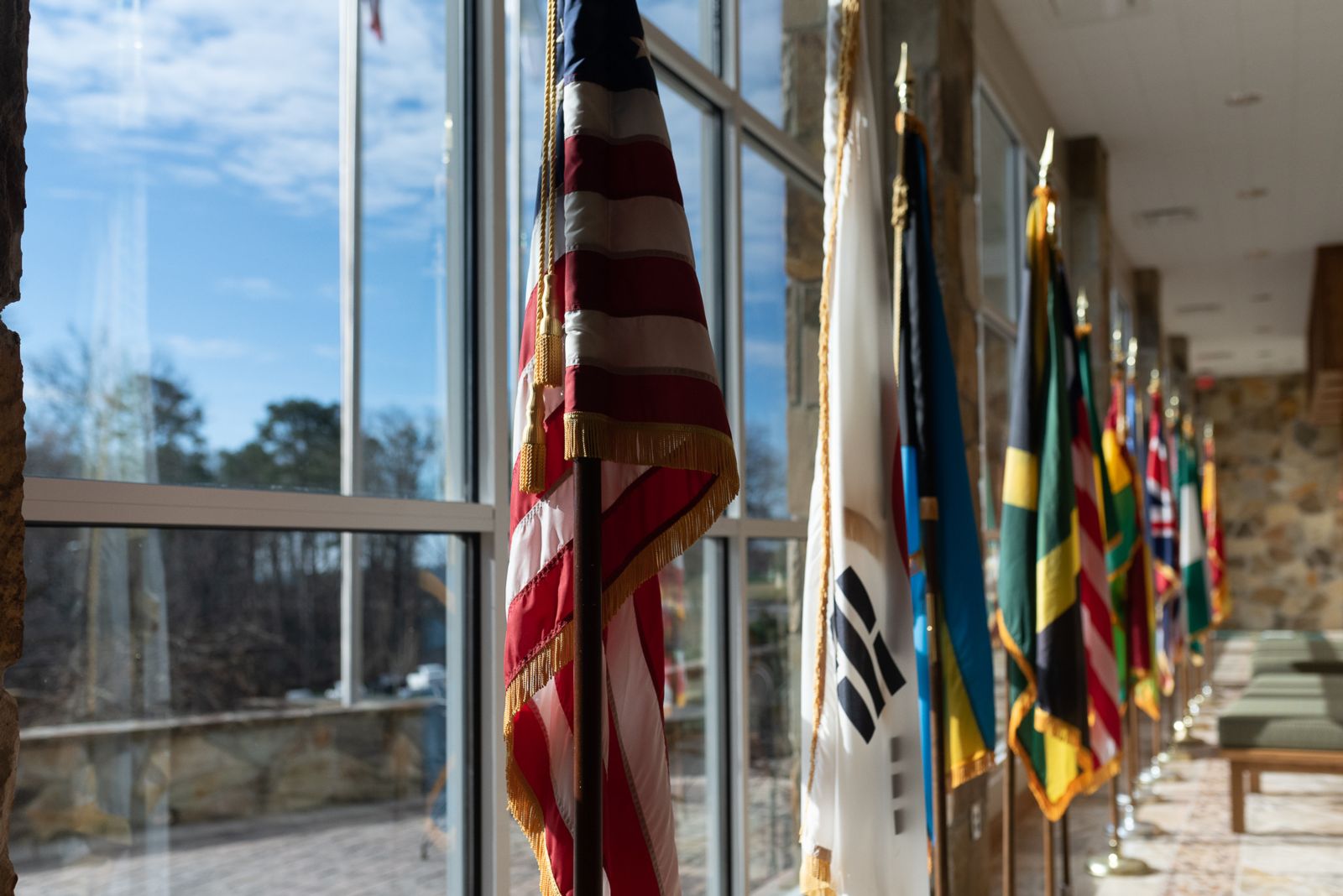 How many international students attend TFS and where are they from?
Tallulah Falls School enrolls approximately 80 international students each year. The students come from the Bahamas, Brazil, China, Germany, Ghana, Japan, Liberia, Mexico, Nigeria, Republic of Georgia, Russia, Rwanda, Serbia, South Korea, Spain, United Arab Emirates, Thailand, Hungary, Vietnam and beyond.
Do you provide an ESL program?
Our international students are scheduled into an English/ESL class their first year of enrollment at TFS. The English/ESL class is a sheltered class for first year international students. Although the pace and content of the course are modified for students whose first language is not English, this course is academically challenging, and the standards and the curriculum are equivalent to the other English classes taught at Tallulah Falls School. ESL integrates listening, speaking, reading, and writing with an emphasis on vocabulary development, and grammar. Students will read a wide variety of literature and learn the foundations for competent writing through instruction in grammar, vocabulary, spelling, and mechanics. American literature, culture, and history will be emphasized.
What is the Admissions process?
Completed Application- the application may be accessed on the TFS website.
Recommendation Forms- Principal/Guidance Counselor, math teacher, English teacher
Academic Transcripts- class grades for at least two years translated in English
Test Scores-TOEFL, TOEFL Junior, SSAT, IELTS, iTEP, SLATE or Duolingo. Tallulah Falls TOEFL code is 7539
Admission Interview- completed via SKYPE. An admissions representative will schedule an interview after the required forms are submitted.
What testing do you require?
International students are required to take one of the following tests: TOEFL, TOEFL Junior, IELTS, iTEP, SSAT, or SLATE. The purpose of these tests is to measure a student's ability to be successful in classes taught in English.
When is the admission deadline for international students?
Applications to be considered for the 2019-20 school year should be submitted by February 1, 2019. Late applications will be considered for grades which have vacancies.
How do I pay tuition?
Tuition may be paid by wire transfer, check, or credit card.
What is included in tuition?
Classes

Books

Dormitory

Meals

Athletic uniforms

Laptop computers (for use during the school year)

Laundry service

Some weekend activities
Are there any other fees?
School and P.E. uniforms (approximately $600 - $800)

Transportation not associated with school activities

Elective weekend activities

Personal supplies for school or dormitory

Medical expenses

Mandatory educational trips
How do I obtain an I-20?
After the student has been accepted by the Admissions Committee, the following should be submitted in order to issue the I-20:
Signed enrollment contract

Payment of non-refundable tuition deposit

Medical paperwork required by TFS

Bank document verifying funds available for tuition and fees

A copy of the student's passport
Once I have the I-20, how do I apply for my visa?
Contact your local U.S. Embassy to schedule your interview for your F1 visa.
What is the closest airport to the school?
Atlanta Hartsfield-Jackson International Airport
Where do international students stay during school breaks?
Tallulah Falls School schedules several breaks throughout the year associated with major U.S. holidays or to allow students time to break from their studies and experience other aspects of American culture. These breaks are divided into two categories, open weekends (few days) and long major breaks (one week or longer).
Open Weekends:
Students may remain in the school dormitories and participate in area trips and activities for the shorter open weekend breaks. There will be a nominal fee charged by TFS to remain in the dorms for the open weekend breaks. This fee will cover lodging, food, transportation, and activities for the weekend.
Parents may also choose to have their children stay with a family member (arranged by the parent) or may receive permission to spend the open weekends with another student in the local area. In these cases, the parents of both students must submit leave forms for approval.
Major Breaks:
For the four major breaks (one week or longer), students will still be required to leave campus.
Thanksgiving, Christmas, Winter break, Spring break
Parents are responsible for making arrangements for the major breaks and must submit an itinerary for the breaks before the start of classes in August. There are several options for the major breaks:
Return to home country to spend time with family or have their family visit with them in the U.S.

Stay with the family of another TFS student (arranged by student/parent).

Stay with adult authorized by the parents and approved by TFS.

Travel with organizations specializing in educational trips for students.
Tallulah Falls School will only release students to stay with adults who have been approved by the parents and by TFS. The school will provide shuttle service to the Hartsfield Jackson Atlanta airport for students traveling during the major breaks.
Are uniforms required and how do I purchase them?
Students are required to wear uniforms during the school day. These uniforms are purchased through FlynnO'Hara Uniforms in Atlanta. Tallulah Falls School will organize trips to purchase uniforms at the beginning of the school year.
After the school day has concluded students may wear their normal casual clothes provided they meet dress code requirements.
How do I provide spending money for my child?
You may provide your child a bank card for accessing money through an ATM machine on campus or you may wire transfer money to their school account.
How can a parent communicate with their student while at Tallulah Falls School?
There are several computers on campus with SKYPE available for students to contact their parents and students are issued laptop computers with an email account. There are also phones in the dormitories and students are allowed to have cellular phones except during the class day, study hall, and after lights out.
Are students required to have medical insurance?
Medical insurance is strongly recommended.
Does Tallulah Falls School provide medical insurance for students?
Tallulah Falls School does not provide or sell medical insurance for students. However, there are several companies that sell student insurance plans that you can purchase online.
How should I contact the admission office?
You can contact the Dean of Enrollment Management, Mr. Kelly Woodall, at kelly.woodall@tallulahfalls.org if you have questions about the international application process.