TFS Athletic Legends

2022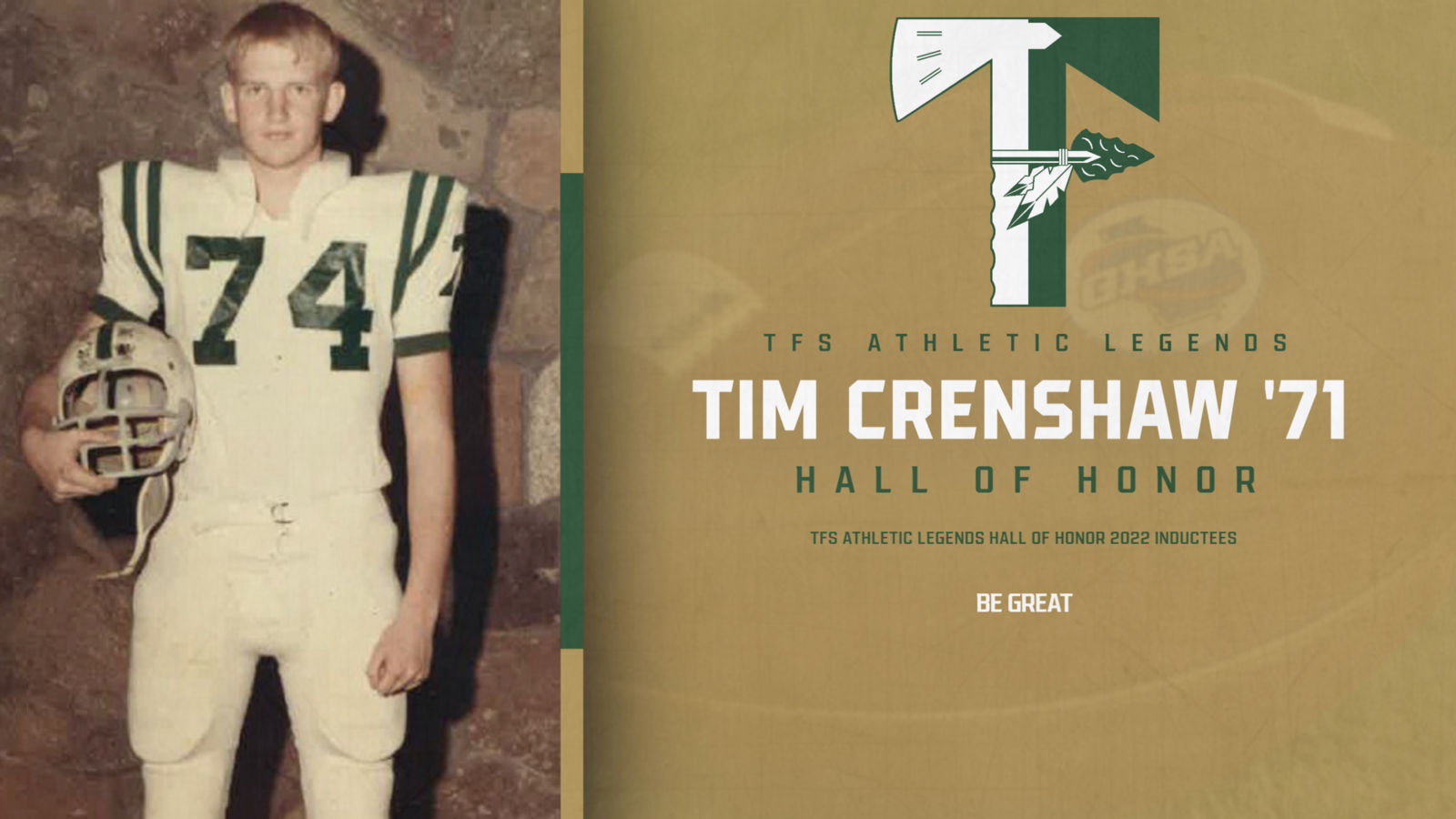 Tim Crenshaw ('71) was a standout for Tallulah Falls on the football field. He was an All-State lineman, and was part of the legendary 1968 football team at TFS. Crenshaw also played basketball, ran cross country, and competed in track and field.
He was a four-year letterman, and a two-time high point man for track and field, an All-State lineman as a junior in football, and placed third at state in shot put with a distance of 56-3. On the gridiron, he was the starting right tackle and left defensive end. Crenshaw even as a sophomore at TFS was also a leader off the field, as he was one of the Work Leaders on campus.
Crenshaw was given the opportunity to pursue football at the University of Georgia, playing one year before going to Truett McConnell College (now TMU). He eventually returned to UGA and then entered into the construction business. He was a top apprentice and foreman during just his first year on the job, and he credits his quick rise in the industry to TFS due to being able to read drafting and shop class at Tallulah Falls. Crenshaw has been a commercial construction superintendent and the head guy at the Carpenter's Union.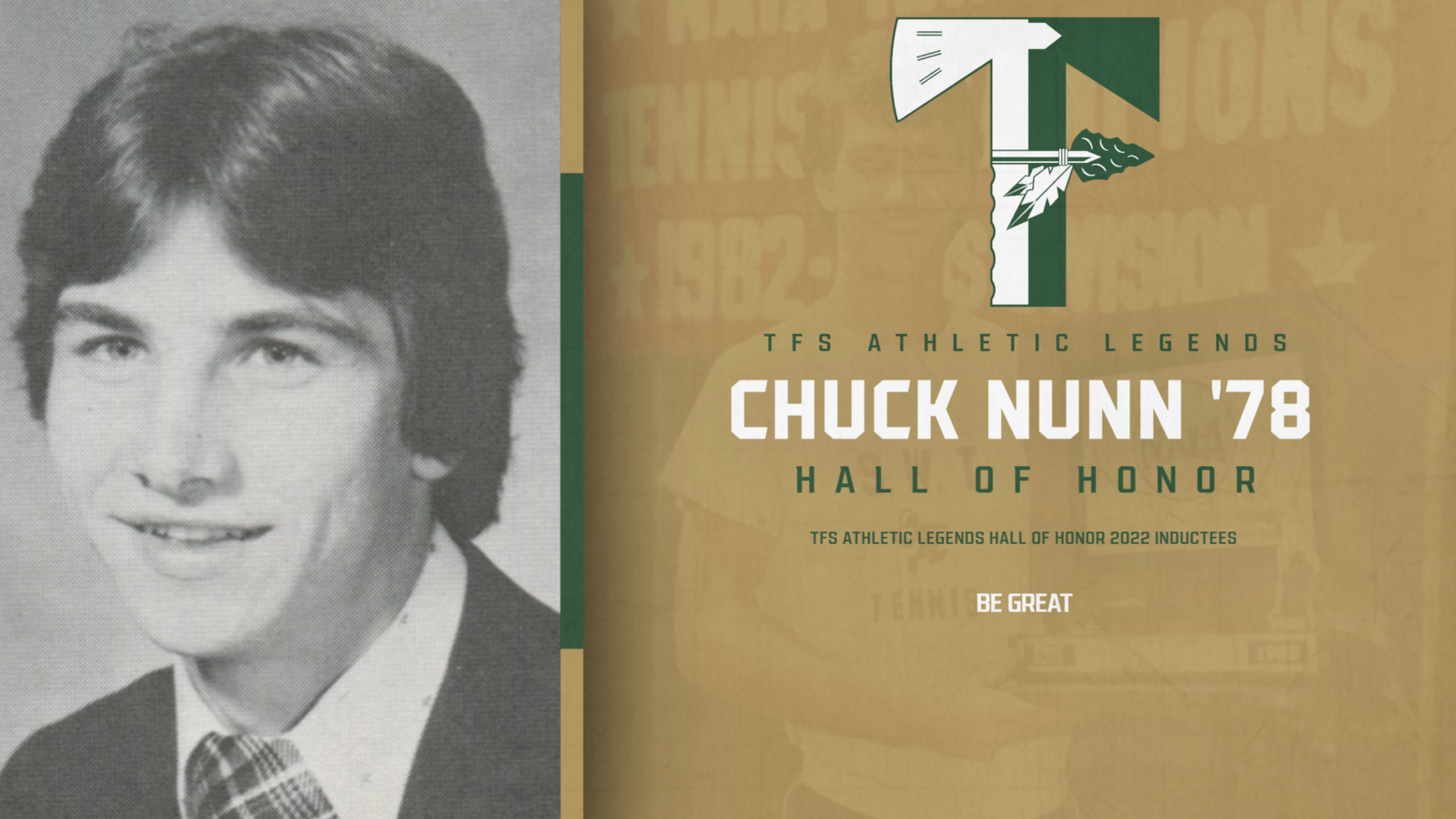 Chuck Nunn ('78) was a multi-sport standout at TFS from 1974-78. He was a four-year letterman in both tennis and basketball, and two-year letterman in track and field. He was the team MVP several years in both tennis and basketball, and won multiple High Scoring awards in basketball as well. Nunn found his passion for tennis at TFS, and it propelled him to a stellar professional career.
While playing at TFS, Nunn was a tennis state finalist in the 1978 season, and won the school a region championship in 1976, 1977, and 1978. He finished third at state in 1978, and ranked 23rd nationally in the southern junior circuit. He was 125th in the country after competing at nationals. Though tennis was his primary sport, Nunn was also recruited to play college basketball by such schools as Clemson and Wake Forrest. At TFS, he was Team MVP all four years in basketball. He ran the 100 and 200 meter in track and field to help be in shape for tennis. Nunn was also named Most Outstanding Student at TFS in 1977-78, and won Industrial Arts Awards in 1976-77 and 1977-78.
Nunn went on to play college tennis first at Gainesville Junior College from 1979-80, and then at Southwest Texas State University (Texas State University) from 1980-83. He played at #2 singles and #1 doubles at Gainesville (JUCO #3-ranked team), and was a JUCO All-American. At Texas State, he won an NAIA National Championship ('80-'81) and an NCAA DII National Championship ('81-'82), and played in the NCAA DI National Championship ('82-'83) in his final season. He earned his Bachelor's degree in Education (Physical Education), and minored in Journalism/Public Relations, graduating in 1983. He won two national titles and the Pan American Championship also. Individually, Nunn was a three-time All-American (NAIA Singles, NAIA Doubles, NCAA DII Doubles), NAIA National Singles Champion (1981-82), two-time All-Lone Star Conference at both singles and doubles, NAIA National Doubles Finalist, NCAA DII Finalist, NCAA DI Singles & Doubles Qualifier, and won the NAIA War Ballinger Sportsmanship Award.
Not surprisingly, Nunn went pro in tennis, and was in the ATP (Association of Tennis Professionals) from 1982-88. The was a Wimbledon, French Open, US Open, and Canadian Open qualifier from 1984-87, competed in countless Challenger Events, Grand Prix Events, Grand Slams, etc from 1982-1988. He collected 262 professional wins, including 7 top-23 wins and 2 top-10 wins against. Playing in 60-plus matches against Davis Cup opponents, he won over 50% of his matches. In total, he played in 350-plus professional matches. His ATP ranking had him in the Top 300 in the world (singles/doubles) between 1984-88.
After finishing his professional career, Nunn has worked in the automobile sales industry for more than 30 years, working as a General Sales Manager, National Consultant, and has traveled the country to consult with some of the top dealerships in the nation. Nunn also spends time as a trainer and consultant in tennis in the Cartersville area, and has held roles as a Director of Tennis. He still provides private lessons in Marietta as well as surrounding areas.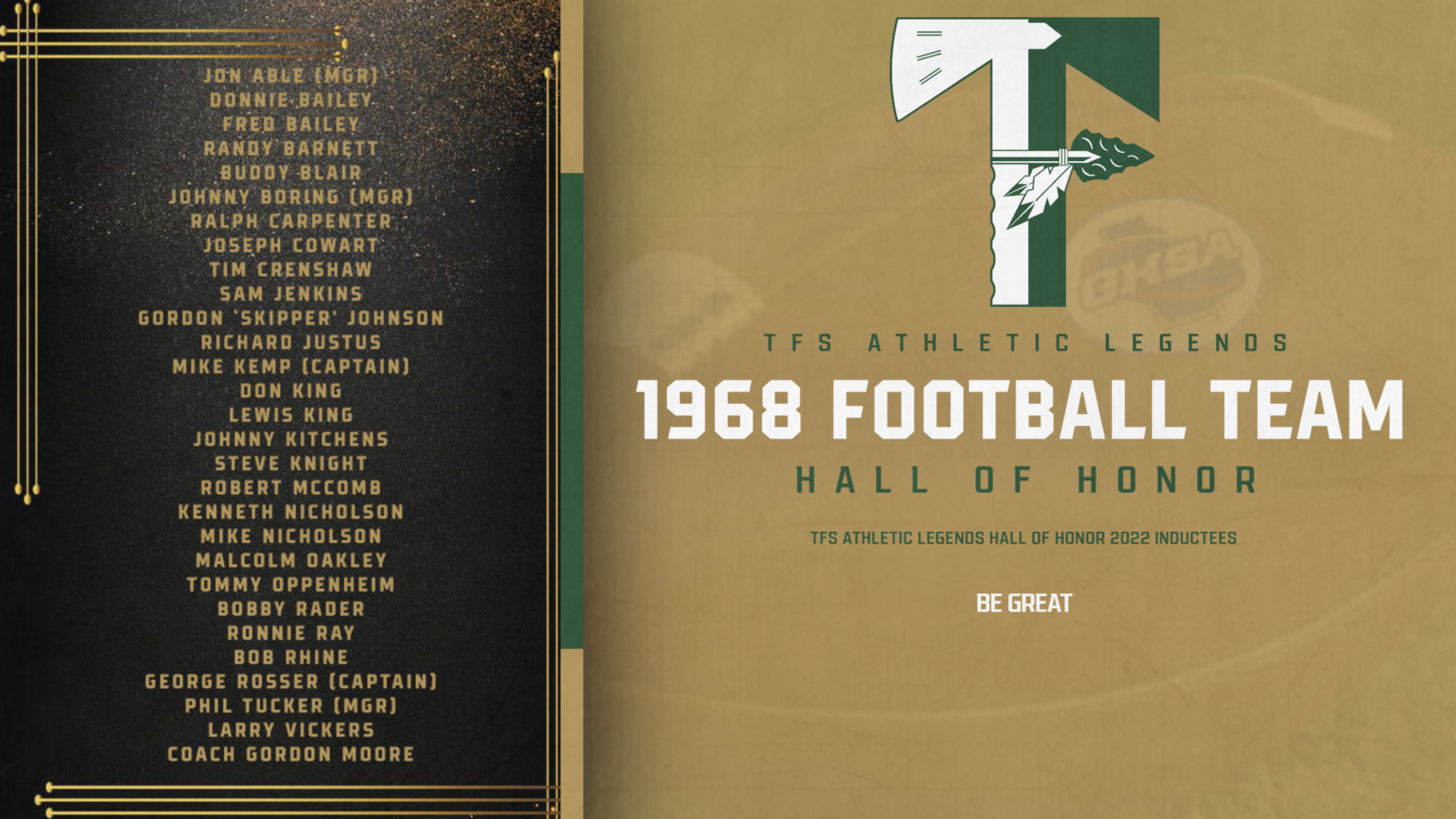 The 1968 Tallulah Falls Indians were the most dominant football team in school history. TFS had a football program from 1953-1969, and the '68 season saw the Indians set school records of the team and individual variety. The team went 9-1 overall, finishing as Region 3C Runner-Up under coach Gordon Moore.
The offense generated 365 total points, averaging 40.6 per game in nine of the games. Towns County forfeited against TFS during the year, resulting in an official 2-0 win for the Indians as well. Defensively, the Indians held opponents to a grand total of 31 points all season (3.4/game). The Indians were ranked #1 in the state for a couple of weeks until the lone loss to Georgia Industrial Institute. Prior to that 25-7 loss, TFS had gone 3-0 while outscoring opponents 103-6. After the loss to Georgia Industrial, Tallulah Falls never allowed a single point the rest of the way. Wins came over Loganville (60-0), Monticello (34-0), Riverside Military Academy (61-0), Dacula (39-0), and Buford (61-0). That resulted in a total score of 255-0 in the final five games not couting the forfeit over Towns, as TFS finished ranked #3 in the state. In a time where only the region champions made the state tournament, Tallulah Falls' season ended with the blanking of Buford.
That 1968 team contained two members of the TFS Athletic Legends Hall of Honor. Mike Kemp ('69) was an All-State honoree while setting GHSA state records that season in receiving yards (1,843) and TD catches (20). Those records stood for several years, and Kemp ended his career with the former state all-time receiving yards record of 3,097. During that '68 run, Kemp also set a state record that remains of scoring five touchdowns in five different ways in a single game. Tim Crenshaw ('71) was an All-State lineman who anchored both sides of the line for the Indians, and co-captain George Rosser was also named All-State.
Members of the 1968 football team include: Jon Able (MGR), Donnie Bailey, Fred Bailey, Randy Barnett, Buddy Blair, Johnny Boring (MGR), Ralph Carpenter, Joseph Cowart, Tim Crenshaw, Sam Jenkins, Gordon "Skipper" Johnson, Richard Justus, Mike Kemp, Don King, Lewis King, Johnny Kitchens (All-State HM), Steve Knight, Robert McComb, Kenneth Nicholson, Mike Nicholson, Malcolm Oakley, Tommy Oppenheim, Bobby Rader, Ronnie Ray, Bob Rhine, George Rosser, Phil Tucker (MGR), and Larry Vickers.
2022 HALL OF HONOR INDUCTION CEREMONY PHOTOS
---
2019
TFS Inducts Three Members into Athletic Legends Hall of Honor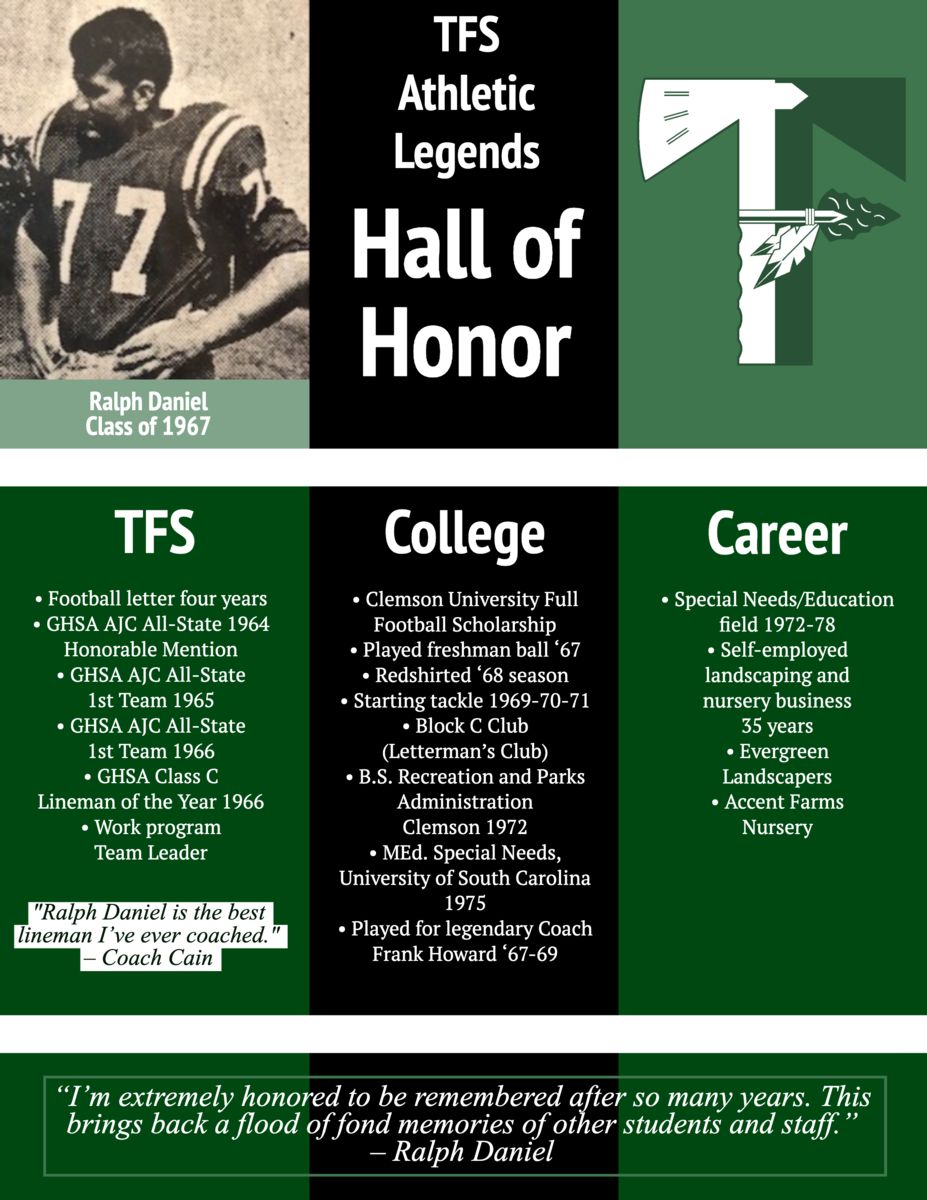 Ralph Daniel ('67) was a standout football player for TFS. He lettered all four years, and was a GHSA AJC All-State honoree as a 1st-Team selection in 1965 and Honorable Mention in 1964. He was named the GHSA Class C Lineman of the Year in 1966, and was a Work Program Team Leader while at Tallulah Falls.
Daniel earned an NCAA DI scholarship to play at Clemson University, playing on the freshman team in 1967. He redshirted the 1968 season, and was the starting tackle from 1969-1971 for the Clemson Tigers, earning his membership in the Block C Club (Letterman's Club). He played for legendary coach Frank Howard. At Clemson, Daniel earned his Bachelor of Science degree in Recreation and Parks Administration. He went on to get his Master's in Education (Special Needs) at the University of South Carolina.
He was in the Special Needs/Education field from 1972-78, and was then self-employed in a landscaping and nursery business for 35 years (Evergreen Landscapers/Accent Farms Nursery).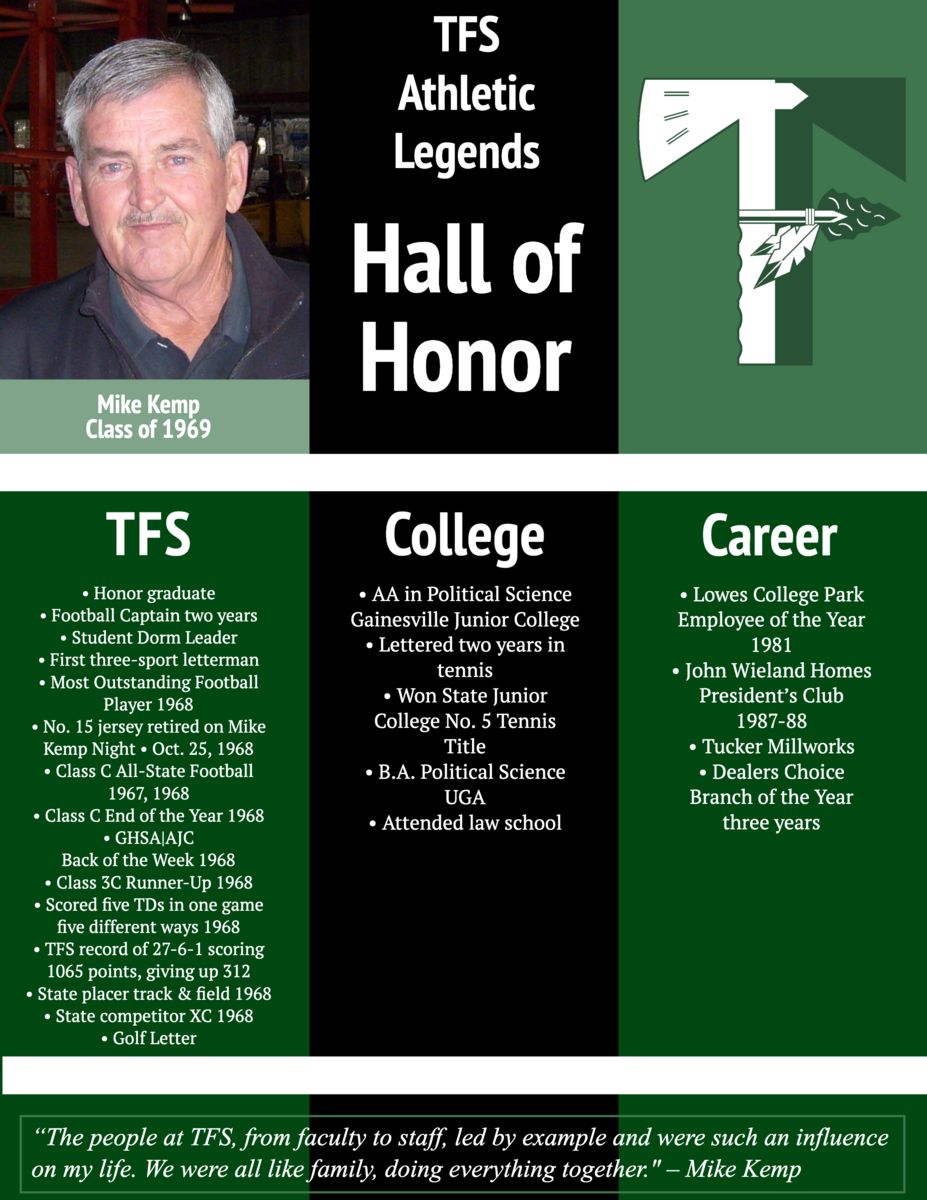 Mike Kemp ('69) was an honor graduate from TFS, and the football team captain for two years. Also a student dorm leader, Kemp was the first known three-sport letterman at Tallulah Falls, as he competed in football, track and field, golf, and cross country. He lettered in the first three. He was named Most Outstanding Football Player in 1968, and his #15 jersey was retired on Mike Kemp Night on October 25, 1968.
Kemp was named Class C All-State in 1967 and 1968, including Class C End of the Year All-State in '68. He was a GHSA AJC Back of the Week in '68, and was pivotal to the Indians' Class 3C Runner-Up finish that season. He scored five touchdowns in five different ways in a single game, and his 3,097 receiving yards in a career was the state's all-time record until 1973. It was the second-most until 1989, and still is a top-20 all-time figure. He had 1,843 yards in 1968 (5th most in state history, was the record until 2018), and 1,254 yards in 1967. He had 20 TD catches in '68, which was the single-season state record until 1971, and remains a top-20 figure. While at TFS, Kemp helped the football team to a 27-6-1 overall record, scoring 1,065 points while giving up just 312.
He was also a state placer in track and field in 1968, and competed in golf and cross country. In college, he earned his Associate's degree in Political Science from Gainesville Junior College. While there, he lettered twice in tennis, and won the State Junior College No. 5 Tennis Title. He earned his Bachelor's in Politicial Science at UGA, and attended law school.
Post-college, Kemp was named Lowes College Park Employee of the Year (1981), was on the John Weiland Homes President's Club (1987-88), worked at Tucker Millworks, and helpd earn Dealer's Choice Branch of the Year three times.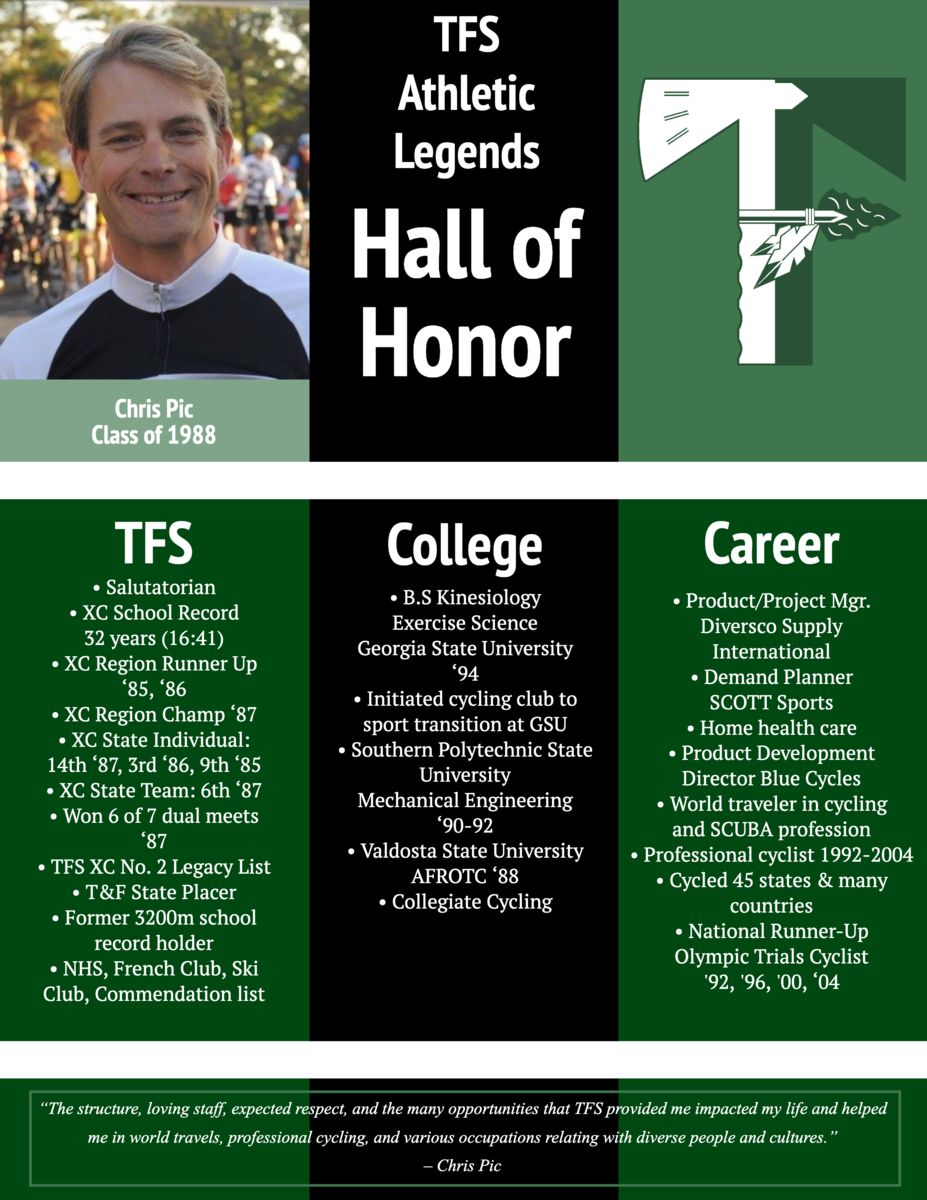 Chris Pic ('88) was a standout cross country runner at Tallulah Falls. He held the school record time in a meet of 16:41, which stood for 32 years. He was an individual region runner-up in 1985 and 1986, and the region champion in 1987. He competed at state in those years as well, coming in 9th in '85, 3rd in '86, and 14th in '87. The 1987 team also qualified and came in 6th. Pic was also a state placer in track and field, and former 3200 meter record holder. He was the TFS Salutatorian, and a member of the NHS, French Club, Ski Club, and Commendation List.
Pic earned his Bachelor of Science degree in Kinesiology Excercise Science from Georgia State University in 1994, and initiated the cycling club to sport transition at GSU. He became a long-time cyclist in college. Prior to GSU, he earned a Mechanical Engineering degree at Southern Polytechnic State University (1990-92), and before that was AFROTC at Valdosta State University (1988). He took up cycling professionally, cycling 45 states and many countries in the process. He was a professional cyclist from 1992-2004, and was a National Runner-Up Olympic Trials Cyclist in 1992, 1996, 2000, and 2004. He is a world traveler in cycling and SCUBA professionally, and was the Product Development Director for Blue Cycles, as well as Product/Project Manager for Diversco Supply International. He has also been a Demand Planner for SCOTT Sports, and worked in home health care.
---
2018
TFS Inducts Five Members into Inaugural Hall of Honor