Athletics News
Living life on the outside: Bourlet runs to nature's thrills
Published with permission from The Clayton Tribune
By Chris Stiles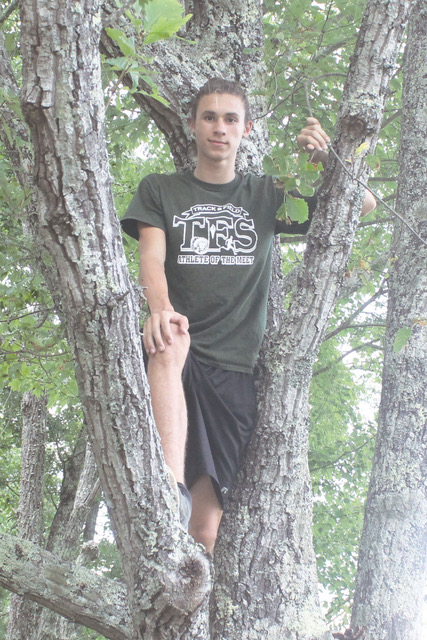 Climbing trees, hiking, exploring — Grey Bourlet likes it all. Anything outdoors and in nature appeals to him.
The rising sophomore track athlete from Tallulah Falls School is an avid outdoorsman and is involved in a variety of outdoor activities that help fuel his passion for nature.
"As a kid, me and my brothers spent a lot of time in the outdoors, because we didn't have TV or electronics like most kids our age would, so we were pretty much forced to spend time outside," Bourlet said. "So we would climb trees, we would build forts in the woods, and so that's what sparked my interest in the outdoors, and over the years, I've grown closer to it, and gotten more comfortable, and it just relaxes me being outside."
The mountains are a perfect area for Bourlet, who lives in Tallulah Falls, to call home, as he has hiked many of the area's mountains.
"I've hiked a lot a lot of the mountains in this area, and most of the state parks I've hiked most of the trails," Bourlet said. "I think I've been to every overlook over (Tallulah) Gorge, so that's one of my favorite things to do. And I also do a lot of running in this area, on some Forest Service roads. I've been to Yonah Mountain, and I've climbed and done repelling on the face of Yonah."
Bourlet credits his father, Perry Bourlet, for teaching him a lot about trees and the outdoors; Perry is also Grey's scout leader, as Grey has been in Boy Scouts for the last five years. He will soon become a Life Scout, which is one level below Eagle Scout, and he estimates he could potentially become an Eagle Scout in the next year.
One specific outdoor skill Bourlet has picked up is tree climbing. He has been climbing since he was little, and his track coach, Scott Neal, says he's seen Bourlet climb thin trees high enough for the tree to bend down for him to make his way back to the ground.
"I always had a fascination with climbing up to higher places, and so me and my brothers had competitions to see how high we could go," Bourlet said. "And it's just been a part of my life, climbing things."
Bourlet's fascination with climbing has helped him with another passion — track and field. One of Bourlet's events is pole vault, where similarities to tree climbing led to him reaching an 11-0 personal best by the end of the season.
"Pole vaulting and climbing, Coach Neal tries to tie them together, because you use a lot of the same strength and stuff like that, and you can use how you place your feet and the arm movements and all that, and so I can tie those in a lot easier with the sports I do," Bourlet said.
"Grey's distinct talents away from the course and the track have a direct correlation to his abilities," Neal said. "In fact, we often use terminologies or experiences of climbing to help with his events, especially the pole vault."
Bourlet's outdoor involvement has also sparked a friendly competition between him and Neal.
After Neal told Bourlet this spring that his personal record climbing the stairs at Tallulah Gorge State Park is 10 times in two hours, Bourlet decided to try to beat that mark.
"I'm competitive like that, and it would be cool to have that competition with Coach Neal, because we have that kind of relationship, and so I set a goal to get over 10 during the summer," Bourlet said.
Bourlet says he can currently do six consecutive trips on the stairs in just over an hour, as he tries to build himself up to be able to beat Neal's record.
"When you first think of it, you think Gorge steps, you're just going up and down, but it's actually really hard mentally, because when you're at the top, seeing all the steps going down, then you're at the bottom and you're like, 'how can I do this three more times,'" Bourlet said.
On the track, in addition to the pole vault, Bourlet runs both hurdles races, where he qualified for sectionals in his freshman season, setting a school record in the 110-meter hurdles. He was also on both relay teams and had the best split in the 400-meter relay.
Bourlet also runs cross country, where he was the team's fifth-ranked runner last fall.
Bourlet, who is also involved with Foxfire and Civil War reenacting, isn't sure of specific plans after high school — he's still three years from graduation — but he says he will probably study forestry as a way to continue his fascination with the outdoors.
He also foresees himself traveling, as he continues to explore the world.
"Yes, travel is definitely (in my future)," Bourlet said. "Probably in the next couple of years, me and my older brother are going to travel out west. We want to go to the Grand Canyon, and go up the West Coast and hit up some of the national parks. I'd love to see more (of that)."
"He will travel the world someday, not searching for fame or fortune, but simply for the adventure," Neal said. "In my 34 years of coaching, I've never had anyone like him. He is uncommon, has no need for glory, but wants to simply experience all that's out there and perhaps share the joy."
Bourlet didn't always realize how unique his passion for the outdoors is, but now as he continues his high school years he continues to live life on the outside.
"When I first came to Tallulah Falls (School), I was actually surprised that most people weren't involved in (it)," Bourlet said. "But it's something that I just enjoy doing, and I have a passion for it."
Photo:
Chris Stiles/The Clayton Tribune
Tallulah Falls School rising sophomore Grey Bourlet is an avid outdoorsman, including climbing trees, as he demonstrates at Tallulah Point Overlook in Tallulah Falls.