News & Announcements
Former governor addresses TFS seniors
Hearing from real-world leaders is a hallmark of the Tallulah Falls School student experience. On Oct. 27, former Georgia Governor Sonny Perdue made a special visit to the class of 2017 to share his take on leadership and to field questions from the seniors.
Perdue, the 81st governor of Georgia, served from 2003-2011. He was the first Republican governor of Georgia since Reconstruction. He also served as a state senator from 1991-2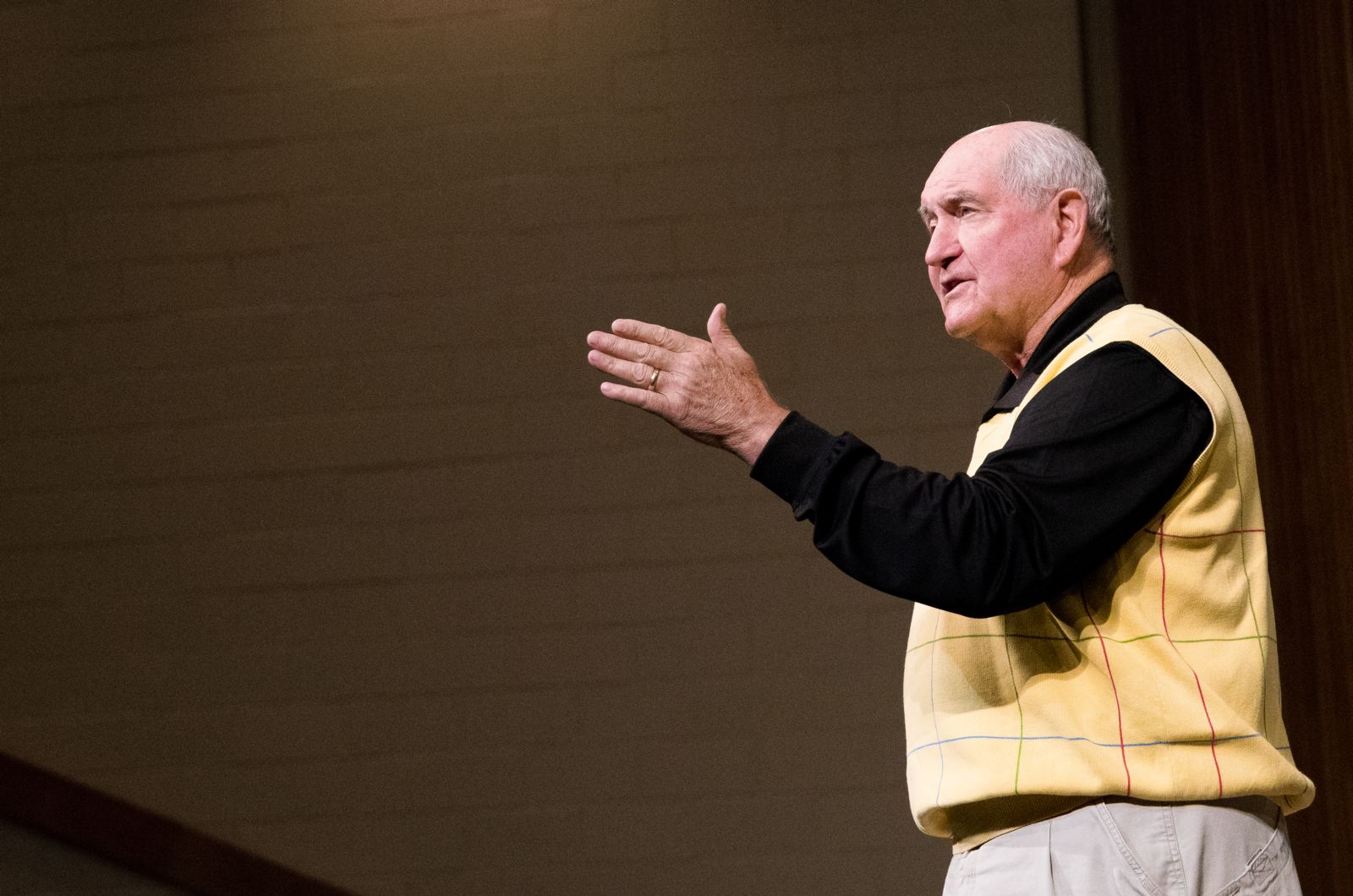 001. Perdue's granddaughter Sunni Brett is a member of the senior class.
Economic development became the first topic after Perdue fielded a question from Aida Roberts of Clarkesville about the number of countries the state leader visited while in office. The simple answer was 52 countries. While some of visits had a diplomatic itinerary, the impetus behind many of the trips was to court overseas corporations interested in locating manufacturing facilities in Georgia.
"Many of those European and Asian countries are home to automobile manufacturers," he said. "That's why we would travel." He noted Kia and Kubota as successful economic development initiatives, representing thousands of jobs for Georgians.
He explained several types of economic development incentives offered to corporations, acknowledging job tax credits are a better avenue than cash grants. A natural segue to workforce development honed in on the importance of education in the economic development equation.
"We need skilled, bright creative employees," he said. "Any business, large or small, depends on its people."
He noted the quality of Georgia's university and technical systems as incubators for the talent needed for the state's businesses. For Atlanta based companies, Georgia Tech has been a huge draw, he said.
"My sense is we can continue to invest in education to fuel the fire for continued economic growth," he said.
He shifted the conversation to leadership philosophies, explaining the difference between convictions and preferences.
"There were principles that I tried to drive home to my staff," he said. "These are things that are immutable, unchangeable."
Regarding issues involving preferences, he said it was important to be flexible when working with others. "We need people who will stand up for their convictions," he said. "You need to know yourself to know what your convictions are."
Michael Weidner of Clarkesville asked how Gov. Perdue's family life was affected while in public office.
"It was a 24/7 job – being governor of 10 million people and in charge of a $20 billion budget," he said. "I had a very cooperative wife – she was very 'Sonny-oriented.' He said his children were older when he was elected governor; it was more of a challenge when he was in the state legislature while managing a full-time business and family responsibilities. "That was really a juggling act," he said.
Family is the most important thing, he said.
"That's the legacy I'm leaving – being a good husband, father and grandfather," he added.
TFS President and Head of School Larry A. Peevy expressed his appreciation for Perdue's visit. "To hear from top officials is a wonderful way to show our students 'leadership in action,'" Peevy said. "We are appreciative of those friends of TFS, like former Gov. Perdue, who will invest in our young people by spending time with them."
TFS social studies teacher Dallas Barron said the talk was enlightening for students. "Former Governor Perdue shared his knowledge and beliefs, while showing the students that he also valued their beliefs," Barron said. "He provided our students with challenges faced by government officials, which adds value to the lessons carried out in the classroom."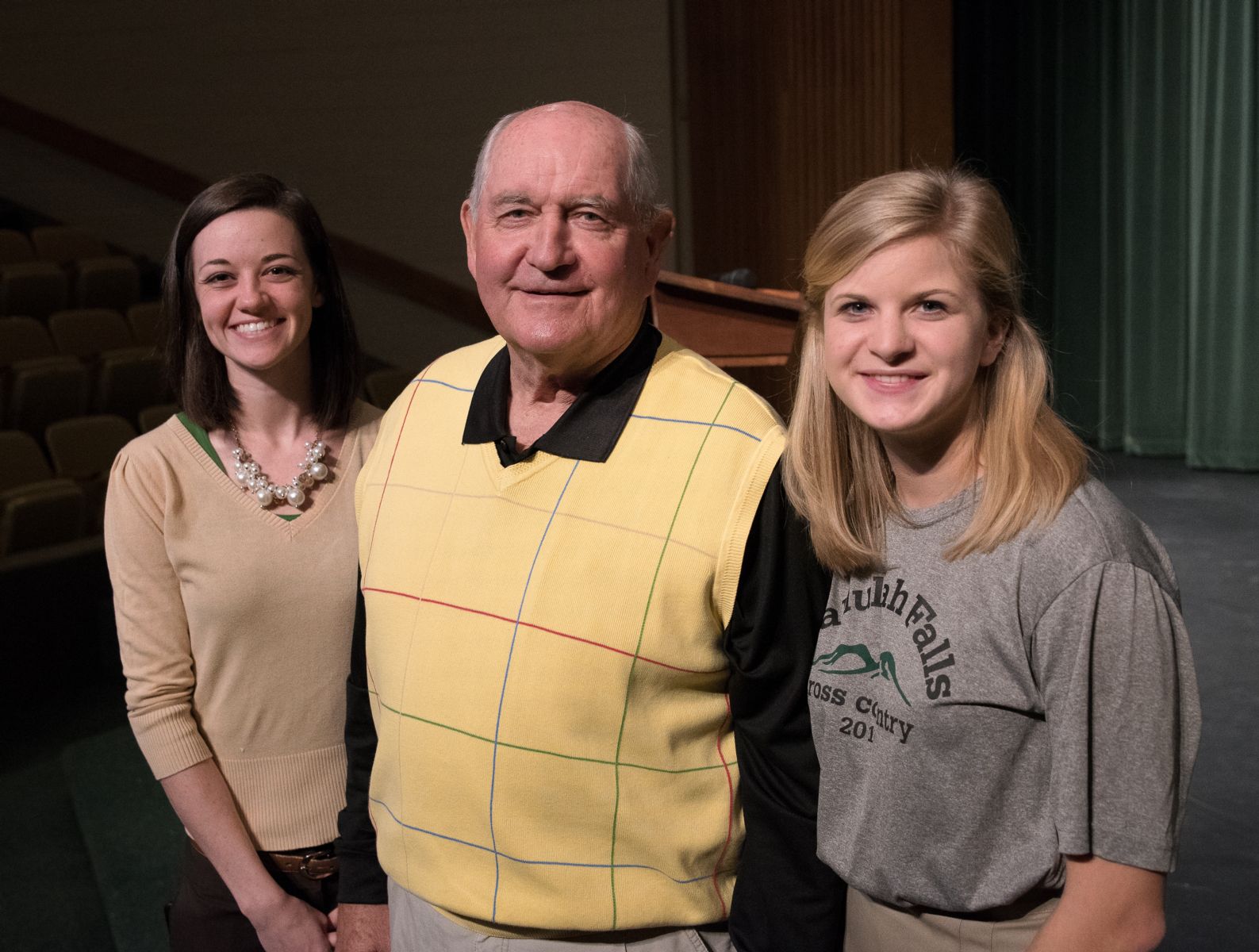 Former Georgia Governor Sonny Perdue spoke to Tallulah Falls
School seniors on Oct. 27. Shown, from left, are TFS social
studies teacher Dallas Barron, Perdue and Sunni Brett, Perdue's
granddaughter.