News & Announcements
TFS to celebrate Theatre in Our Schools Month
Theatre in Our Schools Month (TIOS) is a grassroots effort to educate everyone about the benefits of having theatre in the schools, and to draw attention to the need for more access to quality programs for all students. The campaign is jointly sponsored nationally by the American Alliance for Theatre & Education (AATE), the Educational Theatre Association (EdTA), and the International Thespian Society (ITS).
Tallulah Falls School's ITS Troupe 8078 a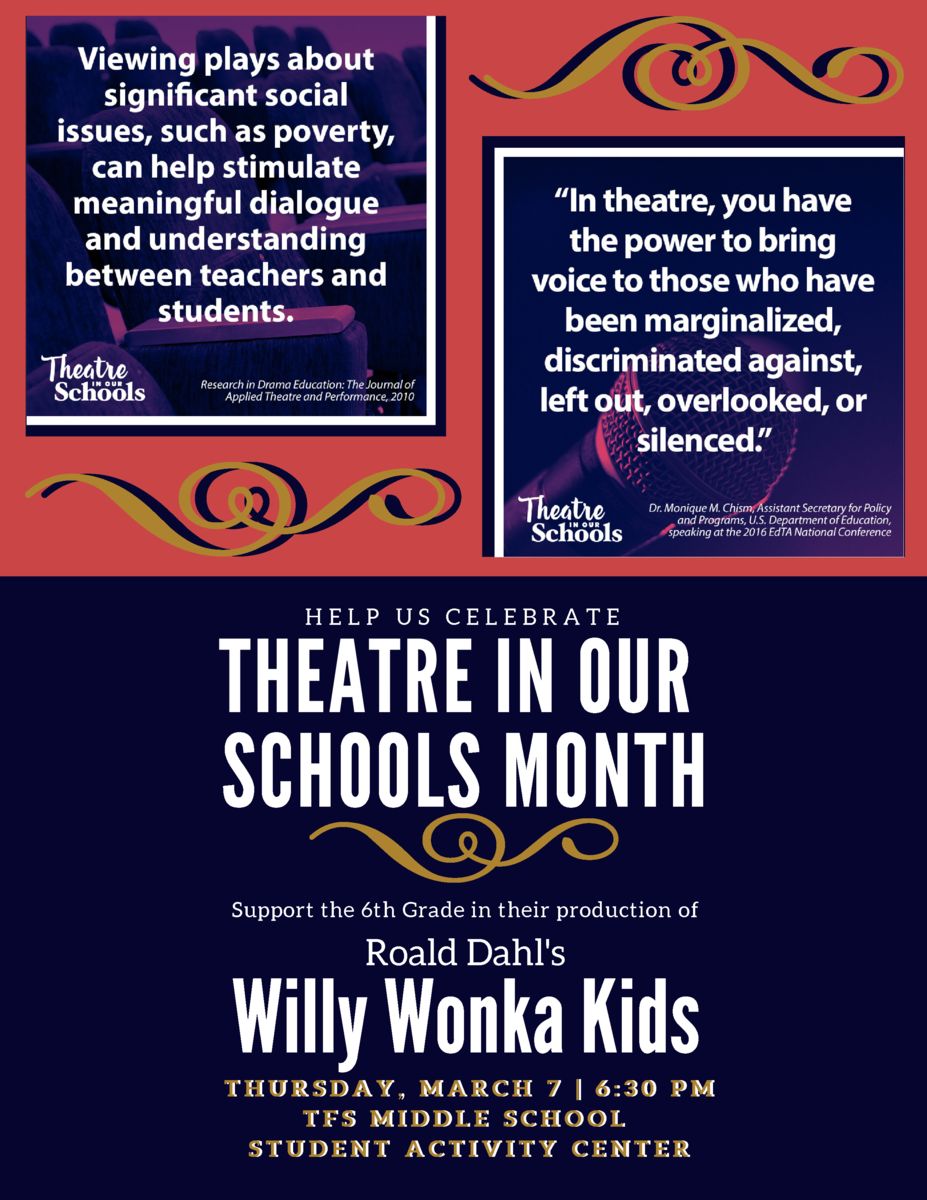 nd Theater Arts classes will be celebrating TIOS by sharing information with our community about the impact of theater for students and adults while highlighting upcoming productions from both Upper and Middle School levels. TIOS is a chance for students, parents, communities, school boards, and elected officials to become familiar with the benefits of school theatre participation, which include the development of the 21st-century skills of communication, collaboration, creativity, and critical thinking.
According to The College Board, in 2015, students who took four years of arts classes in high school scored an average of 92 points higher on their SATs than students who took only one-half year or less. Additionally, according to the U. S. Department of Education, only 28 percent of public high schools in high poverty areas offer theatre instruction.
And according to a 2016 poll:
9 in 10 American adults agree that the arts are part of a well-rounded K-12 education.
90 percent believe students should receive an education in the arts in elementary school, middle school, and high school.
The poll, "Americans Speak Out about the Arts: An In-Depth Look at Perceptions and Attitudes about the Arts in America," was conducted by Americans for the Arts.
To see TFS Arts in action, consider attending spring events:
Roald Dahl's Willy Wonka Kids - March 7 6:30 p.m. – TFS Middle School Student Activity Center
7th Grade Spectacular - April 5 @ 6:30 p.m. TFS Middle School Student Activity Center
Evening of the Arts - May 2 @ 6 p.m. TFS Upper School Campus
Murder's in the Heir - May 3-5 Gertrude Long Harris Theater
For more information about the upcoming events at TFS, contact carrie.layer@tallulahfalls.org.
For more information about TIOS visit schooltheatre.org/programs/tios and follow #TIOS18 and #TheatreinOurSchools on social media