News & Announcements
Soccer standout Max Farris signs with United States Merchant Marine Academy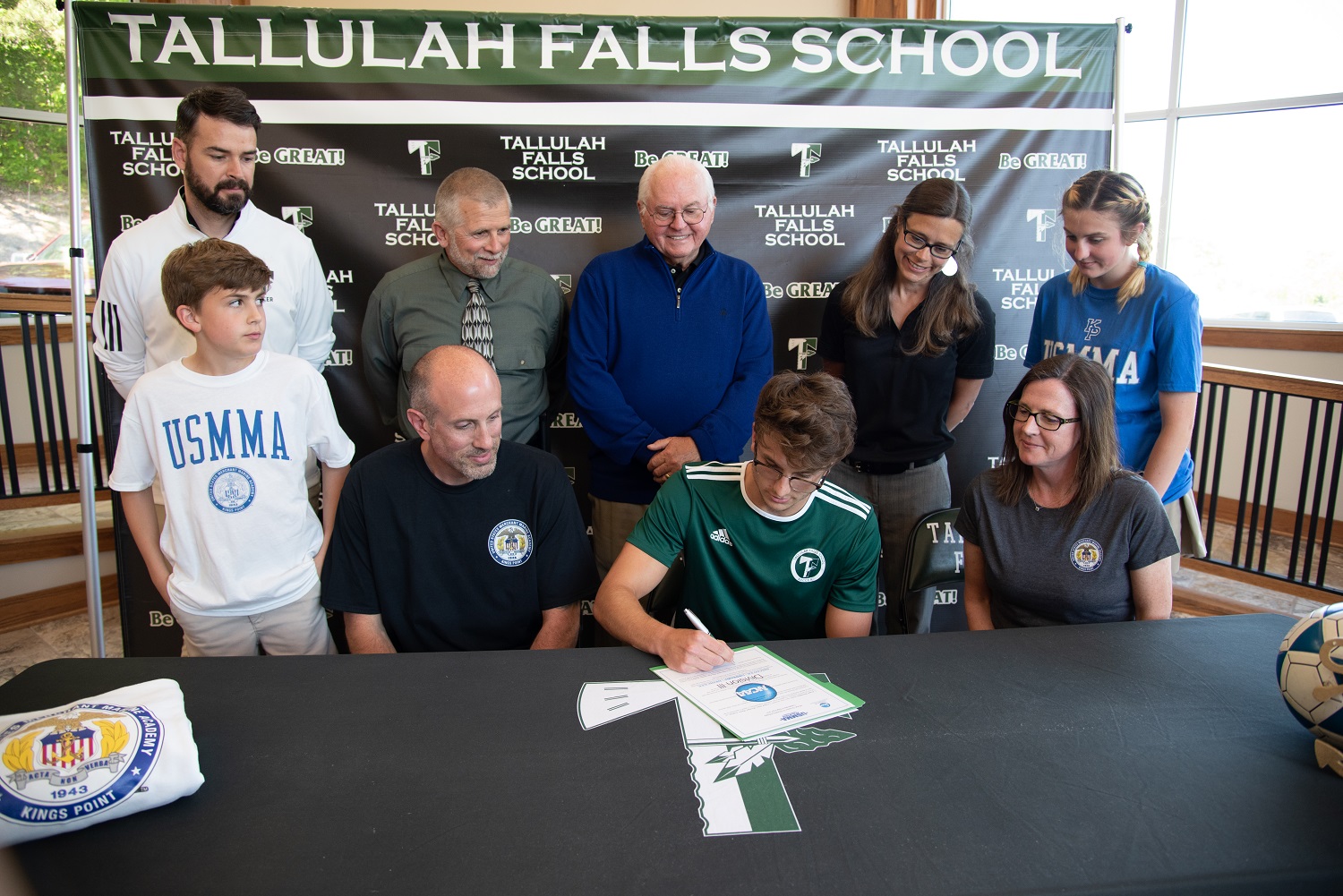 Tallulah Falls School senior soccer player Max Farris on Thursday afternoon signed his letter of intent with the United States Merchant Marine Academy. Farris will play for the Mariners in Kings Point, NY.
Friends and family joined together on Thursday to honor max, as coach Jeremy Stille, AD Scott Neal, and President and Head of School Dr. Larry Peevy all shared encouraging words about Farris.
The senior played just one season for TFS, but helped guide the first-year GHSA program into its first-ever playoff appearance. He set school records with goals (24) and assists (14) in a single season.
"I am grateful for the opportunity to have worked with Max as a student athlete here at TFS," adds Stille. "From the first time I met and spoke with him, Max's drive and determination were on display. He is confident in his abilities and work effort to continuously improve. I am thankful for the traditions and culture that Max has helped create here at TFS, specifically within the soccer program. I have no doubt that Max will continue to work hard and be successful at USMMA, representing his school and country with pride and honor."
No doubt, the Mariners are excited to have Farris join their team.
"Coach Gwyther and I are beyond thrilled to have Max get accepted and commit to the US Merchant Marine Academy," says coach and CDR Andrew McCarthy. "We believe Max will make an immediate impact on the program, on and off the pitch. In getting to know Max over the past year, what has been more impressive than his soccer ability is the type of person Max strives to be. His dedication, work-ethic, passion, and high moral character became evident early in the recruiting process. We are excited for Max and his family with this tremendous opportunity and we look forward to an amazing four years."
Many in the TFS community have recognized Farris' ability to be a leader in just a short time at Tallulah Falls.
"In a short period of time, Max has been able to inspire his teammates, set higher performance standards, and bring an enthusiasm for both the simple game of soccer and for what soccer can do for relationships," adds Neal. "His personal discipline matches his ambition and his love for others leads his teamness."
Farris himself is looking forward to the opportunity to pursue bigger things after graduating from TFS.
"I am extremely excited to serve my country and continue my soccer career at USMMA," states Farris. "Coach Gwyther and McCarthy have been a great help and I look forward to working with them more as I'm sure they will help develop me as a player and a man. I want to thank my brothers — Solomon, Gabe and Isaac — as I would not be where I am today without them always pushing me to be better. I would also like to thank Coach Stille and my parents for believing in me and always being there for me. Moving to Georgia and having the chance to play a season with Tallulah Falls was one of the greatest choices I have ever made. As a team, we had a legendary season that I'm sure will not be forgotten. But more importantly, I have met friends that I will have for the rest of my life."