Athletics News
TFS varsity track and field athletes advance to state sectionals competition
Two days of track and field competition culminated on April 23 in an exciting day of highlights at the Area 2-A Championships held at Athens Academy.
The TFS boys placed third of seven Area 2 schools with 106.5 points while the girls finished fourth with 85 points, only seven points from third. Every athlete in the finals set a personal record, school record, or advanced to the State Sectionals during the day.
According to Athletic Director Scott Neal, the warm, slightly breezy day started out with the girls 4x1 relay team (sophomore Gaby Ajibade of Lawrenceville, sophomore Anna Davis of Clarkesville, junior Sunni Brett of Cornelia, and sophomore Abby Hulsey of Cleveland) running a school record 52.40 for fourth place and a trip to State Sectionals next Saturday.
Immediately after, the boys 4x1 (senior James Davis of Clarkesville, senior Ethen Besier of Tallulah Falls, junior Thala Freeman of Liberia, and junior Zatrick Pearce of Decatur) were victorious in 43.81, breaking the school record set two days earlier. The same quartet placed second in the 4x4 relay. Besier placed fifth in the 100m. Pearce is the 100m and 200m runner-up, setting a school record in the latter.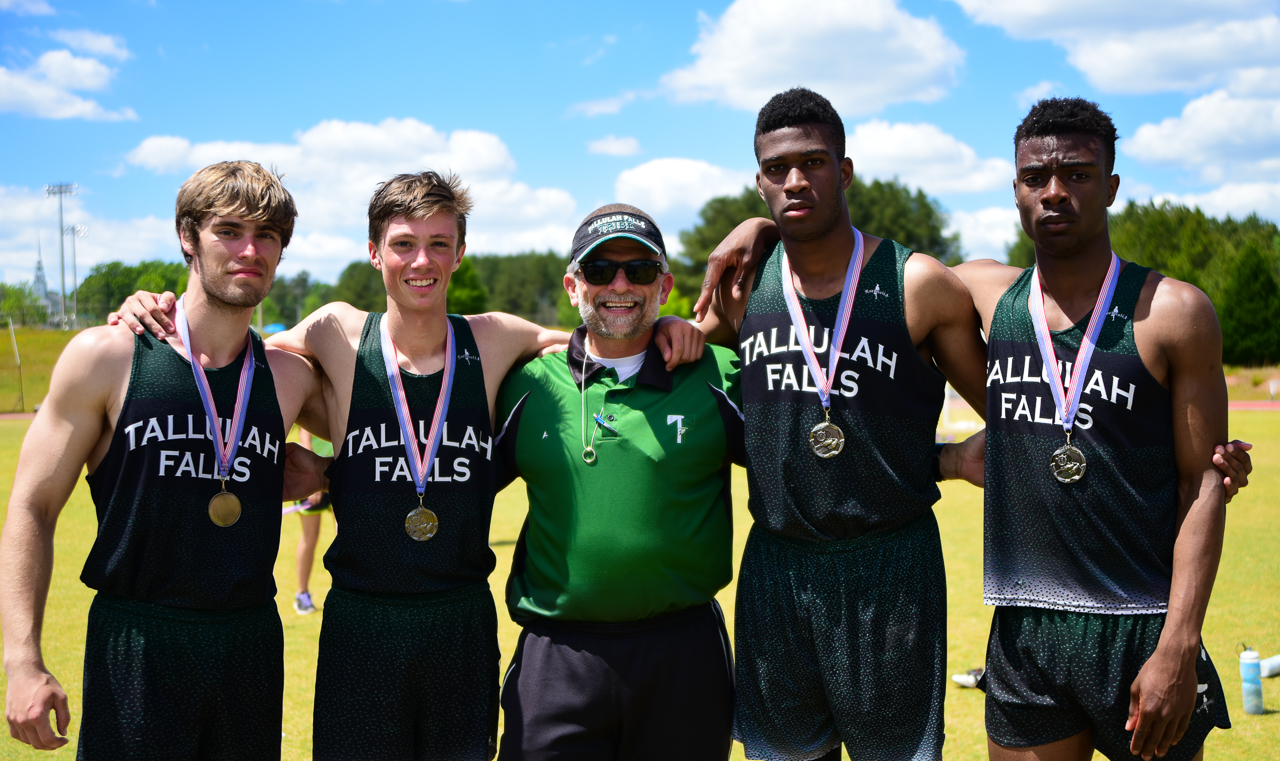 From left, Senior Ethen Besier of Tallulah Falls, Senior James Davis of Clarkesville, Athletic Director Scott Neal, junior Thala Freeman of Liberia, and junior Zatrick Pearce of Decatur
Freshman Aaron Hughes of Demorest moved up two places to sixth in a PR 800m performance while fellow distance peers sophomore Caleb Griffis of Martin cut 26 seconds off his previous 3200m best to place sixth and freshman Nathan Woodland of Demorest reduced previous time by 47 seconds. Junior Cusai Alfred-Igbokwe of Nigeria surprised everyone to advance another week by scoring five points in the short race barriers in a PR performance, Neal said.
James Davis set a new TFS best to win the 110m hurdles and placed second in the longer hurdles, breaking his own school record. He also won the Area 2-A High Point Award with 32.5 points, Neal added. Younger sister Anna Davis scored 28 points to have the second most points of the seven school females; she won the 400m and was .47 from winning the 300m hurdles.
Brett placed second in the 400m. Both advance to Sectionals. Freshman Virginia Griswold of Clarkesville moved up a place from the seeded mark to place seventh in the 3200m by knocking off seven seconds from her previous best. Junior Anne Edwards of Sautee-Nacoochee ran a season best in the metric two-mile race.
The girls 4x4 relay team (Davis, Brett, freshman Sidney Spivey of Cornelia and sophomore Perry Gresham of Clarkesville) placed fourth in a school record time of 4:22, also advancing to State Sectionals.
"In all, TFS set or tied seven school records in the meet," Neal said.
Four TFS boys will compete in eight events in the first round of state competition next Saturday at North Oconee High School while five of their female classmates will compete in six events.
Full results can be found here: http://ga.milesplit.com/meets/223726/results/442944/raw#.VxvqAmQrK1s