Athletics News
TFS coaches select Indians of the Month for December
Tallulah Falls School coaches have named four Indians of the Month for December.

Greene
Eighth grader Jack Greene of Clarkesville was named a TFS Indian of the Month by swim coach Annette Cochran. "Jack is a returning swimmer who has shown dedication and determination over the month," Cochran said. "He has worked hard at practice and offers to help out wherever needed. This is Jack's third year swimming for TFS and has been a great asset to the boys team this year. He has worked hard to improve his swim techniques and to lower his times. Jack is really working hard to be a GREAT athlete this year."

Jackson
Coach Cochran also selected eighth grader Maggie Jackson of Clarkesville as an Indian of the Month. "Maggie set some personal records this year and has taken her swimming to a new level," Cochran said. "Maggie is very competitive as an eighth grader and has met varsity lettering criteria. She has dropped 15 seconds off her 200-yard freestyle time while earning a couple of second place finishes. Maggie is a Great athlete and encourages her other teammates before and after the race."
---

Van Hooser
Senior Michael Van Hooser of Demorest earned Indian of the Month honors from varsity basketball coach Jim Van Hooser. "Michael has been a strong leader on the basketball team for several years," Van Hooser said. "Several other Region coaches have commented about his composure, leadership and his ability to be a coach on the floor. He is leading the team in rebounds and is averaging 14 points per game. He has been instrumental in starting the TRIBE Tellers mentoring program between the varsity boys basketball team and the middle school."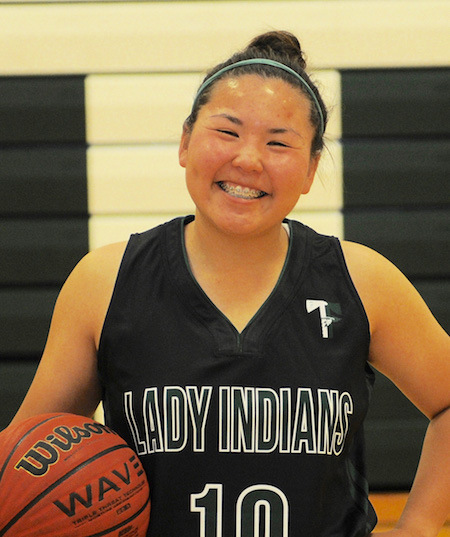 Roberts
Senior Aida Roberts of Clarkesville was selected as an Indian of the Month by varsity girls basketball coach Tom Tilley. "Aida, a team captain, had a huge game scoring 18 points against No. 25 ranked Strong Rock Christian," Tilley said. "The Lady Indians defeated Strong Rock 38-28. Aida led all Hustle Stats for the month of December with 17 steals, 15 loose balls and 11 deflections. She displayed incredible poise, leadership, and intensity during our three holiday games."