Athletics News
TFS middle school boys cross country team wins Tri-State Championship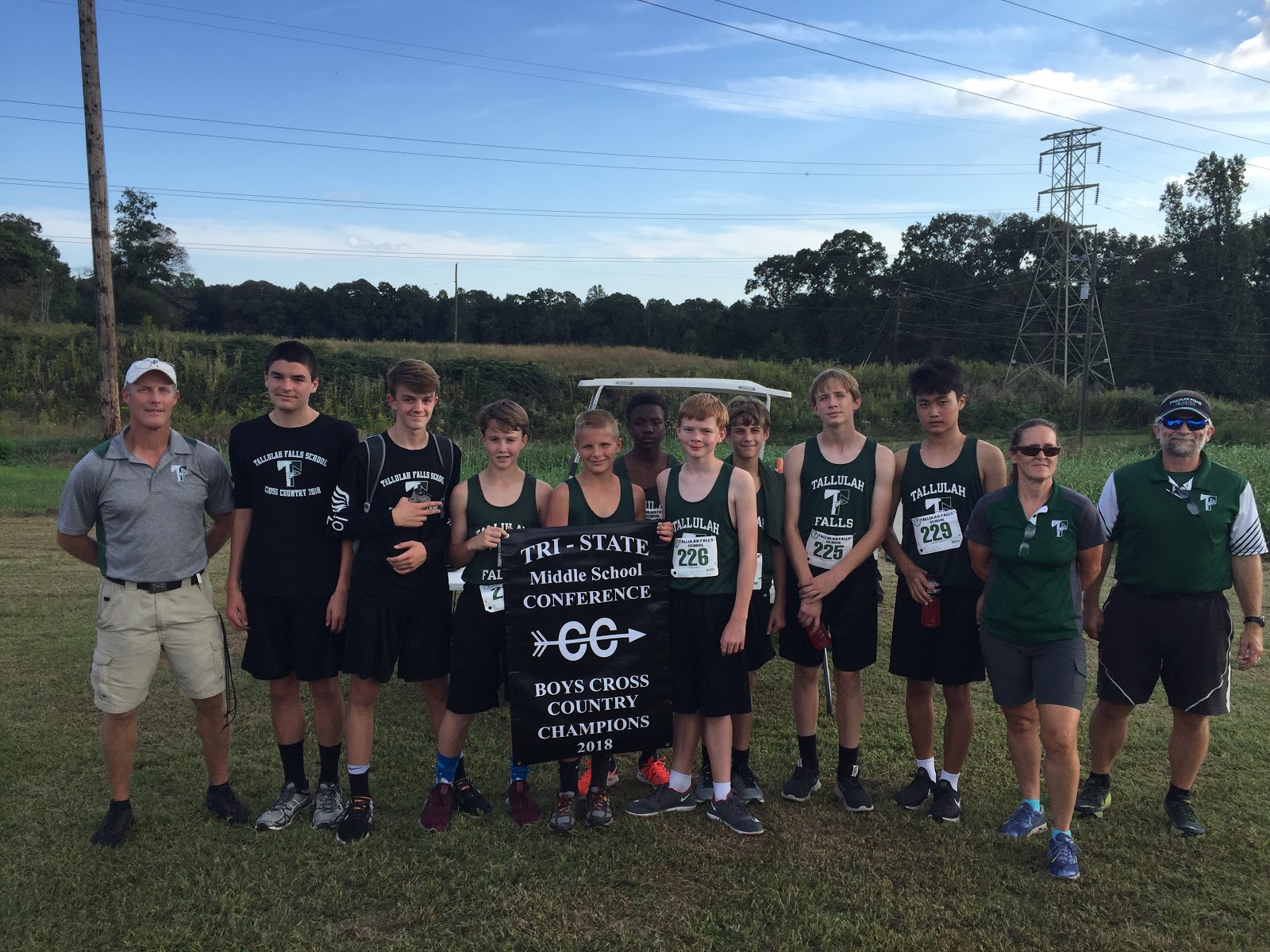 A warm, but stunning afternoon sky hovered over 41 youngsters racing, pacing and facing the constant question of "can I run faster?"
"The Tallulah Falls School 3K Farm Course is a fascinating setting to trample the fresh cut grass in hopes of defeating others while also overcoming the continual sensations of lung-searing, cell depleting, leg fatiguing dynamic weariness," said coach Scott Neal.
The TFS middle school boys team won the Tri-State Championship while every Indian set a 3K course personal record, ran as good or better than coach Susan Nichols' plan for them or bettered the goals they set, Neal said.
Four of the 16 harriers ran negative splits (ran the second half faster than the first), six raced even splits, and six a slightly positive split (second half a little slower than the first section).
"Every TFS harrier ran very well today, competing with fierceness while forging a bond fueled by each other," Neal said.
Eighth-grader Colton Hicks of Clarkesville moved from No. 29 to No. 13 on the TFS Legacy List, running 12:13.57 for the victory. Teammate Brit Shaw, a seventh-grader of Clarkesville (No. 36 Legacy List) ran 12:43 as the runner-up. Eighth-grader Bryan Cope of Mt. Airy secured the final Indian scoring position, placing fourth.
Seven seconds and one place behind, eighth-grader Will Seaman of Tallulah Falls set a PR as the first scoring displacer, right ahead of eighth-grader Nana Amankwah of Decatur, the second and final TFS displacer seven seconds behind him. Eighth-grader Lincoln Hall of Mt. Airy, seventh-grader Blair Moore of Demorest, and sixth-grader Henry Rickman of Tiger all set 3K bests while eighth-grader Tyler Farmer of Mt. Airy ran his best race of the year. Eighth-grader Daniel Shin of South Korea ran a gutsy race while coming back from injury.
Throughout the four meet Tri-State cross country series, sixth-grader Haygen James of Demorest was behind all four top Summit runners, Neal said.
"This time, however, Haygen split the four, running her 3000m PR to place third, her best performance of the year," he said. "Close behind, Emma Barron of Clarkesville, sixth, eighth-grader Kate Trotter of Demorest, seventh, and seventh-grader Molly Mitchell, eighth all ran within two seconds of each other for lifetime bests."
Also running PRs were sixth-grader Maggie Shelton of Cornelia, seventh-grader Ellie Southards of Dillard, and sixth-grader Mallory Higgins of Cornelia. Eighth-grader Sammy Hartman of Clermont was within a second of her SB.
Boys: TFS 7, Summit 21, RG 27
Girls: Summit 7, TFS 16, RG 36
Last race: Thur Oct 4 at Mountain Invite at Unicoi State Park in Helen