Athletics News
TFS sophomore shares faith journey at FCA event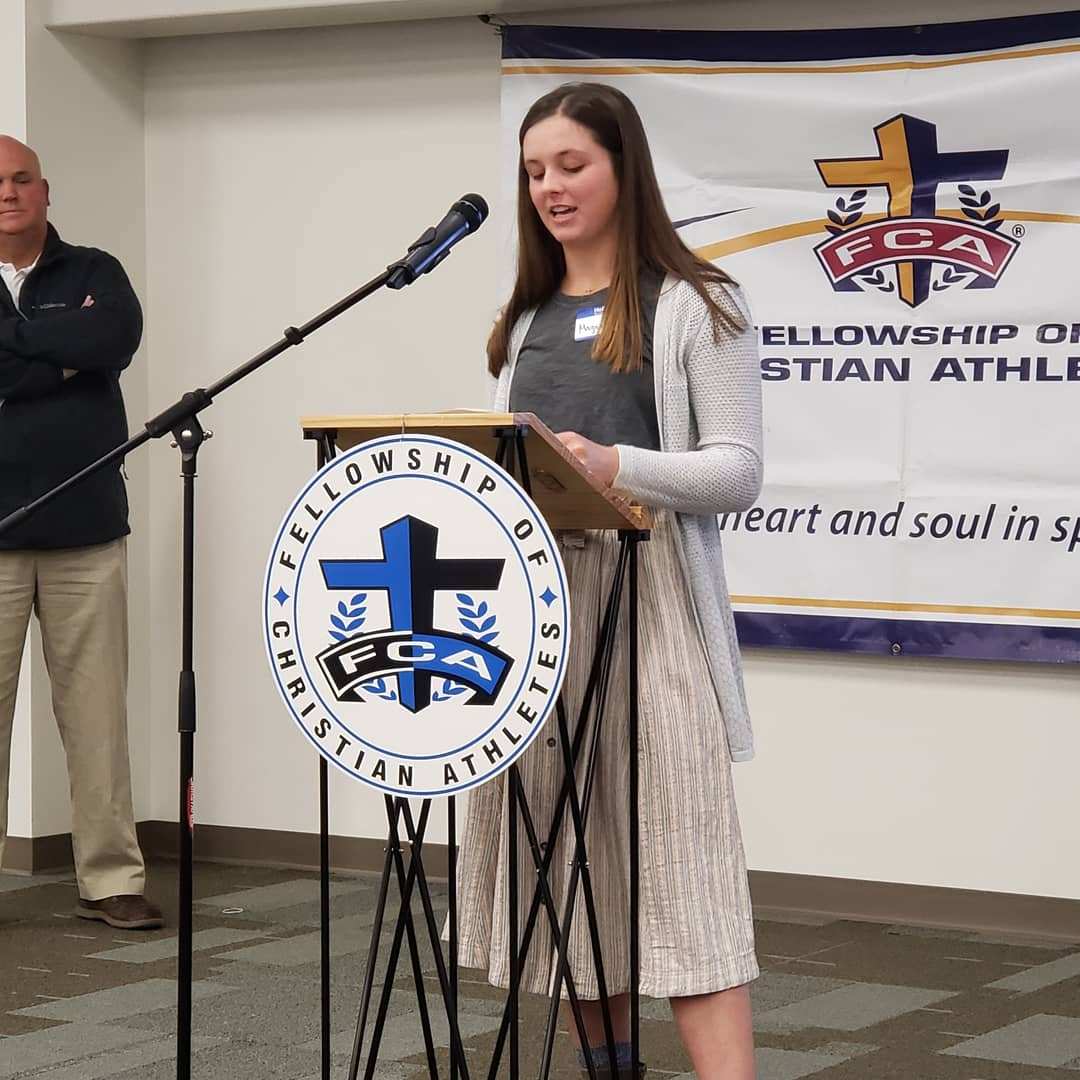 A divine discovery at summer camp inspired Tallulah Falls School sophomore Maggie Jackson's talk at a Fellowship of Christian Athletes fundraiser on Nov. 13.
Jackson, of Clarkesville, was one of several speakers at the Georgia Mountains FCA annual event but was the only high school student who spoke.
She related a story about how she ended up at FCA Golf Camp the summer after her freshman year.
"At that point in my life, I knew God about as well as I knew astrophysics; the thought of it left me overall confused and lost. I very nearly decided not to attend FCA camp, but something inside me told me that I should go anyway, and I am so glad I did," Jackson said. "During the first few nights, I realized that the camp was not just about golf, but about finding God in your everyday life, even during a round of golf. Even though I only knew a few people initially, I immediately felt like I was at home."
The fellowship with counselors and campers inspired her that week.
"For the first time in my life, I felt like I knew what I needed to make my life complete, and that was a relationship with Jesus," she said. "On the last night of camp, we had our final worship and on the last song, I felt a wave of pure joy. In that moment, I knew I felt God surrounding me and telling me I was safe here in his arms. When the camp leader, Scott Adams, asked if anyone was willing to let God into their lives that night, I knew at that moment that my life would never be the same."
TFS middle school teacher Nancy Almoyan was in the audience; she was Jackson's seventh-grade teacher.
As a member of the TFS family I was so proud of Maggie and her willingness to share what the FCA Camp meant to her," Almoyan said. "Maggie is a shining light at Tallulah Falls School and has a very special place in my heart."
Jackson has been a member of FCA since her freshman year, attends FCA Golf Camp each summer, plays in weekly golf scrambles with other FCA members and contributes to FCA service projects.
Jackson is a member of the TFS golf team, swim team, National Honor Society and Art Honor Society.
The Georgia Mountains FCA serves Habersham, Rabun and Stephens counties. The organization serves both public and private institutions and local colleges.