Athletics News
TFS senior swimmer commits to Smith College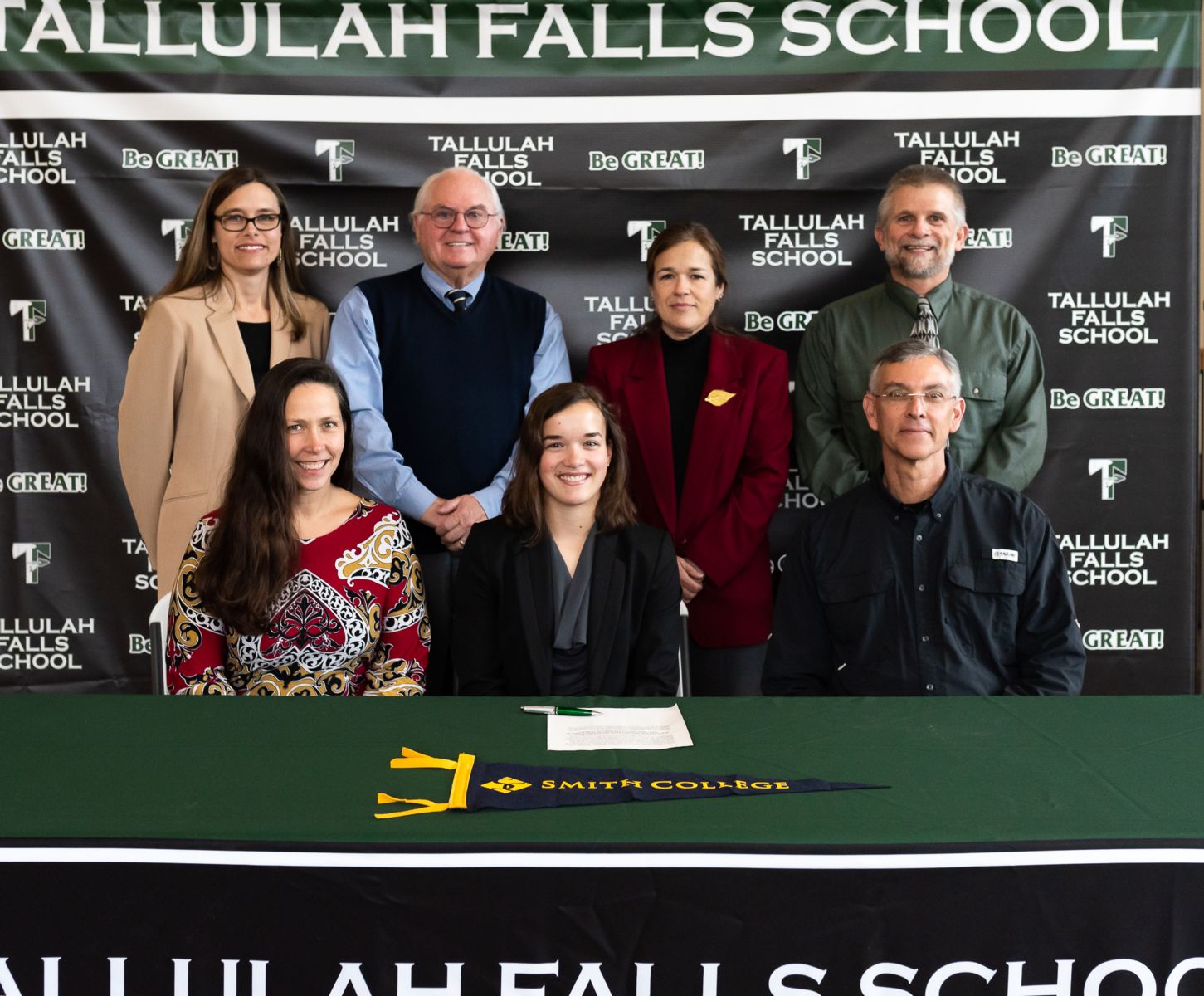 Tallulah Falls School senior Virginia Griswold of Clarkesville on Jan. 22 committed to swim for the navy blue, gold and white representing the Smith College Pioneers, (NCAA Division III - NEWMAC Conference) in Northampton, MA. TFS hosted a celebratory signing event attended by family, friends, coaches and school administrators.
Griswold has qualified for the Georgia High School Association State High School Swimming Championships all four years. This year, she will compete in six individual events and three relays. She is in the top two of the TFS Legacy List in 10 different individual events and holds three school individual records.
TFS swim coach Annette Cochran describes the senior student-athlete as a "rock for the team."
"She is dependable and hardworking. The younger swimmers look up to her and aspire to be like her," Cochran said. "She is always willing to work with those who need her. Virginia spends hours in the pool and works hard to perfect her technique while building her endurance and speed. When Virginia swims she is like a well-oiled machine with her timing, strokes and kicking all working together to help her succeed."
Smith College swim coach Zack Kundel said the team is excited to welcome Griswold to the Smith College swimming and diving program.
"Virginia has shown a lot of enthusiasm and positive energy which will make her an excellent addition to our program," Kundel said. "Welcome to 'The Wild Bunch,' Virginia!"
"A rare gem," those are the words Habersham Rapids club swim coach Anthony Rabern uses to describe the young swimmer.
"In today's society, it is rare to find a student-athlete who stays with the same sport and the same team and the same coach for nearly a decade. Having coached a couple of thousand kids over the past 20 years, Virginia stands out as one who has more dedication, drive and willingness to work to accomplish her lofty goals," Rabern said. "Virginia is indeed a rare gem. I know she will continue to excel both athletically and academically at the collegiate level and beyond because that's what rare gems do. I wish her the best!"
"The entire Tallulah Falls School community is proud of Virginia and her choice to balance her next educational pursuits with the rigors of intercollegiate athletics! She is a role model of training consistency, positive outlook, and poised determination," said Athletic Director Scott Neal.
---
E. Lane Gresham/Tallulah Falls School
Shown, back row, from left, are Upper School Academic Dean Kim Popham, President and Head of School Larry A. Peevy, Athletic Director Scott Neal and Virginia Griswold's mother, Kimberly Griswold; front row, from left, swim coach Annette Cochran, Virginia Griswold, and Habersham Rapids club swim coach Anthony Rabern.