Athletics News
How Sweet It Is! Lady Indians earn Sweet 16 berth with win over Mt. Vernon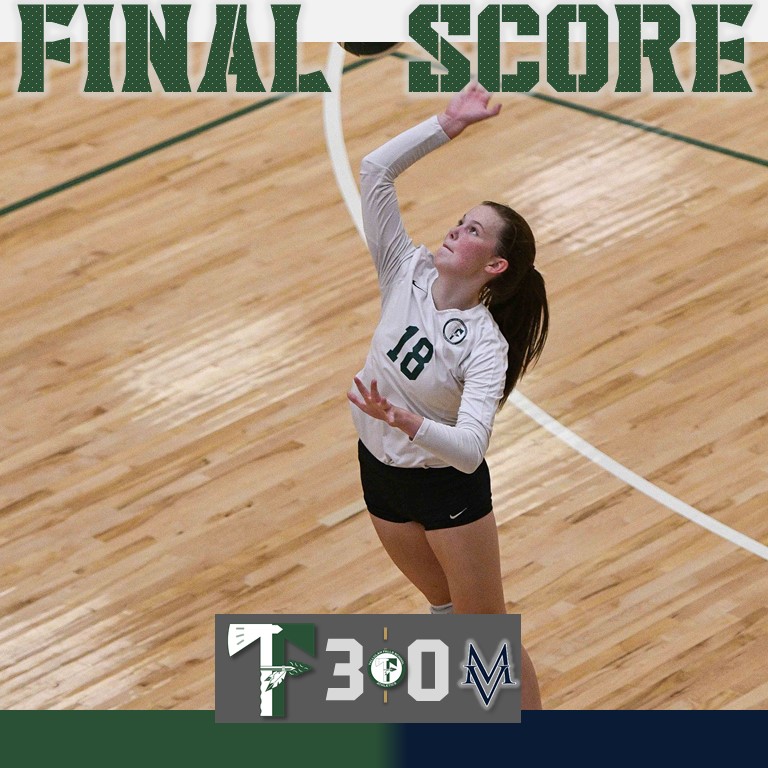 The Lady Indians battled past Mt. Vernon on Wednesday evening to earn a Sweet 16 berth in the Class 1A-Private state tournament. For TFS, it marked the first trip back to the second round since 2018, though the program has been to the playoffs in six straight seasons dating back to 2015.
It didn't come easy though, as Mt. Vernon proved to be a worthy opponent and stuck close throughout in each set of the match. TFS won in straight sets 25-21, 25-22 and 25-19 to win the match.
The Lady Indians got off to a quick 4-1 start in the opening set before Mt. Vernon tied it at 5-5. A 4-0 run for the host team sparked a timeout, and eventually TFS took a 13-6 lead. As was the theme of the night, Mt. Vernon wouldn't go quietly, and stormed back to pull within 19-16 and 22-20 before the Lady Indians put the set away with a 25-21 score.
Sarah Jennings and Katy Corbett had four kills each in the set, while Corbett had five digs. Barrett Whitener, Abby Carlan, Allie Dalton and Nancy Fisher all recorded kills, while Allie Dalton had an ace during the set. Evette Corwin had a pair of clutch digs.
Corbett caught fire in the second set, recording nine kills and five digs to go with an ace, while Jennings had four digs and two kills. Whitener was a force at the net, recording three big-time blocks. Rebekah Jennings also had two digs. In the set, Mt. Vernon went up 3-0 quickly. TFS responded by going up 6-4 and forcing a timeout. That lead was stretched to 14-8.
Again, Mt. Vernon pulled within 18-16 on an 8-4 run, and held within 20-18 to spark a timeout by coach Matt Heyl. The set then featured a 21-21 tie after a few straight TFS errors. The girls pulled it together and closed with a 4-1 run to earn the 25-22 set win.
The third set, a 25-19 win, proved the game-clinching one for TFS, which got out to a 4-1 start. The girls never trailed despite Mt. Vernon pulling many times within a couple of points. Whitener again had multiple blocks, while Corbett and Sarah Jennings had six and five kills, respectively.
The win moves Tallulah Falls to 19-14 overall on the season.
SCORE RECAP:
W 3-0 vs Mt. Vernon: 25-21, 25-22, 25-19