Athletics News
TFS recognizes academic year Presidential Scholars
A special shout-out goes out to the Tallulah Falls School Presidential Scholars for the 2020-21 academic year. This is the list of students who maintained a GPA of 4.0 and received fewer than 15 demerits and had no major infractions for both semesters.
Fifth grade
Brantley Addison, Sam Belk, Reilly Cox, Christian David, Max Damron, Keely Franks, Gracie Gunter, Hudson Huff, Gracie Ingram, Morgan Martin, Stella Radford, Finlee Ridlehoov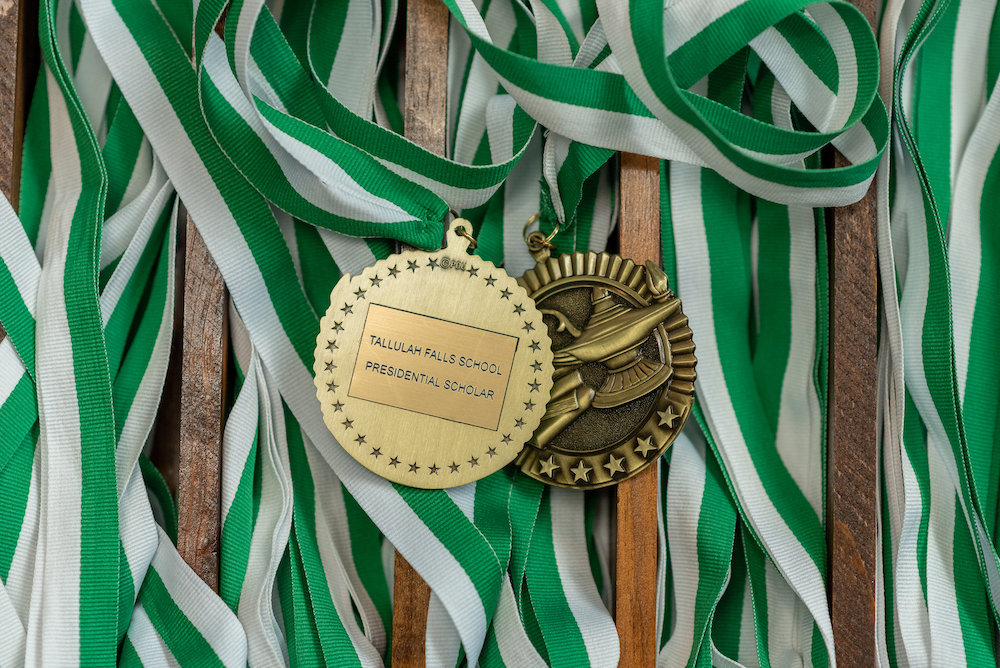 er, Ellie Shaw, Luke Thomson., Veronica VerBerkmoes, Linda White.

Sixth grade
Drew Barron, Kale Borchers, Chloe Eller, Callee Elrod, Amari Ernst, Agnes Hogan, Delaney Johnson, Avery Keim, Josh Lander, William NeSmith, Olivia Phillips, Megan Prince, Emily Shoemaker, Sophie Smith, Adelaide Tatum, Caylin Tucker, Ryleigh Wilson
Seventh grade
Elijah Barker, Emily Cai, Jessica Cook, Penny Damron, Lily Gaglio, Carsyn Griffis, Sarah Lundy, Meredith Orr, Bryson Perdue, Kaylin Pickett, Molly Rickman, Jackson Savage, Jack Thomson, Keira Webb, Sarah Wilkinson, Walker Wright.

Eighth grade
Allison Bailey, Jason Bard, Emma Barron, Timothy Beck, Cole Borchers, Landry Carnes, Zachary Carringer, Josie Chesser, Jackson Cording, TJ Cox, Raegan Duncan, Nick Edenfield, Chloe Erwin, Wyatt Franks, Miah Gragg, Ava Hamon
Mia Hamon, Millie Holcomb, Jace Ibemere, Haygen James, Kylee Loudermilk, Madeline Martin, Jacob Mitchell, Jared Mullis, Noah Page, Monil Patel, Brooklyn Reed, KC Respress, Emmet Sims, Caroline Smith, Chesney Tanksley, Jedd Thomas, Rylee Vandiver, Aiden VanOrman, Everett VanOrman, Lizzy Wanner.

Freshman
Anna Reese Akers, Kyndal Anderson, Austin Ball, Maisey Bowen, Reilly Chatman, Jenna Chesser, Tyler Cook, Eli Damron, Camden Elrod, Tessa Foor, Lawson Fulbright, Anna Grant, Jane Ibemere, Annabelle Jackson, Emilee Jones, Claire Kelly, Sam Ketch, Angelina Kim, Lucy Ladd, Maddie LeBlanc, Addy McCoy, Joseph McGahee, Molly Mitchell, ChiChi Nwachukwu, Dani Prince, Henry Rickman, Jackson Shadburn, Julianne Shirley, Ethan Simmons, Jacob Sotunde, Sivheng Sun, Josiah Turney, Emma Wanner, Jake Wehrstein, Andrew Whittle, Reese Wilson, Ashlyn Yaskiewicz, Skylyn Yaskiewicz.
Sophomore
Bralen Allen, Nana Amankwah, Walker Bailey, Miracle Bain, Canon Brooks, Aarington Brown, Mei Hui De Velasco, Leah Desta, Zeyu Fang, Trey Greene, Amy Henriques, Adeline Higbie, Emma Jackson, Sarah Jennings, Seth Justice, Mariya Khanina, Denika Lightbourne, Hannah Lundy, Madeline Mullis, Kailyn Neal, Benjamin Okoronkwo, Keelie Parks, Madisyn Ramey, Kitty Rodenas, Katie Grace Scaramuzzo, Will Seaman, Seungwook Shin, Emery Sims, Kate Trotter, Cecily Tucker, Jue Wang, Yixuan Wang, Zhigao Xiong, Ruichen Zhang.
Junior
Lucy Alexander, Colton Augustine, Caroline Ball, Trevor Bramlett, Reagan Brode, Andrea Caudell, Emily Church, Kylar Clouatre, Charles Cody, Evette Corwin, Allie Dalton, Andrew Erwin, Yukun Fu, Ziyu Han, Junyi He, Sophie Herrera, Flannery Hogan, Josh Jackson, Lilly Johnson, Honora Kahwach, Gabe Keene, Yiming Li, Joel Miller, Tamia Moss, Maggie Peacock, Madison Perdue, Tyler Popham, Evan Prince, Nafis Rahman, Jingan Sang, Jingyi Sang, Emily Smith, Karis Tatum, Ethan Wanner, Ava Wehrstein, Barrett Whitener, Erika Wiese, Emily Wolfe.
Senior
Iray Adeleke, Grant Barron, Grey Bourlet, Allie Kate Campbell, Abby Carlan, Baylor Carnes, Caleb Carter, McKinlee Chatman, Cain Chitwood, Chathan Clouatre, Sydney Coffey, Katy Corbett, Kale Corbett, Nikolina Dermanovic, Hagan Eubank, Peyton Gunn, Brinson Hall, Moshen Hu, Camden Hughes, Maggie Jackson, Fendi Jean-Louis, Collin Kelly, Grace Kim, Mia Kwarteng, Jiachen Li, Yifei Liu, Baylee MacBeth, Seagan McKibben, Khalisah Momoh, Chaz Mullis, Sydney Murdock, Jiajun Pan, Mary Sanders, Eli Sims, Junho So, Samantha Stamey, Caroline Turpin, Damjan Veljkovic, Anna Waites, Abby Walker, Pengyue Wang, Qiming Wei, Gigi Welch, Halle Weyrich, Tate Whitfield, Yuji Xue, James Yaskiewicz, Zhiyuan Zhou.