News & Announcements
TFS dives into competitive swim season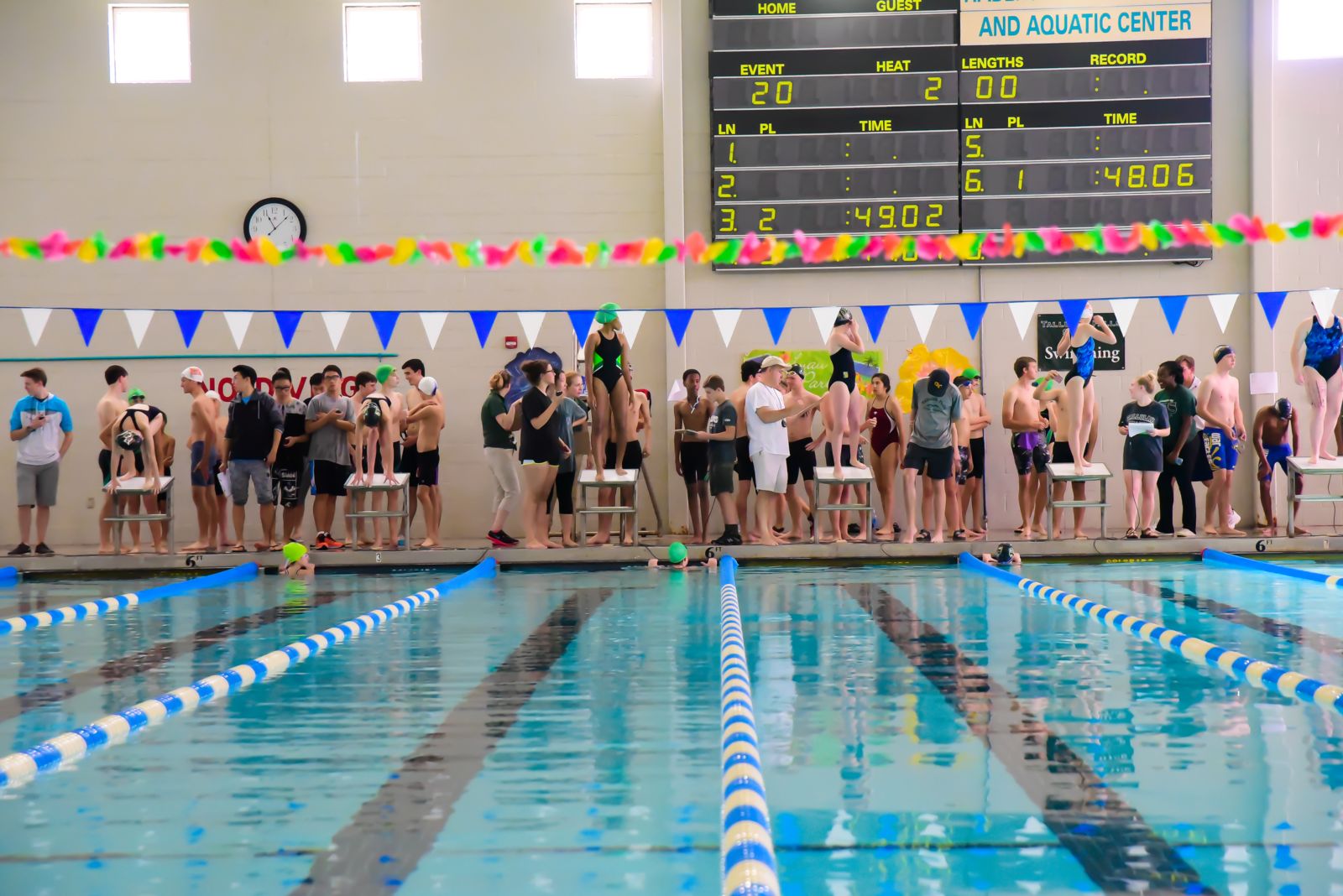 Both men's' and women's swim teams for Tallulah Falls School won the first meet of the competitive swim season. TFS hosted the Hawaiian luau-themed meet Nov. 5 at the Ruby C. Fulbright Aquatic Center. The facility was filled with 300 middle and high school swimmers and dozens of supporters representing nine schools.
"Swimmers raced against the clock and each other with first place finishers in events scoring the most points," said coach Susan Nichols. "Relay teams are vital to a team's success because relay races carry double the point value for victory. "
The Tallulah Falls School men's team won with 483 points followed by Pinecrest Academy (399 points) and Union County rounding out the top three with 219 points.
TFS sophomore Nick Stelmack of Toccoa led the men's team winning both the 200-yard individual medley and achieving a Georgia High School Association state swim meet qualifying time in the 100-yard backstroke.
Freshman Hunter Weyrich of Alto won the 100-yard breaststroke and placed 2nd in the 500-yard freestyle. Sophomore John Nichols of Clarkesville placed 2nd in the 100-yard butterfly. The men's relay team of Weyrich, Nichols, Stelmack and sophomore Chris Geiger of Sautee-Nacoochee won the 200-yard medley relay. Freshman Riley Barron of Roswell swam with Nichols, Weyrich and Stelmack for a 2nd place finish in the 200-yard freestyle relay.
The women's high school team raced to victory beating nine other teams with 442 points. Pinecrest Academy was second at 411 and Habersham Central High School placed third with 203 points.
Sophomore Virginia Griswold of Clarkesville scored the most individual points winning the 500-yard freestyle and the 100-yard backstroke. Norah Griswold was 2nd in the 200-yard individual medley and freshman Sarah Edwards of Sautee-Nacoochee took 2nd in the 500-yard freestyle. The women's relay team of Virginia and Norah Griswold, junior Sophie Burke of Chesterton, Indiana and senior Julia Nichols of Clarkesville won the 200-yard freestyle and took 2nd in the medley relay.
"The top place performances are a reflection of the success the entire team demonstrated. Athletes who have just returned to competitive swimming were swimming at their personal best times that had been achieved at the end of last swim season after months of training," Nichols said. "Many swimmers who are new to swimming are debuting with race times that indicate strong competitive potential."
The next meet is set for Nov. 12 at the Ruby C. Fulbright Aquatic Center hosted by Habersham Central High School. Both high school and middle school swimmers will compete.