News & Announcements
NHS members add whimsy to new family resource center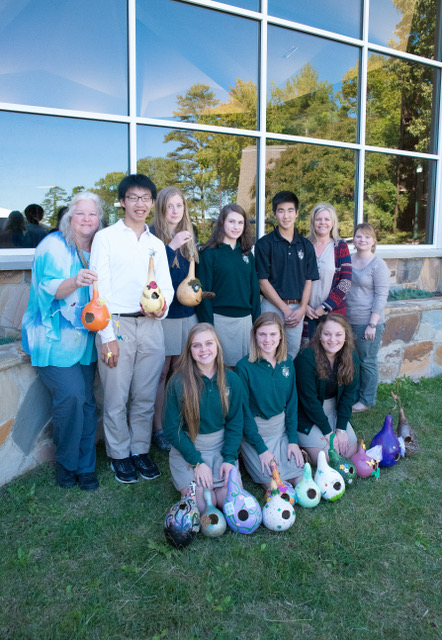 Shown, back row, from left, Terri Bogan, club advisor, senior Jason Lin, juniors Cindy Trusty,Clara Pence, senior Michael Weidner,
Stein and Macon Wrenn, Parents as Teachers Educator for PCAH;
front row, juniors Meredith Church, Mackenzie Rainwater
and senior Emma Peacock.


E. Lane Gresham/Tallulah Falls School
To add a playful contribution to the newly-opened Prevent Child Abuse Habersham Family Resource Center, members of the Tallulah Falls School National Honor Society created fairy houses using gourds, paint and imagination.
The decorated gourds will be placed in the outdoor play yard at the family resource center, said Jennifer Stein, PCAH executive director. The center services as the main office for PCAH and serves area families as a location for court-mandated supervised visits, parenting and other classes.
"Both toddlers and older children have enjoyed browsing these hanging works of art, talking about the detail that has gone into each gourd. From whimsical to practical each house is unique and adds character to our growing outdoor fairy garden," Stein said. "It is our hope that additional student groups and families will choose to add to our fairy garden to create ease the anxiety and emotions that children and their parents are working through while coming to supervised visits, creating a safe dialogue free from any past hurts."
TFS is a long-time supporter of PCAH, according to TFS President and Head of School Larry A. Peevy.
"We are proud of our community partnership with PCAH," Peevy said. "The work that this nonprofit does to support healthy family relationships enhances our community."
Families using the center have access to comfortable living room space, a kitchen and outdoor areas, Stein added. Community members have donated supplies, toys, games and other items.
NHS was one of several TFS clubs and organizations that helped to get the facility ready for its Oct. 13 opening/dedication.