News & Announcements
Peevy honored during community celebration
Reprinted with permission of The Clayton Tribune
By: Trevor McNaboe
Family, friends, faculty, staff and students gathered Jan. 18 in the lobby of the newly-christened Larry A. Peevy Upper School Academic Complex.
It was a day to recognize a man who has made an impact on hundreds of students at Tallulah Falls School during his tenure as president. The Tallulah Falls School Board of Trustees surprised Peevy with the honor at a September 2016 board meeting. The event was part of a two-day celebration of the honor affirmed by the board.
Peevy has transformed TFS with the addition of a middle school, a new student activity center and renovations on the Upper School campus that have totaled more than $25 million since he arrived in 2007.
Additionally, according to Tallulah Falls School Board of Trustees Chair Amy Atkinson, Peevy has helped enrollment grow from just more than 100 students to a size that sits comfortably in the 400s.
Peevy was joined by his wife Dinah, two children and four grandchildren at the ceremony.
TFS senior class president Michael Weidner, along with former student Betsy Bartholf, spoke about the opportunities they were afforded by attending this school.
Bartholf said she was able to begin college with almost a year of credit under her belt due to the courses offered at TFS.
Atkinson unveiled to the crowd during the ceremony a portrait of Peevy, which will hang in the lobby of the upper school classroom building as a way to honor him.
TFS student Tori Sesam gave a soothing rendition of "Wind Beneath My Wings" during the ceremony. Before Peevy took the stage, Habersham County Commissioner Natalie Crawford issued a proclamation of the building being named for Peevy.
Upon taking the stage, Peevy was moved and deflected some of the attention away from himself to the students and even the basketball team.
"Our students go to some of the finest universities across the world. Each year they receive between $4 and $6 million dollars in scholarship money and that's a testament to them," Peevy said.
He specifically recognized the senior class at the ceremony during his speech, along with pointing out members of the 18-0 basketball team.
An anonymous donor gifted the sign for the newly-named academic complex. It will sit in front of the Victory Garden at Tallulah Falls School.
"I hope that one day my grandchildren's children will be able to come here and see this building," Peevy said.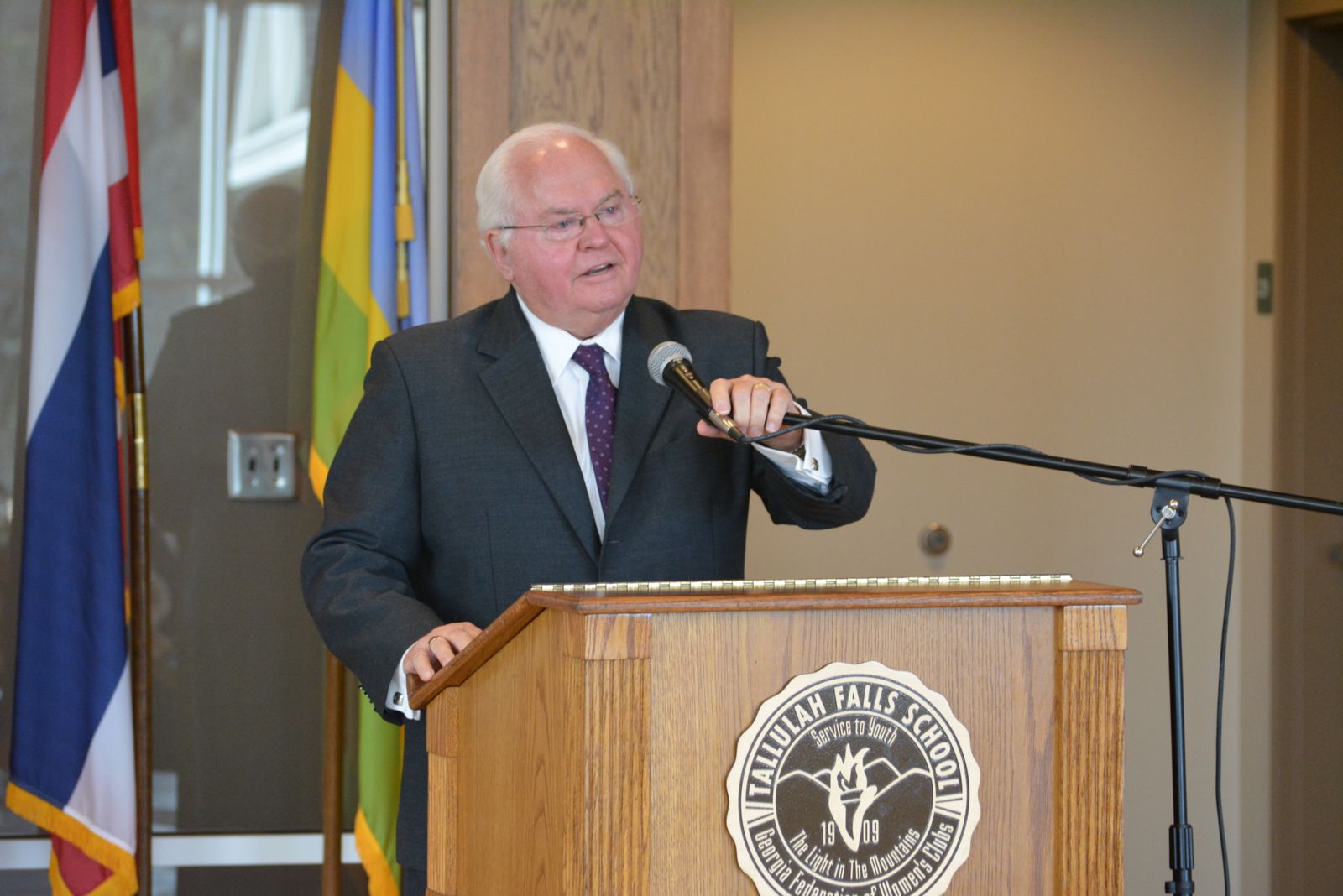 Photo: Trevor McNaboe/The Clayton Tribune