News & Announcements
TFS fishing club competes in Florida tournament
The Tallulah Falls School Bass Fishing Club was once again on the water competing in the Georgia B.A.S.S. High School Division of tournament fishing.
After a month off during the holiday season, the club was back at it again in January to compete against more than 100 teams at Lake Seminole along the Georgia-Florida border.
According to club captain Russell Williams, the shallow water impoundment is located at the confluence of the Flint River, Spring Creek and Chattahoochee River.
"The lake, festooned with aquatic grasses, standing timber and alligators has proven to be a challenge for the TFS Bass Fishing Club each time they've traveled the five hours south to compete there," Williams said.
Fishing with one team member unable to compete, the team's practice days produced a few good fish. However, affected by changing weather patterns, on tournament day, the methods and places fish were caught during practice failed to produce. Tournament day was a hard-fished endeavor, Williams said.
"Unfortunately, no bass were caught to bring to weigh-in despite a persistent non-stop effort to do so," he said.
In February, the team will be back to full strength with both teammates looking forward to a strong showing on Lake Eufaula along the Georgia-Alabama border, he said.
"We urge anyone having an interest in fishing as part of the club to contact teammates Marshall Harrelson, Marshall Williams or me, to learn how to participate in the TFS Bass Fishing Club," Williams said.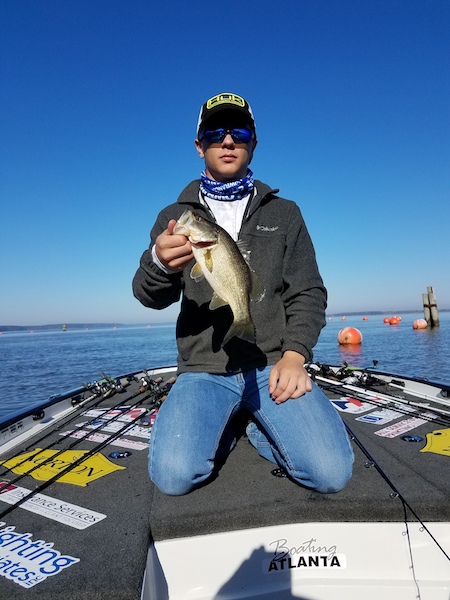 Submitted
Shown is TFS sophomore Marshall Harrelson of Clarkesville with a largemouth bass caught during practice for a tournament held at Lake Seminole.