News & Announcements
TFS swimmers complete exciting season at state meet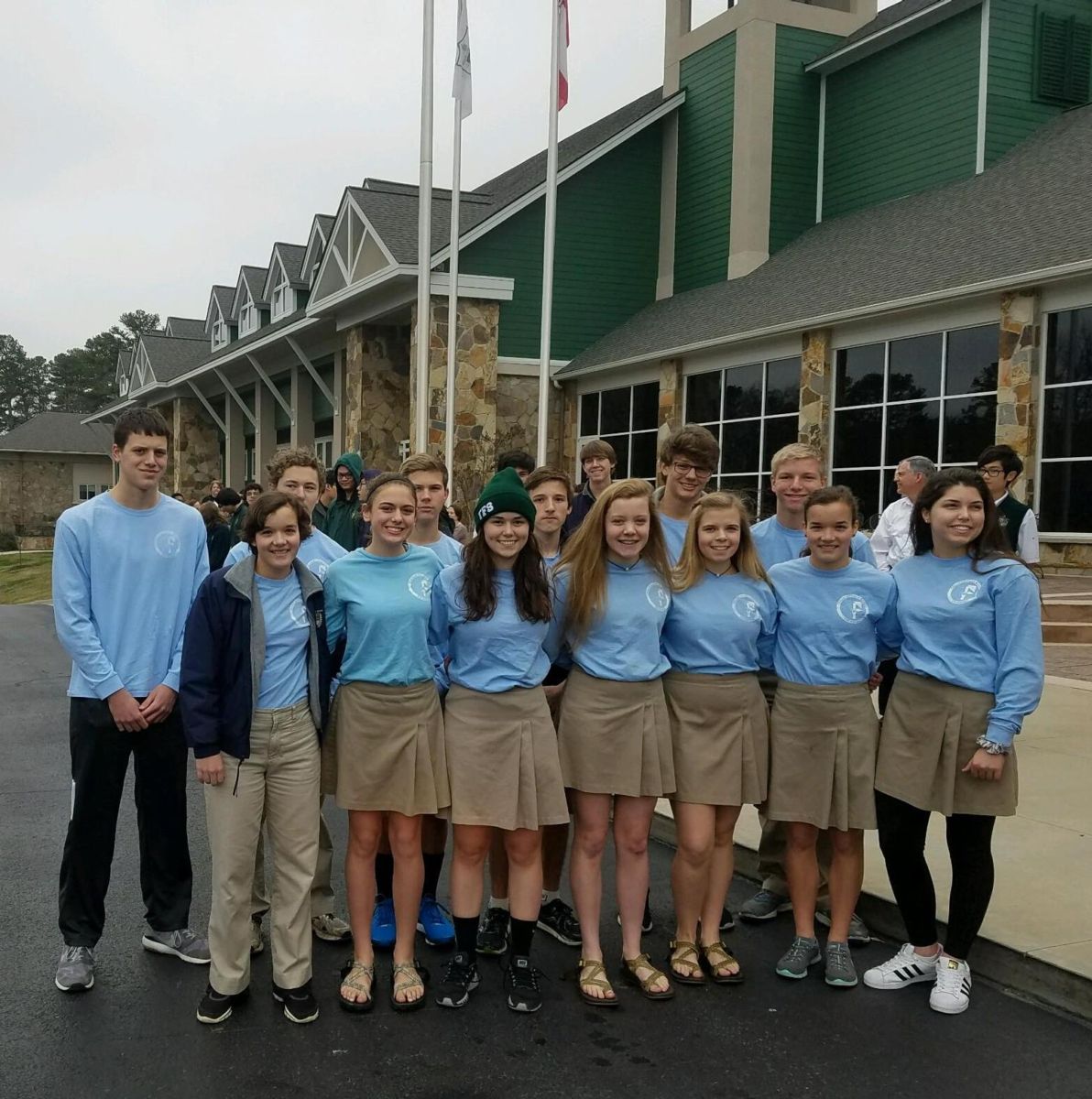 A group of accomplished Tallulah Falls School swimmers traveled to Atlanta Feb. 3 to compete in the Georgia High School Association State Swim Meet.
According to swim coach Susan Nichols, the meet is conducted at a world class venue, the Georgia Tech McAuley Aquatic Center, site of the 1996 Olympics.
"It is impressive to watch student athletes who were competing at the Olympic Trials this past summer race at the GHSA state swim meet and to see state swim records set at this meet," Nichols said. "It is humbling and motivating to recognize our TFS athletes have earned the right to compete at this level."
Every TFS swimmer achieved personal best performances at the state meet, she said. "After months of disciplined training they were able to race at an elite level with many skilled athletes," she said.
The state meet format consists of preliminaries and finals over a two-day period. Swimmers must place in the top 20 in races conducted Friday evening in order to move on to the finals on Saturday night.
"Our goal was to make the finals in as many events as possible, with a realistic chance in the men's and women's freestyle relay events," she said.
The boys 200-yard freestyle relay team had a phenomenal performance, she said. They were seeded 29th coming into the meet. The boys each had time goals for his leg of the relay, and everyone hit the mark. Every swimmer swam a personal best in his leg of the relay.
Freshman John Nichols of Clarkesville led off with a 23.56, followed by freshman Hunter Weyrich of Alto with 24.63, freshman Riley Barron of Roswell swam his leg of the relay in 24.40, and anchor sophomore Nick Stelmack of Toccoa wrapped up the race with a 22.80 for a time of 1:35.39 which earned them a position in the finals with 19th place. The boys came back for the finals and dropped more time for a new school record of 1:34.73 and 18th place.
The girls 400-yard freestyle relay was the last event of the meet. They had come to the meet seeded 21st place, knowing only the top 20 would return for the finals on Saturday evening. The ladies dropped over five seconds in the Friday night preliminaries making the finals in 18th place with a time of 3:59.65. "It was going to be a challenge for them to improve on their outstanding performance from the preliminaries after two days of competition and waiting hours for their chance to race," Nichols said. "The ladies chose to 'leave it all in the pool.'"
Senior Julia Nichols of Clarkesville swam the lead-off 100-yard leg and set the standard for her teammates with a 56.64, which is a personal record. Freshman Reid Kafsky of Clarkesville shook off her state meet jitters and raced a personal best in her leg with 59.97. The Griswold sisters of Clarkesville, Norah and Virginia, maintained the momentum with Norah swimming a 1:00.44, and Virginia bringing it home with a 56.89. The ladies managed to drop more than five seconds again for a school record of 3:53.94 and 16th place.
The lady Indians had the unique opportunity to swim the medley relay in addition to the freestyle relays. Norah Griswold lead off with the backstroke personal best of 32.31, followed by freshman Sarah Edwards of Sautee-Nacoochee with a personal record 38.24 breaststroke, Julia Nichols having a school record relay split of 28.27 in the butterfly, and Reid Kafsky swimming 26.81 in the freestyle leg of the race. The ladies raced to one of the best times in school history, Nichols said.
In individual events, Stelmack raced the 100-yard butterfly to place 21st with a school record time of 56.44. In the 100-yard backstroke he dropped one second placing 19th, earning a spot in the finals competition.
"After the preliminaries Stelmack reviewed his performance and set a plan for the backstroke finals. He planned his start, turns, and breakouts and executed them flawlessly," Nichols said. Stelmack finished with a personal best, season best and new school record of 55.64 placing 17th.
Virginia Griswold raced her 100-yard butterfly without a flaw. "She made it look effortless, building speed at every turn and surging at the finish, which resulted in a 15-place improvement over her seed position coming into the meet," Nichols said.
She finished 23rd overall with a time of 1:02.25. Virginia Griswold also competed in the 100-yard backstroke, swimming a time of 1:05.23.
Weyrich made his state debut in the 500-yard freestyle on Friday evening coming in seeded 29th. He evenly paced the swimming endurance event to achieve a personal record of 5:09.64 which was 24th place, Nichols added.
"The coaches are extremely proud of the accomplishments of the swimmers at the state meet, and all of the TFS swim team members for the work and results achieved this season," she said. "Thank you to everyone for the awesome send off on Friday morning. The swimmers were excited and grateful to receive recognition from their classmates, teachers and administrators."