News & Announcements
Faingold TFS STAR student, system winner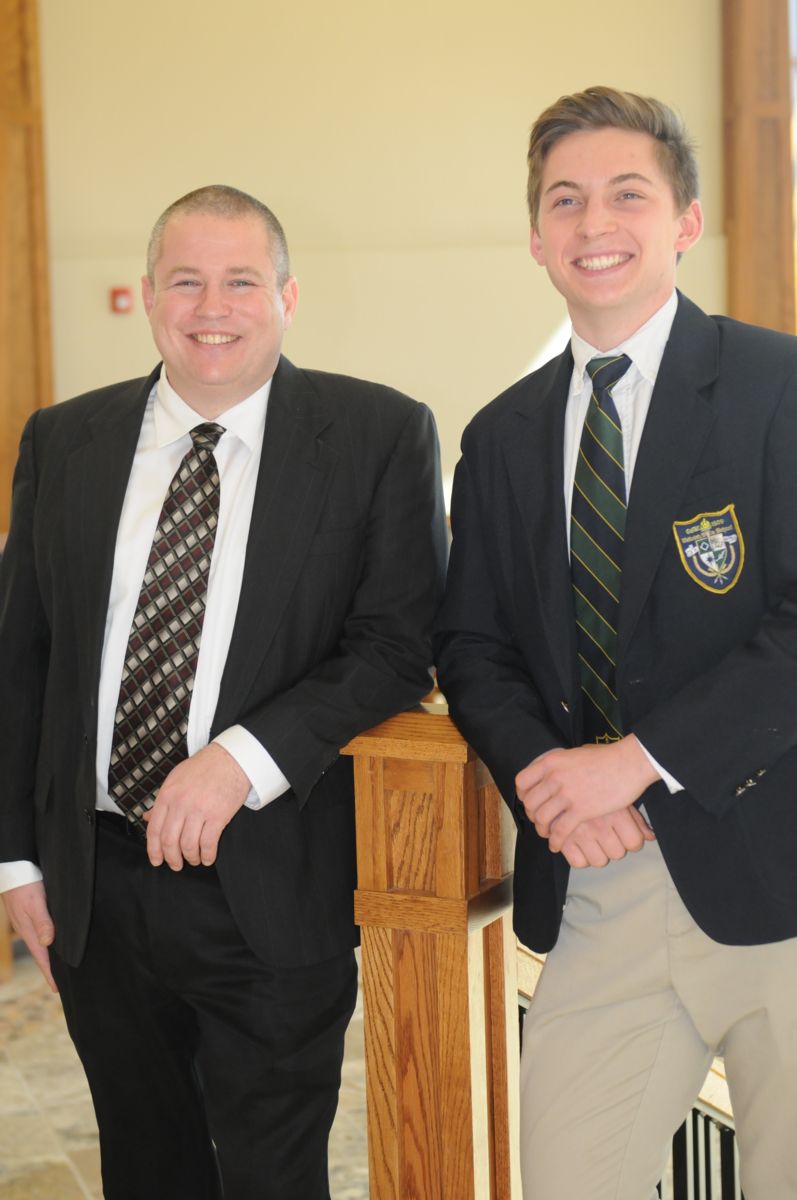 TFS STAR teacher Scott Davis and TFS STAR student Mark Faingold
Photo: Brian Boyd
By Ethan Jordan/The Northeast Georgian
Tallulah Falls School senior Mark Faingold has been named a STAR (Student-Teacher Achievement Recognition) student, as well as the system winner of the STAR program. To represent in the STAR program, TFS selected Faingold, who in turn, selected TFS educator Scott Davis, as STAR teacher.
"So far, I've been accepted to UGA and Georgia Tech," Faingold said Thursday before the Habersham County Rotary Club, prior to his winning the system title. "I'm planning to major in electrical engineering and computer science, [but] I'm still waiting for some other colleges to send me acceptance letters – U.C. Berkeley, Princeton, Cornell and Stanford – lot of hopes."
The STAR program honors Georgia's highest-achieving high school seniors and the teachers who have been most instrumental in their academic development.
"I'm very proud he is our STAR student, and profoundly humbled by his choice of STAR teacher," Davis said. "As his former sophomore honors English teacher, I can attest to his focus and to his understanding of both the nuts and bolts and the more nuanced aspects of academic English. As the assistant tennis coach, I can further attest to his commitment to athletic excellence, sportsmanship and success – perhaps his greatest accolade is his commitment to service."
Faingold currently serves as president of the TFS Math Club, TFS Recycling Club, co-founder and co-officer of the TFS Computer Science Club, International Club senior advisor, two-time presidential scholar, TFS ambassador and member of the National Honors Society.
"He is a stellar performer. He is a star," Davis said of Faingold.
STAR student runner-up was Habersham Central High School senior Joseph Meredith, who selected for STAR teacher, HCHS educator Dr. Rhea Galati.
"It is my honor to introduce our STAR student," said HCHS Lead Counselor Holly McShane, "who has earned a cumulative GPA of 99.66, has taken seven AP (Advance Placement) courses over his career and has an SAT score of 1,400."
"English is not his thing, that makes this doubly important to me," Galati said. "Usually, the kids go with what they enjoy or what they plan to major in, but he paid me the extreme compliment of choosing me as his STAR teacher in a subject that he does not like.
"Joseph has turned out to be a great writer. That speaks to his character and his desire to learn and improve in all aspects of his life," Galati continued. "He's a joy to have in class."
"Reading and English have never been my favorite subjects," Meredith said. "[Galati] has challenged me to grow and improve my writing. She cares about her students very deeply and pushes us all to succeed.
After graduating from high school, Meredith said he plans to attend Georgia Tech to major in computer science.
"I hope to have a career in programming or design," he said. "I'm honored [to be awarded]. It's a huge honor."
The statewide STAR program was created in 1958 by the Georgia Chamber of Commerce and in the mid-'90s the Professional Association of Georgia Educators (PAGE) assumed responsibility for the program.
To obtain the STAR nomination, high school seniors must have the highest score on any single test date of the SAT taken through the November test date of their senior year and be in the top-10 percent or top 10 students of their class based on GPA. Each high school STAR student is asked to name his/her STAR teacher.
Locally, STAR students and teachers are honored by their schools and receive special recognition in their communities from one of more than 165 civic organizations and businesses that serve as local STAR sponsors.