News & Announcements
TFS basketball players share time-outs with fifth graders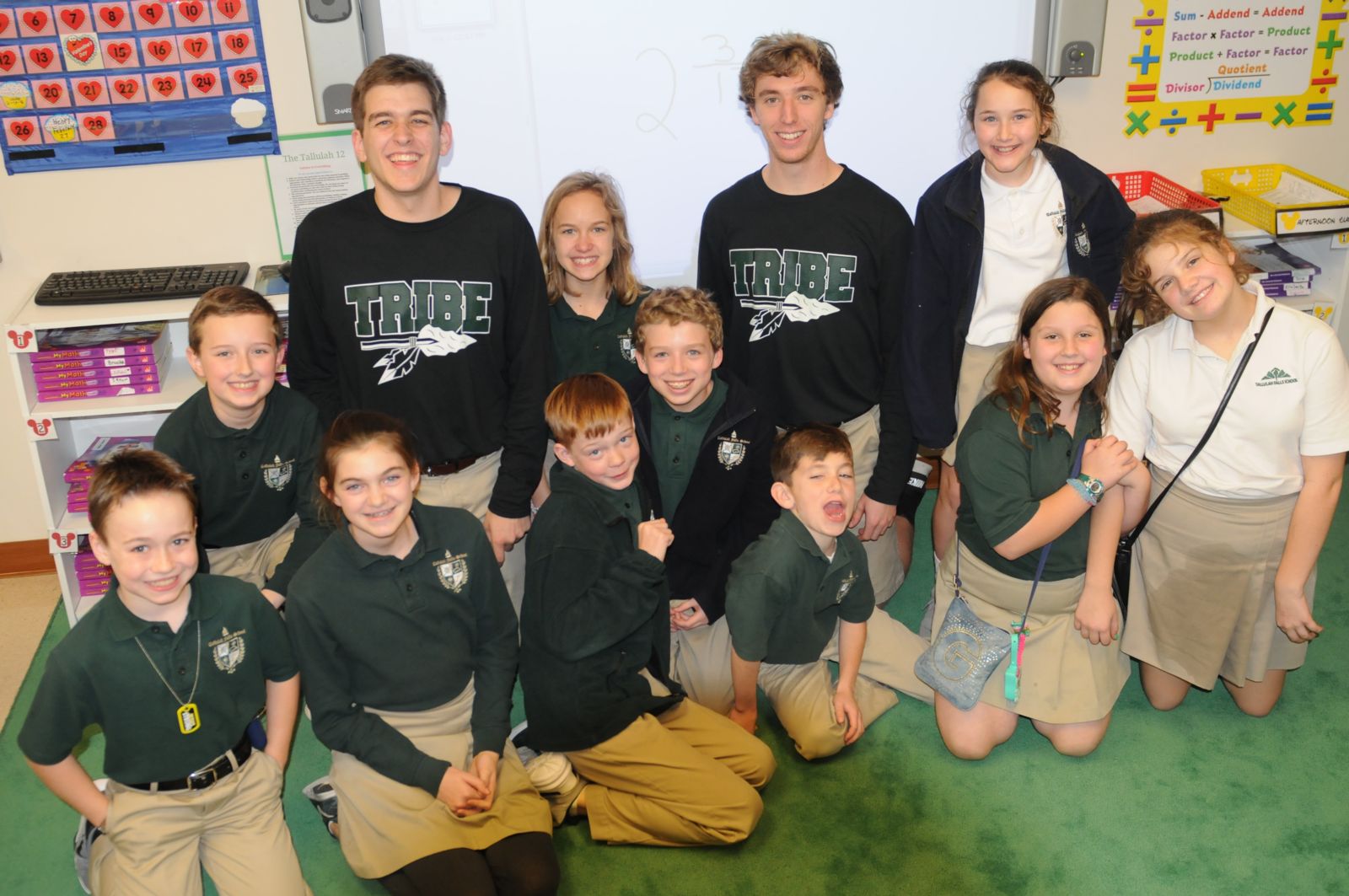 Shown, front row, from left, are Ethan Simmons, Morgan Mullins, Henry Rickman, Lawson Fulbright, Austin Ball, Jana Shanks, Anna Siebert; back row, from left, are Joseph McGahee, Michael Van Hooser, Mabree Holcomb, Trey Wilcox, Keygan Antosiak.
Photo: Brian Boyd
A new mentoring program is generating excitement among the youngest student group on campus. An innovative new program at Tallulah Falls School provides an opportunity for fifth graders to be nurtured by members of the varsity boys basketball team.
The program, known as 'Tribe Tellers," was developed by varsity boys basketball coach Jim Van Hooser and his wife Chrissy, a fifth grade teacher at the TFS middle school.
The pair were looking for a service project for the basketball team and Chrissy Van Hooser knew her fifth graders loved to have someone read to them.
Tribe Tellers provides a meaningful opportunity for the basketball team to serve as role models to the youngest and most impressionable students on campus. The players visit weekly and stay for about 30 minutes.
"My favorite part about the Tribe Tellers program is helping the fifth graders and bringing smiles to their faces," said Michael Van Hooser, a senior captain on the basketball team. "I enjoy making their day better by spending time with them. This program has made TFS have more of a community feel for me because I get to interact with the other [middle school] campus."
"My kids LOVE when they come," Chrissy Van Hooser said. "We read most of the time, but about once a month we let them go outside and play. They played Zombie Red light/ Green light in October. The last time we went out they played Four Square."
"I love how they tell funny jokes," Lilly Kate Farrar of Toccoa said.
Lawson Fulbright of Toccoa added, "I like that they read to us, plus I look like Trey [senior basketball player Trey Wilcox]."
"This program is a wonderful example of the family atmosphere on campus," said President and Head of School Larry A. Peevy. "And it's a way for both groups to experience positive character development."