News & Announcements
Superfan sparks spirited season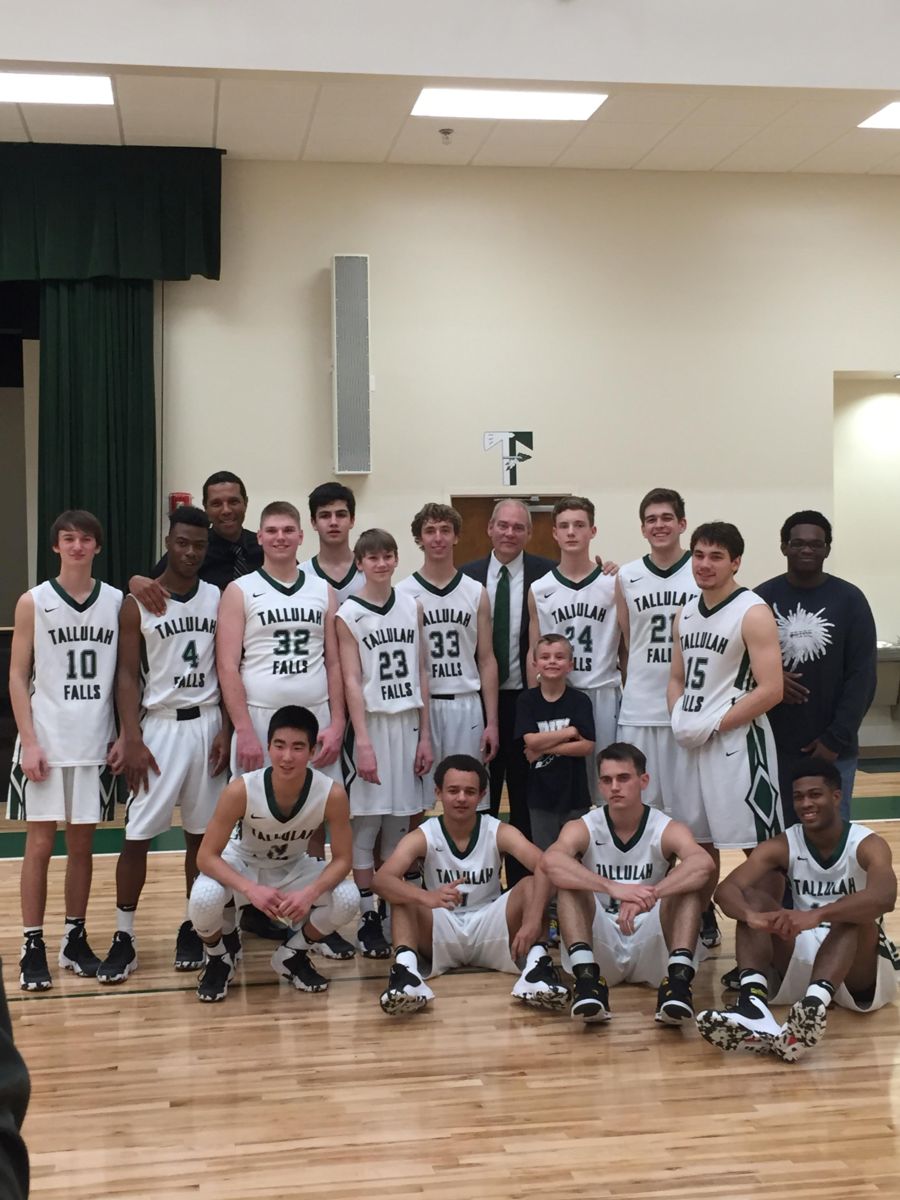 One small sports fan assumed superfan status in the eyes of the Tallulah Falls School varsity boys basketball players this season.
Asa Popham, 7, son of TFS Upper School Dean Kim Popham and husband Bryan, brought a contagious enthusiasm to the bleachers for most every game. The magical season for the Indians translated into extreme joy for this high-spirited and mighty sports supporter.
Asa was proud to wear his TFS shirt and to cheer for the team as the young men celebrated victories all the way to Sweet 16 state-level competition. The team finished 24-5 overall and 12-3 in region play.
But it was more than just showing up for the games, according to Asa's mom.
"He loves sports and can provide you with information about them all, but his favorite sport is basketball," Popham said. "Last basketball season, I watched a 6-year-old boy full of energy become totally immersed in the varsity games. This year he became even more immersed after he was asked to be the waterboy. Little did the players know but that meant giving words of congratulations, using the towel to wipe sweat, and yes, even dispensing water."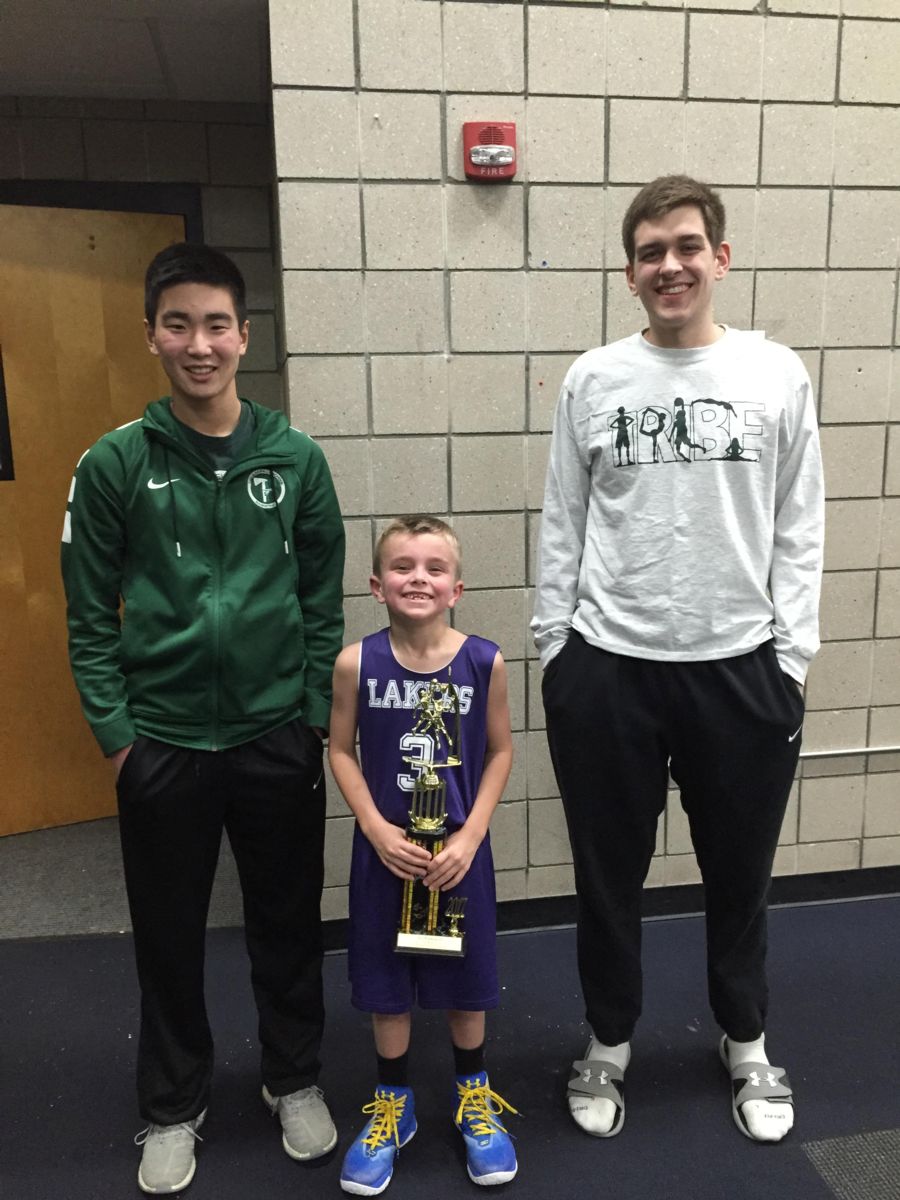 Throughout the season, the players, now larger than life in Asa's mind, greatly impacted his world.
One game stands out in the busy mom's memory.
"Asa was told he could not attend the Region game at Lakeview because it was so late," she said. "He decided he had to provide the boys with words of encouragement especially if he was not going to be on the bench with them. He decided to make them a card that Coach Van [Hooser] read in the locker room."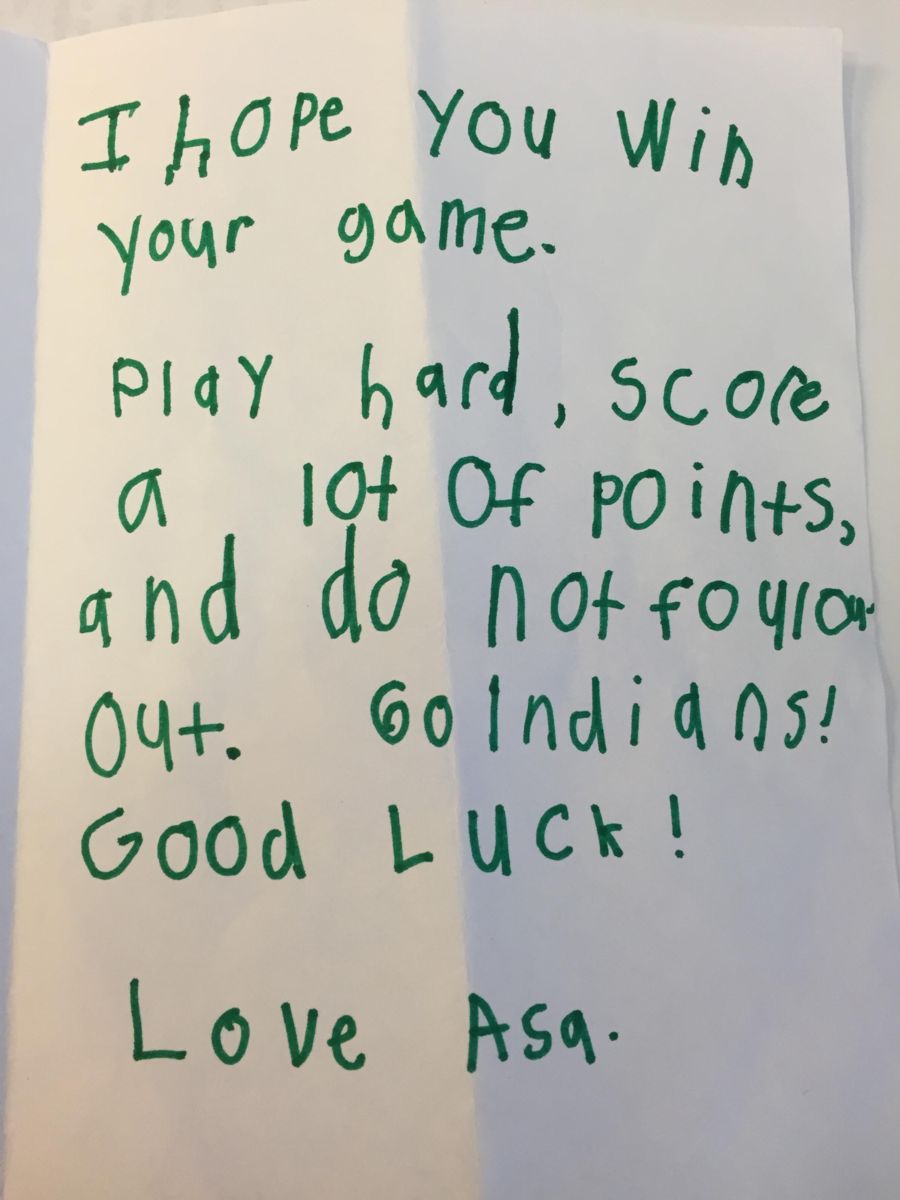 "I hope you win your game. Play hard, score a lot of points and do not foul out. Go Indians! Good luck. Love, Asa," it read.
He worried about them when they got sick or injured, Popham said, constantly peppering her with questions and queries about the individual players.
"He would pray for them on and off throughout the season," she said.
Team co-captains, seniors Michael Weidner and Michael Van Hooser, formed a strong bond with Asa, counting on his presence to inspire them on – and off – the court.
"This season was about as close to a perfect as it could get. It was a great way to end my last season of high school basketball and Asa played a huge role in the experience this year," Weidner said. "I got personal shoulder rubs and countless high-fives. He brought a full, bright spirit to us and he encouraged me to play harder. It meant a lot to all of us to know we had affected his life so much. His support means the world to me and I will miss being a part of the team with him by my side."
Michael Van Hooser echoed his teammate's sentiment.
"I truly appreciated Asa's enthusiasm during the basketball games," Van Hooser said. "His smile made time better on the sidelines. He helped us achieve greater heights because he inspired all of us players to work and play harder."
From a coaching perspective, head coach Jim Van Hooser said Asa's excitement and involvement were woven into the extraordinary season.
"One of the greatest pleasures of high school basketball is to see young people like Asa look up to and want to be like the great kids on our team," Jim Van Hooser said. "They thrived on his being a part of our magical season as much as he did. He truly became the embodiment of the fans that we wanted to have and the players became the role models that he craved for them to be."
TFS Athletic Director Scott Neal said an integral aspect of GREAT character in the TFS athletic program is becoming a role model for those who look up to student-athletes and coaching staff.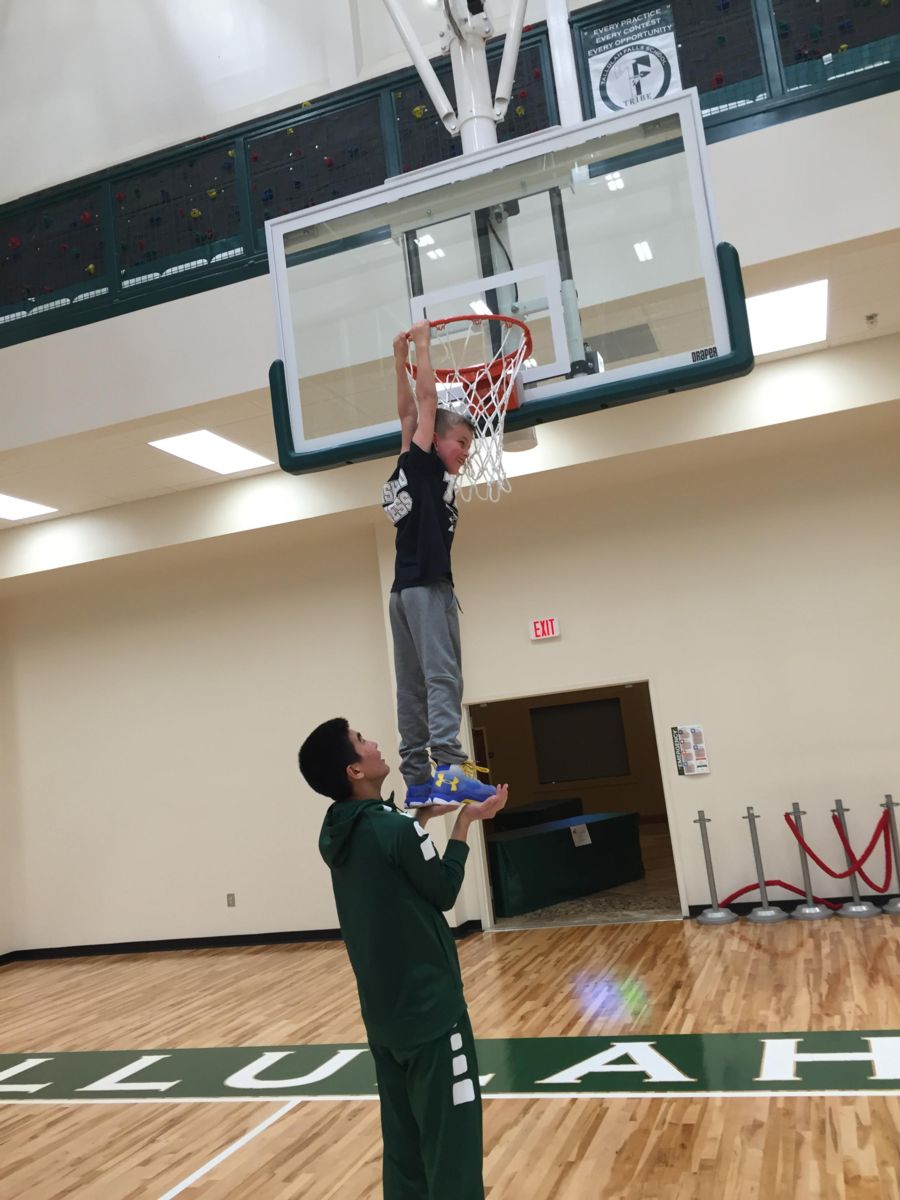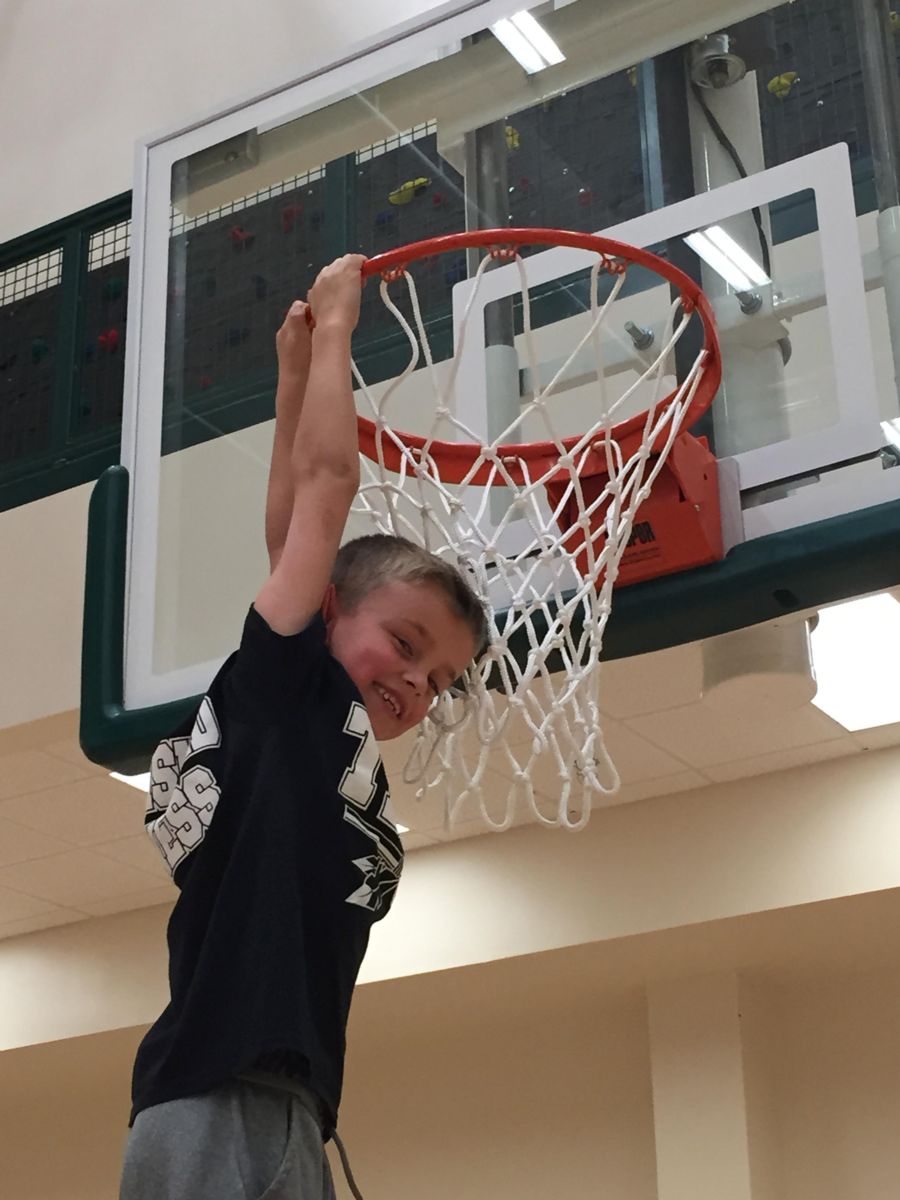 "Being grateful for the opportunities TFS provides, we seek to be generous and give back to our young fans and young athletes," Neal said. "Our veteran varsity athletes feel it is their privilege and responsibility to include our younger peers in the Tribe culture of performing at high levels with GREAT character.
This season, Neal said, even in the midst of intense moments, he witnessed many of the varsity boys recognize Asa with a high-five or acknowledge him while leaving the huddle or returning to the bench during close games.
"He was simply a part of their team," he said.
Two of the players along with coach Van Hooser expressed their appreciation for Asa's devotion by attending for one his rec basketball league games.
"The game that Michael [Weidner] and Michael [Van Hooser] attended, Asa scored the most points of the season," Popham said.
And after the final game of the state playoffs, Asa's emotions bubbled over.
"Those boys can't leave," he told his mother, referring to the seven senior players. "They are my favorite players ever."