News & Announcements
Tallulah Falls School celebrates winter sports athletes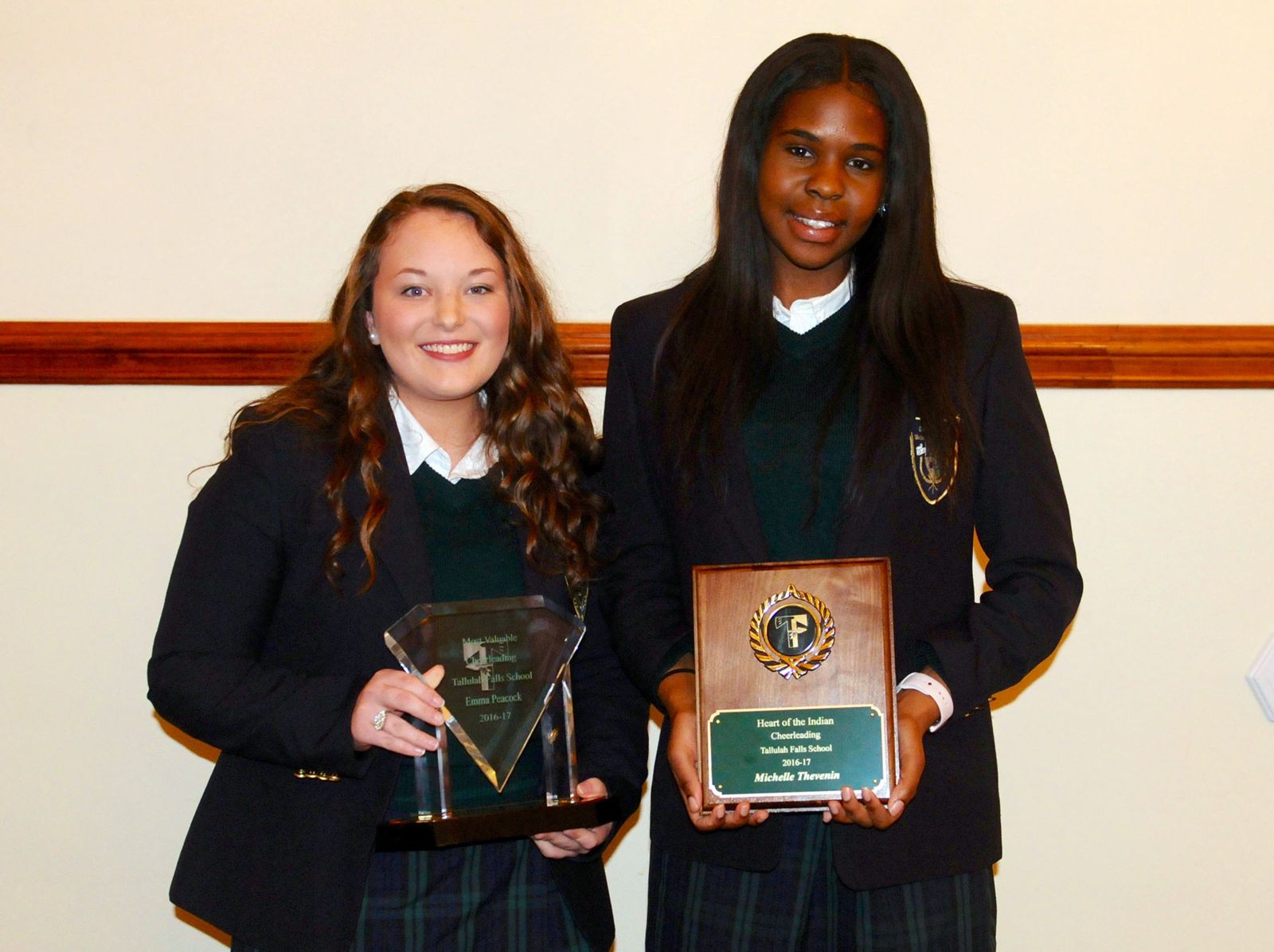 Cheering, from left: Emma Peacock and Michelle Thevenin.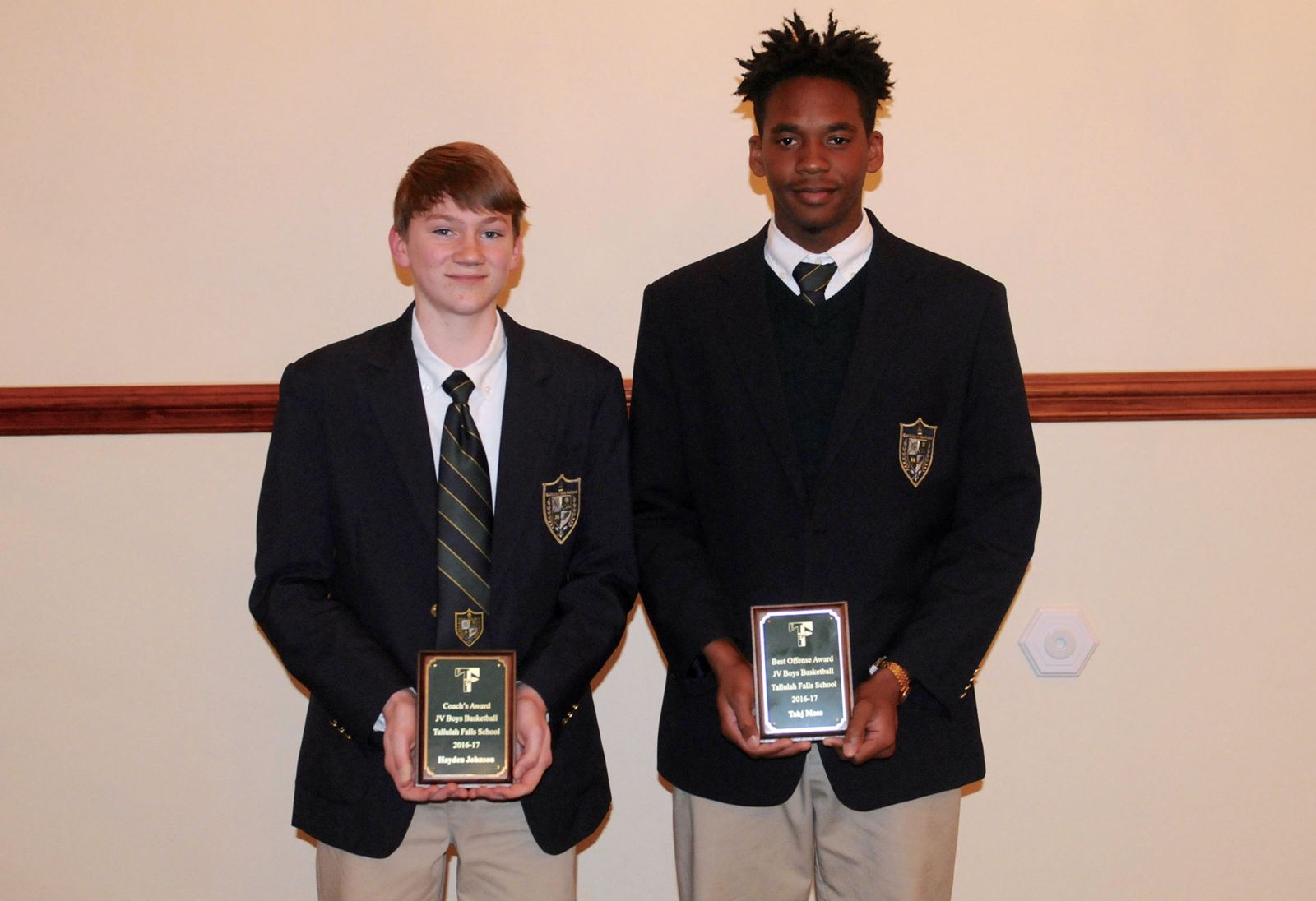 JV basketball from left: Hayden Johnson, Tahj Moss.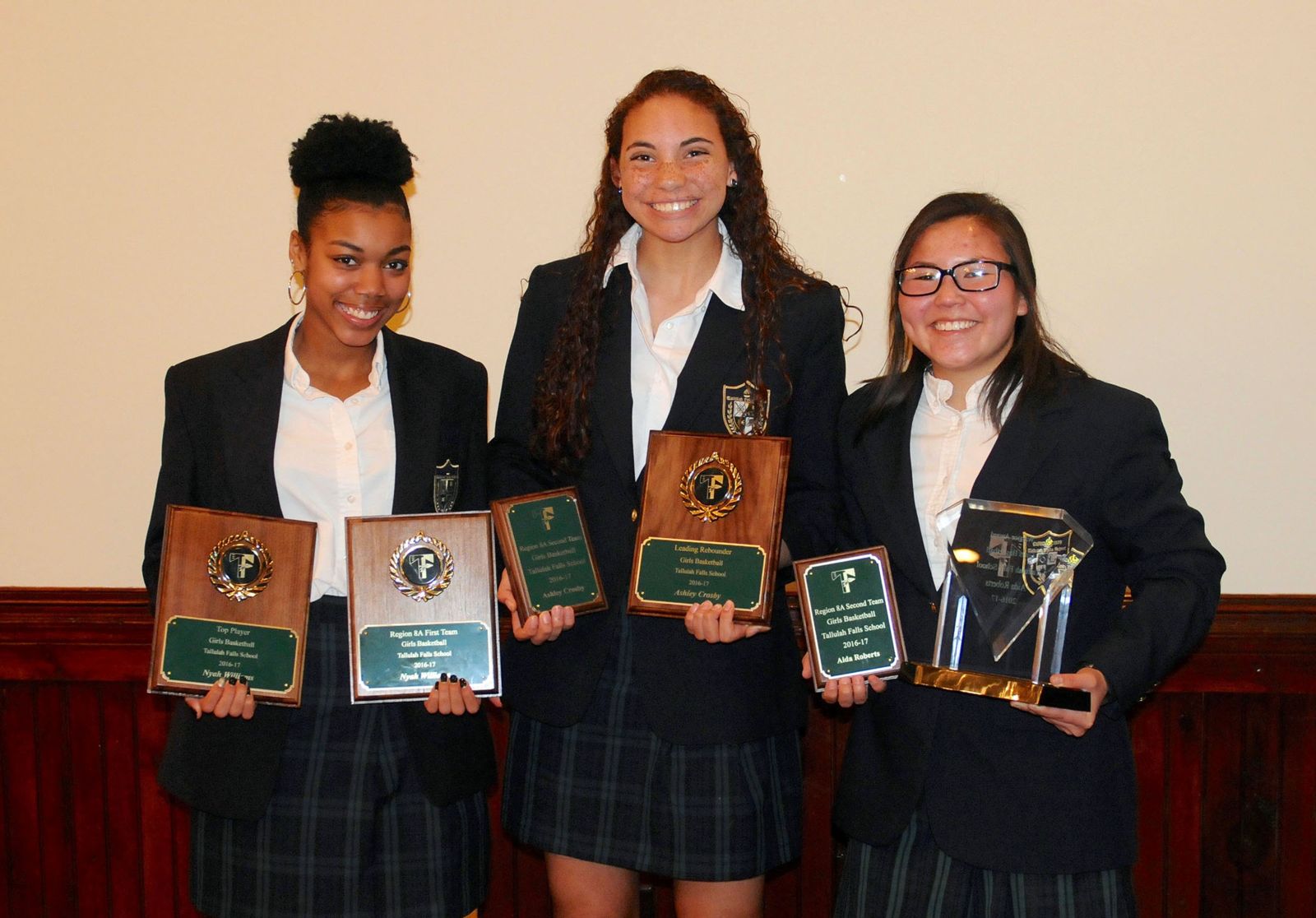 Varsity girls basketball, from left: Nyah Williams, Ashley Crosby and Aida Roberts.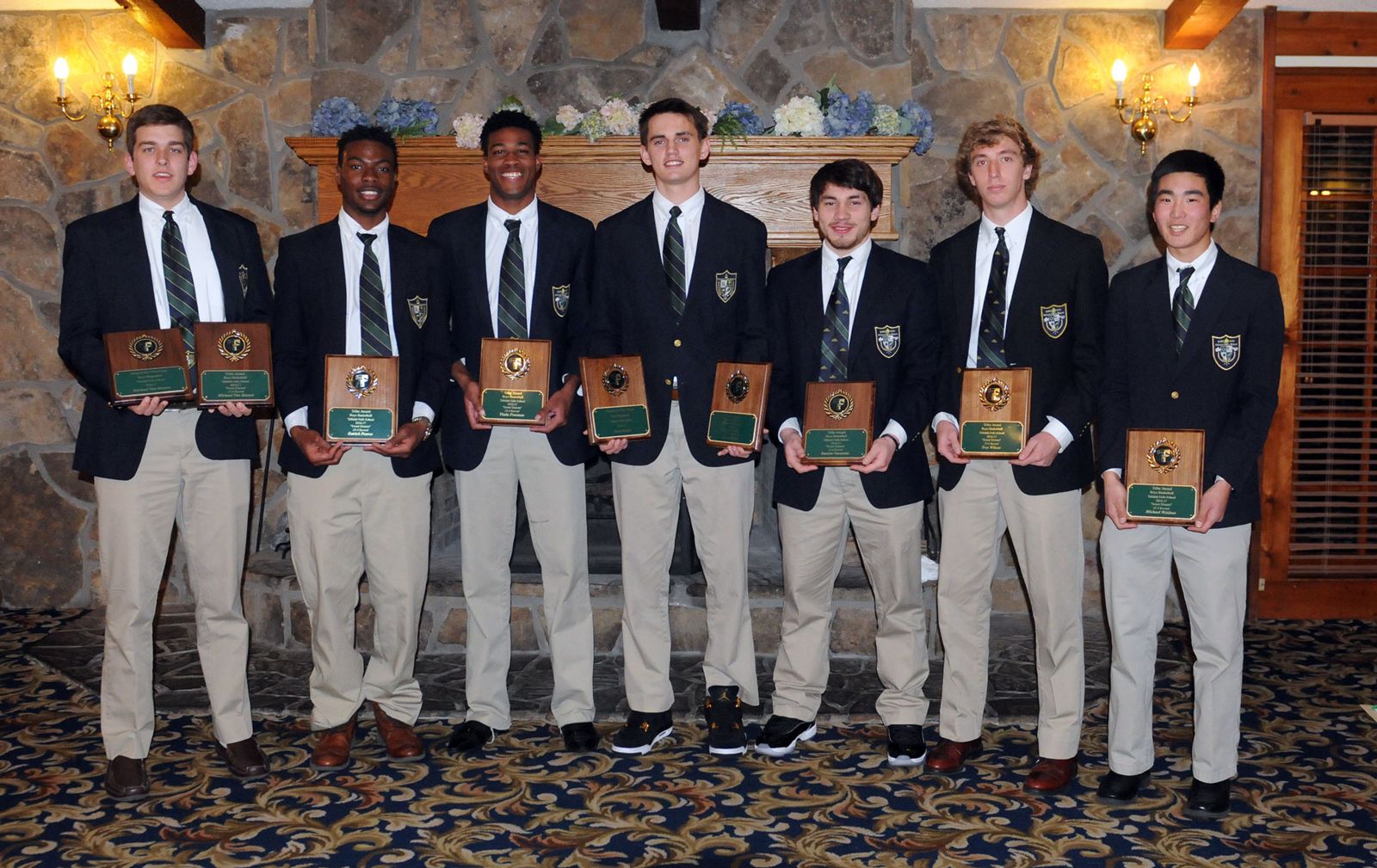 Varsity boys basketball, from left: Michael Van Hooser, Zatrick Pearce, Thala Freeman, Josey Keene, Sanson Navarette, Trey Wilcox and Michael Weidner.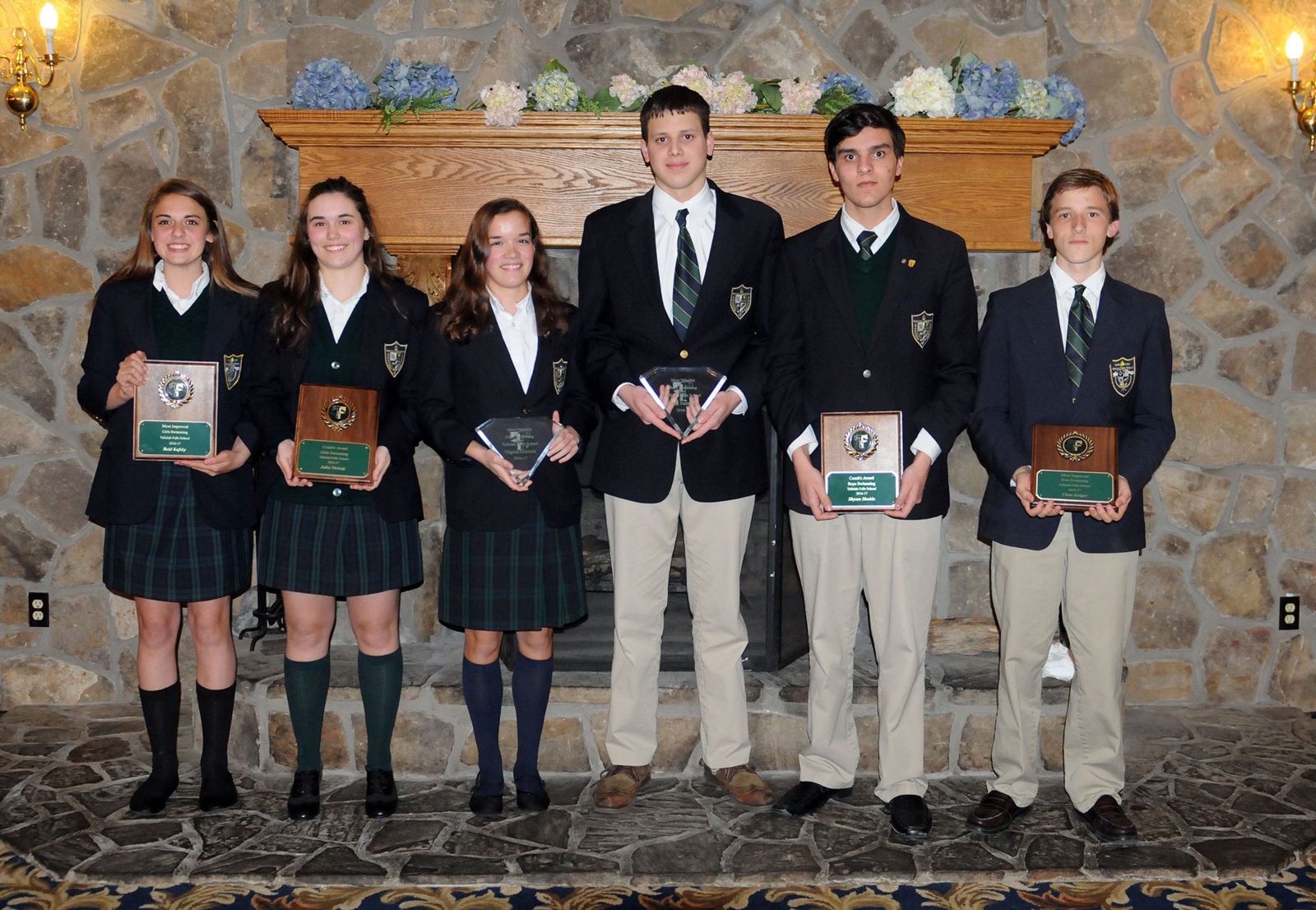 Varsity swimming, from left: Reid Kafsky, Julia Nichols, Virginia Griswold, Nick Stelmack, Shyam Shukla and Chris Geiger.
---
Athletes, parents and coaches gathered to celebrate Tallulah Falls School's winter sports program at the Dillard House on March 14.
Student-athletes from basketball, cheering and swimming enjoyed a sumptuous meal and a time of recognition for what is being called the most successful winter sports season in the school's 108 year history. Coaches recognized varsity and junior varsity players and managers for participation, lettering and individual awards.
Varsity girls basketball coach Tom Tilley praised his team for tying the TFS all-time single season win record (13 wins) and singled out three players for individual awards. The Leading Rebounder Award went to freshman Ashley Crosby; the Warrior Award went to senior Aida Roberts; and the Top Player Award was given to sophomore Nyah Williams. Additionally, Williams was named to the All-Region 8-A First Team, while Roberts and Crosby received All-Region Second Team honors.
Cheering awards were presented by varsity cheer coach Jane Shoemaker. Shoemaker presented the Heart of the Indian Award award to junior Michelle Thevenin. The Most Valuable Award went to senior Emma Peacock.
Varsity boys basketball coach Jim Van Hooser presented awards to both jv and varsity standouts. Van Hooser presented jv awards to junior Tahj Moss (Best Offense Award) and freshman Hayden Johnson (Coach's Award).
Van Hooser talked at length about the varsity boys stellar season which included racing out to a 19-0 start and earning a first-round win in the state tournament. The boys 24-5 record was the best in school history. Instead of presenting traditional awards such as Most Valuable, Van Hooser instead created a new honor called the Tribe Award. This award was given to each of the seven seniors who earned the best-ever season record and a trip to the state tournament's Sweet Sixteen. These seniors are: Thala Freeman, Josey Keene, Sanson Navarette, Zatrick Pearce, Michael Weidner, Trey Wilcox and Michael Van Hooser. Michael Van Hooser and Josey Keene also received plaques for being named to the Region 8-A First Team.
Swimming awards were presented by varsity swimming coach Susan Nichols. Nichols praised her swimmers for their strong work ethic and strong showing at the state swim meet. The Most Improved Awards went to freshmen Reid Kafsky and Chris Geiger. The Coach's Award winners were seniors Julia Nichols and Shyam Shukla. The Most Valuable Awards were given to sophomores Virginia Griswold and Nick Stelmack.
---
Photos: Brian Boyd