News & Announcements
Senior rock displays college picks
A sampling of students from the Class of 2017 have made known their college selections on the recently-installe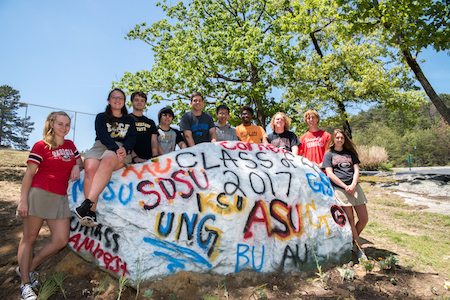 d senior rock.
The large boulder is located near the school's tennis courts with this being the second time the rock has been decorated.
The first time was during Winter Break when students painted "Sweet 16" to celebrate the TFS varsity basketball team's post-season play.
According to President and Head of School Larry A. Peevy, TFS parent Bryan Popham discovered the rock during a pipe installation on the school's farm.
"He moved the 12-ton rock to the current location for us," Peevy said. "It is my hope the senior class will enjoy using this 'Senior Rock' in any way they feel it will benefit the class and the school."