News & Announcements
Anna Davis looks to push the limit
Reprinted courtesy of The Clayton Tribune
By Trevor McNaboe Staff/Writer
CLAYTON — It's down to the last event of the state sectionals for private-A classification. Anna Davis is waiting. The sound of the gun signifying the start of the final race is heard. So too is the thundering sound of eight sets of feet hitting the rubber track along with the cheering of the fans.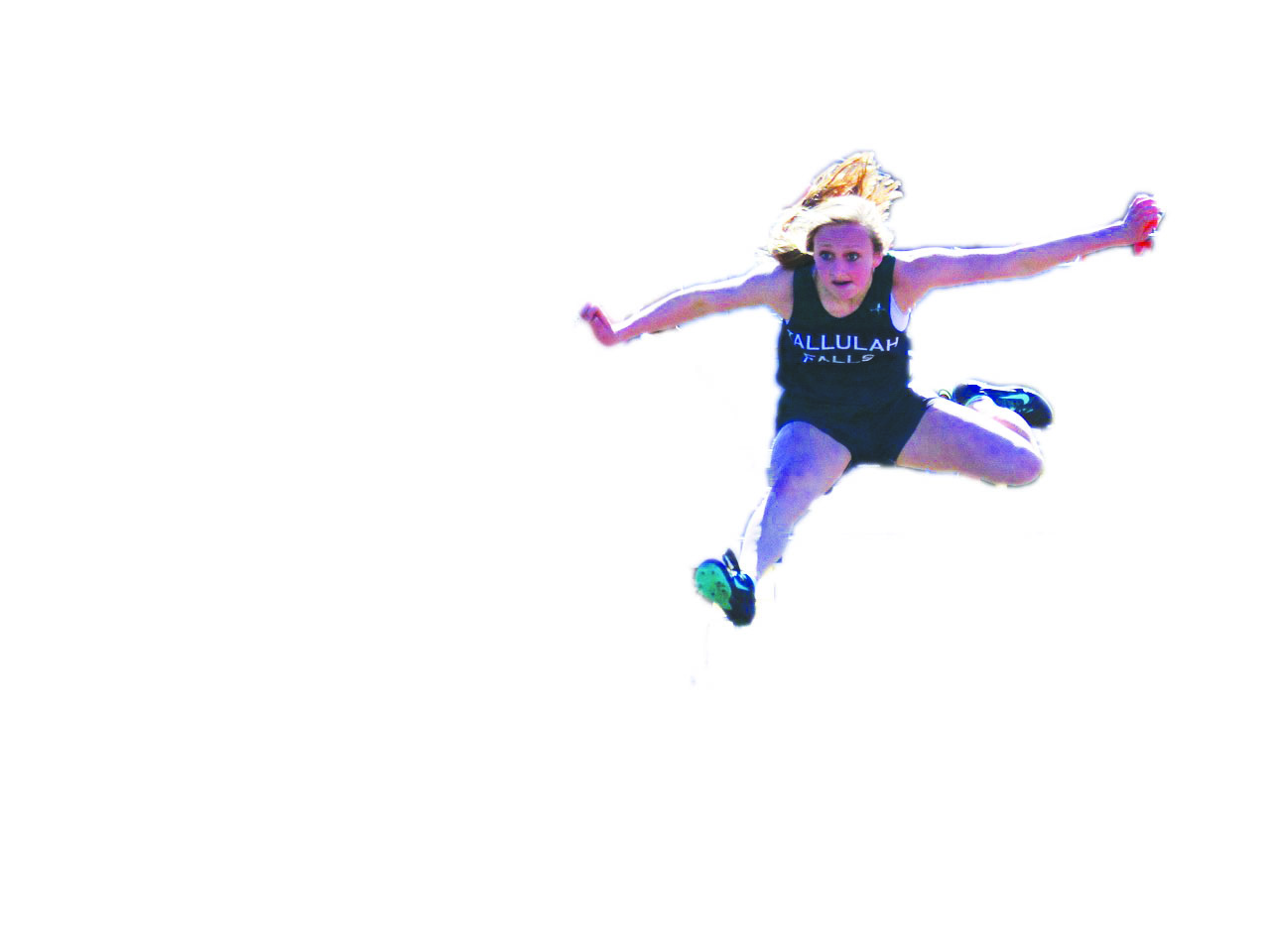 One lap down, she watches teammate Sydney Spivey hand off to Perry Gresham, then to Sunni Brett. It's time — the final lap. The crowd begins to roar as Anna and the rest of the field take the final baton hand off. She's off, the wind rushing past her. She tunes out the blur of fans lining the track. There is but one goal — the finish line.
Anna makes up ground, passing opponents. The finish is 50 meters away. Then 25. Upon her arrival, Tallulah Falls finishes in second place, qualifying the school for the Georgia High School Association state meet.
Her coach, Scott Neal, said "watching her run is like being at a gathering in front of the teletube watching Secretariat reel in one after another — everything around you stops and is no longer of importance. Just being in the moment allowing a memory of lore to etch into your psyche can describe what everyone on our teams feels when that white TFS Indians baton gets passed for the final time."
Anna is more than just the anchor on the 4x400 relay team for the Indians, she's a pole vaulter, hurdler and sprinter — and that's just in the spring. In the fall, she focuses on being an outside hitter for the Lady Indians on the volleyball court.
Last season, the Lady Indians made it to the state playoffs but were eliminated after the first round, something Anna wants to change. They have a new coach this year and return the lion's share of their team. This year Anna will be one of the few seniors on the team.
"Practices have been different, but it's all exciting," Anna said. "We want to make it further than we ever have in the state playoffs this year."
With so many events, it's incredible how Anna can maintain her fitness.
"I've been running track a long time and have been doing multiple events since middle school," Anna said. "I work out throughout the season and it prepares me, especially when I get to the 4x4 at the end of the meet."
Anna said that particular event is one of the hardest in track because the physical drain on the body from already competing all day. The Tallulah Falls team this year made the event look easy, cutting down their time as the season wore on and hold the school record for that event at 4:12.15.
"I love my team — we have so much chemistry and we're all friends," Anna said. "It's just easy for me when I get the baton. There's no pressure because I'm doing it for them and they've already done so much to get us to the place we are in."
For a jack of all trades, it's hard to choose which of the four events is her favorite. She enjoys the 100-meter hurdles because of how quick it is and the ability to show off her speed. Pole vaulting allows her to utilize her skills due to the technical nature of the event and her ability to think of what she is doing. The 300-meter allows her to catch up to other runners since she said she normally does not start off well, but will gain on opponents as the race progresses.
In May, Anna competed in the state championship meet in all four of her events. She broke the school record in both the 100-meter and 300-meter hurdles with times of 15.14 and 44.72, smashing her times from the sectional meet a week earlier to finish narrowly in second. Along with her two school record times, she set a new personal record on her leg of the 4x4 relay to propel TFS to a top five finish.
"Anna also is quite proactive in her approach to athletics, whether researching, watching video or simply contemplating how something can be done well. She has realized at a young age that focused time is crucial, that there is a difference between being passionate about success and consumed by it as a quest, and that relationships are vital to anything worthwhile," Neal said.
Her season ended the following week after she and senior Zatrick Pearce were invited to the second annual Meet of Champions, a competition reserved only for state champions and those with exceptional results across all classifications.
Leading up to the competition she had a heavy heart, mourning the loss of her grandfather passing away.
"It was a struggle leading up to it," Anna said. "When I got in the blocks I don't know, I did really well and competed and felt really good afterward."
Anna, facing elite competition, brought out one of the best performances of her life — breaking her own school record. She finished runner up besting her school record by four-hundredths of a second.
Heading into her last year and coming back a heavy favorite for her four events in track and field the goals are very simple — break all her records again.
She wants to specifically break the 400-meter hurdles because that is an event she plans on running in college.
"She possesses that rich sense of intertwining team concepts with individual contribution. She sets external goals such as becoming a state champion hurdler — no TFS female has ever won a state championship — as motivation to work smart, to do some very hard workouts that she can look back on as memory motivators, and to set a standard at TFS that opens doors for future athletes," Neal said.
---
How this story was discovered: Summer feature series
Who/what were the sources: TFS senior Anna Davis and TFS Track Coach Scott Neal