News & Announcements
Nyah Williams: Lady Indians' ace shooter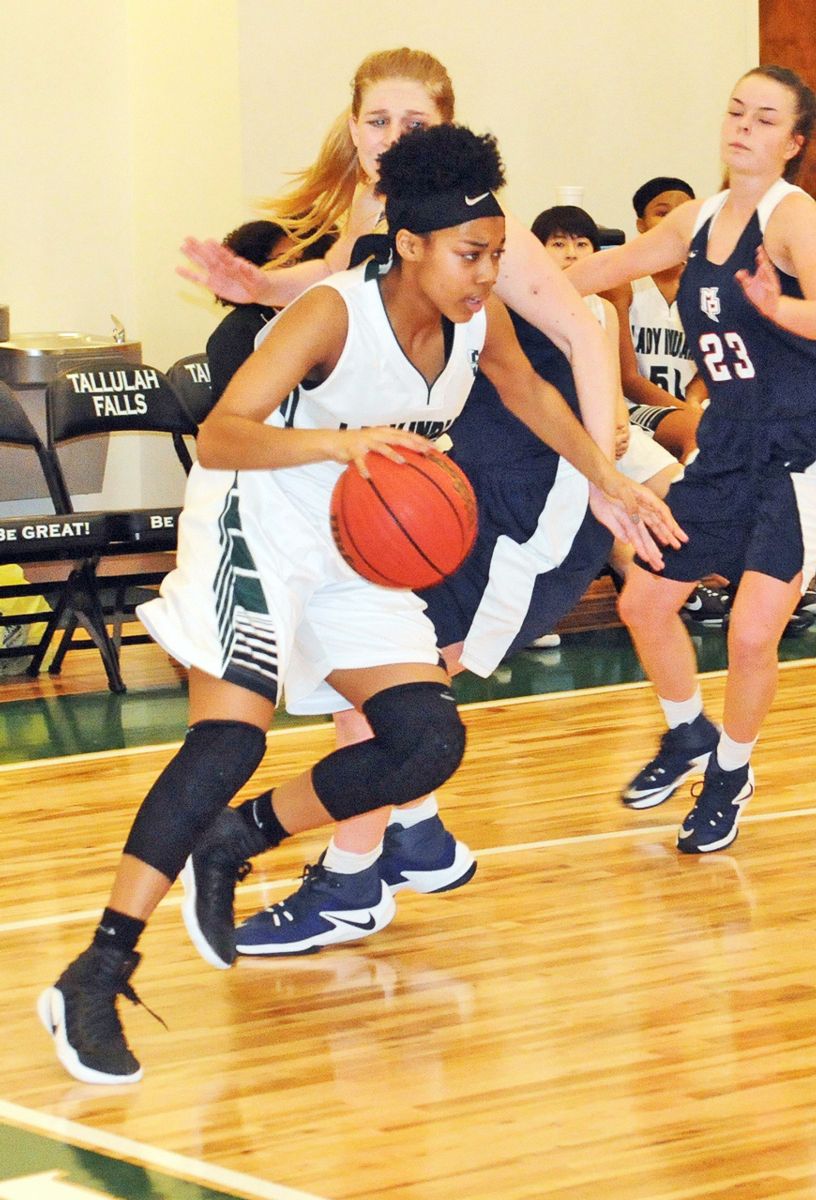 Reprinted courtesy of The Clayton Tribune
By Trevor McNaboe /Staff Writer
CLAYTON — Nyah Williams had herself a year in 2016.
Now entering her junior season, there is a sense of expectation. This year, she'll be the focal point. This year, it's her team.
As a sophomore under Tallulah Falls School Coach Tom Tilley, Williams was a co-captain of the basketball team along with Aida Roberts. The Lady Indians' up-and-down season resulted in an even 13-13 record and a No. 25 power ranking, just short of making the Georgia High School Association State Tournament for the private school A classification, which is reserved for the Top 24 teams.
Scoring is a passion of hers and it shows. Williams was the leading scorer for all three Rabun County schools — TFS, Rabun County High School and Rabun Gap-Nacoochee School — with 16.4 points per game. Her ability to rack up points' comes from driving to the tin for layups, something she takes seriously about her game. Scoring points in abundance this past year has drawn opponents' attention to her, which could make games difficult this year.
"It's a lot of pressure," Williams said. "I had my other captain last year and she was more vocal. This year, it'll be harder for me because I'm not a vocal person when it comes to leadership."
Williams got started playing basketball because her mother enrolled her in a program at the local recreation department at the age of 5. Over her career, Williams has been able to mold herself into the player she is today.
Tilley has said there is no replacing Nyah Williams when it comes to players on the court.
The memory that sticks out most to her during her career at TFS came during senior night. It was fellow co-captain Aida's last game in the green and black before graduation. Despite the loss, Williams remembers the game because of how Aida has mentored her during the past two years.
"She was a big influence on me," Williams said. "She basically taught me how to be a leader. She would give me advice all the time on being more vocal and would pull me to the side and talk to me about schemes."
Williams is the elder statesman on a very youthful team. The Lady Indians return a large amount of their core including rising sophomores Ashley Crosby and Lillie Free, rising junior Mali Danavall and senior Maja Trbovic.
With many pieces coming back, a few goals she has in mind is to become a better leader to help encourage her talented teammates. Along with that, she would like to reach the 1,000-point benchmark and make a state tournament appearance.
With a player with so much talent, it'd be easy to think she would already be looking ahead to the potential opportunity to play collegiate basketball. Williams bucks the trend.
"I would like to play college, but at the same time if I didn't it wouldn't hurt me that badly," Williams said. "If it happens, it happens."