News & Announcements
TFS holds National Honor Society induction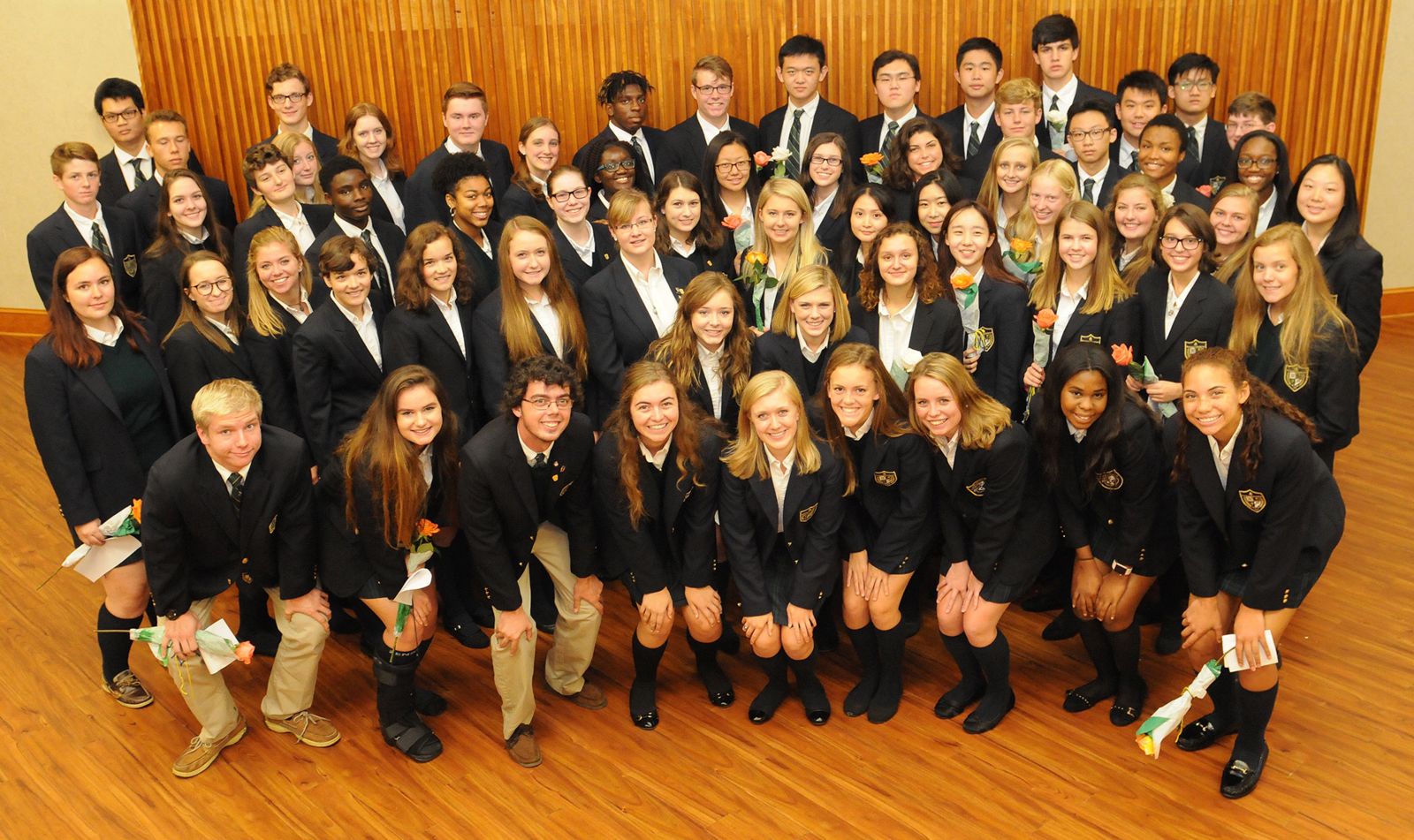 Thirty-one new members recited the National Honor Society oath of membership as they were inducted into the Tallulah Falls School chapter of the prestigious academic organization.
The inductees joined 33 returning members to form the largest NHS membership in the school's history. The induction ceremony took place on Sept. 1 in the Gertrude Long Theater before a combined audience of TFS upper school students, faculty, staff and parents. The TFS chapter of the NHS is sponsored by faculty members Terri Bogan and Kelly Bly.
The National Honor Society is the nation's premier organization recognizing outstanding high school students who demonstrate excellence in key areas, known as pillars: scholarship, leadership, service, and character. New inductees (alphabetically) are: Sophie Alexander, Juyeong An, Clarke Bailey, Reagan Bates, Ara Belk, Alia Bly, Sophie Burke, Sidney Butikofer, Seung Hee (Kelly) Choi, Reeves Cody, Lily Cranford, Ashley Crosby, Damali Danavall, Briana Docsol, Samuel Dunlap, Sarah Edwards, Xing Fan, Whit Fordham, Ji Hee Han, Sebastian Herrera, Chengxuan (Jonathan) Huang, Mengfan Huang, Faith Kellar, Sixuan Li, Mei Lin Wu, Xianwei (Tony) Liu, Clara Madigan, Jade Mitchell, Randy Shi, Sydney Spivey and Hunter Weyrich.
Returning NHS members (alphabetically) are: Akinloluwa Akinsanya, Morgan Alexander, Madison Ball, Logan Bramlett, Grace Brewer, Laura Brothers, Meredith Church, Sutherlan Cope, Anna Davis, Sarah Catherine Fordham, Jennings Gallagher, Jacob Gambrell, Katharine Gilmer, Perry Gresham, Caleb Griffis, Norah Griswold, Virginia Griswold, Abby Hulsey, Will Jackson, Shanna Lewallen, Madeline McClurg, Ajani McIntosh, Deneeka Nelson, Clara Pence, Kayley Pugh, Mackenzie Rainwater, Max Teems, Michelle Thevenin, Cynthia Trusty, Jiayi Wang, Nyah Williams, Emily Wonders and Zhihao Zhong.