News & Announcements
'A Moment of Science' event an astronomical hit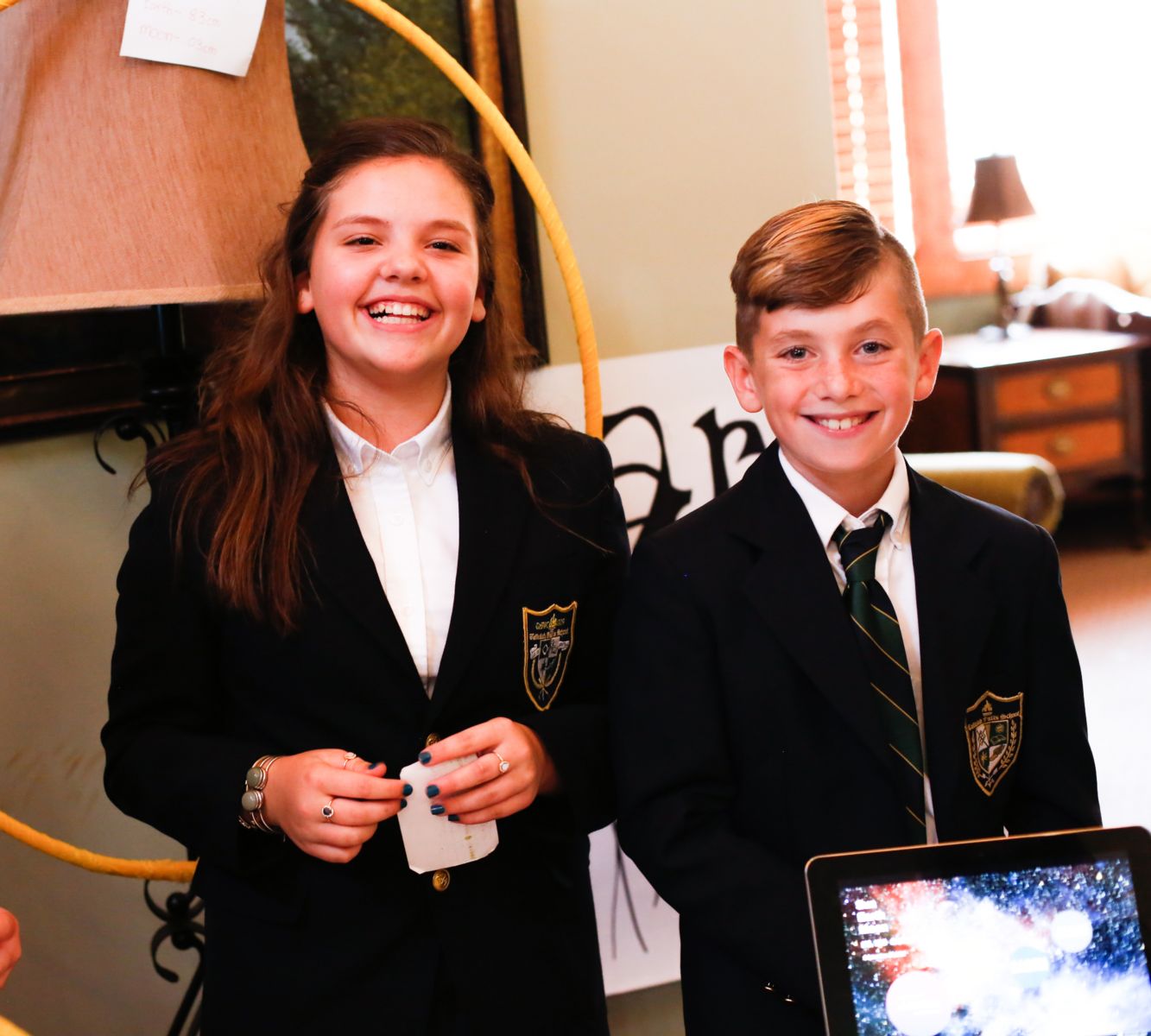 The first-ever science showcase hosted by the Tallulah Falls School Class of 2022 [this year's eighth graders] and the middle school science department, eclipsed all expectations.
The event, A Moment of Science: A Total Eclipse of the Heart, brought the recent astronomical phenomenon into focus through the projects created by middle school students.
The science department, chaired by TFS teacher Zac Roland, worked with parent volunteers to launch the new initiative.
"Students of all grades worked very hard to put together their exhibits. Each group went through two rounds of presentations with peers, parents and teachers," Roland said. "They received valuable feedback going through the process of making revisions in hopes of being selected for the showcase."
Winners by grade-level are as follows:
8th: "Guano-X" by Luke Atwood, Caroline Ball, Trevor Bramlett and Lilly Johnson.
7th: "The Great Space" by Sammy Hartman, Hannah Lundy and Keelie Parks.
6th: "Train and Hula-Hoop" by Austin Ball, Audrey Dillard, Brooke Hayes and Jana Shanks.
5th: Each class had an exhibit in the showcase that included "The Milky Way", "The Aurora Borealis" and "Mars Rover".
Members of the community served as judges for the finalists, including James Irvin, engineer with Foothills Land Design, Dr. Crista Royal, biology professor, Piedmont College, Akin Akisanya, TFS senior, Dayne Gray, TFS alum, retired electrician, Georgia Power and Irene Gray, TFS alum and TFS registrar.
"A Moment of Science was a great event for the science department and the middle school," said Middle School Academic Dean David Chester. "It provided the opportunity for our students to be super creative and to showcase their finished products to judges, friends and family members. We were excited to have such a large crowd in attendance and to have incredible parent support in order to make such a magical night possible. It is a testament to "Culture is Everything" at the middle school."
President and Head of School Larry A. Peevy said the event was a tremendous effort made possible by the collaboration among faculty, staff, students and parents.
"This was a great academic showcase for our community," Peevy said. "I was quite impressed with the investment of time and talents to benefit our students."
---
Photo:
Candice Holcomb/Tallulah Falls School parent
Tallulah Falls School sixth grade students Audrey Dillard of Demorest and Austin Ball of Tiger show off their winning project at the recent "A Moment of Science: A Total Eclipse of the Heart" science showcase night at Tallulah Falls School. Not pictured, but also part of the winning sixth grade group, were Brooke Hayes of Cornelia and Jana Shanks of Toccoa.