News & Announcements
TFS celebrates seniors at Harrier Harvest meet
Eleven schools and 283 runners among six classifications raced the 5k college course at the Tallulah Falls School farm in front of a throng of encouraging supporters at the 6th Annual Harrier Harvest meet.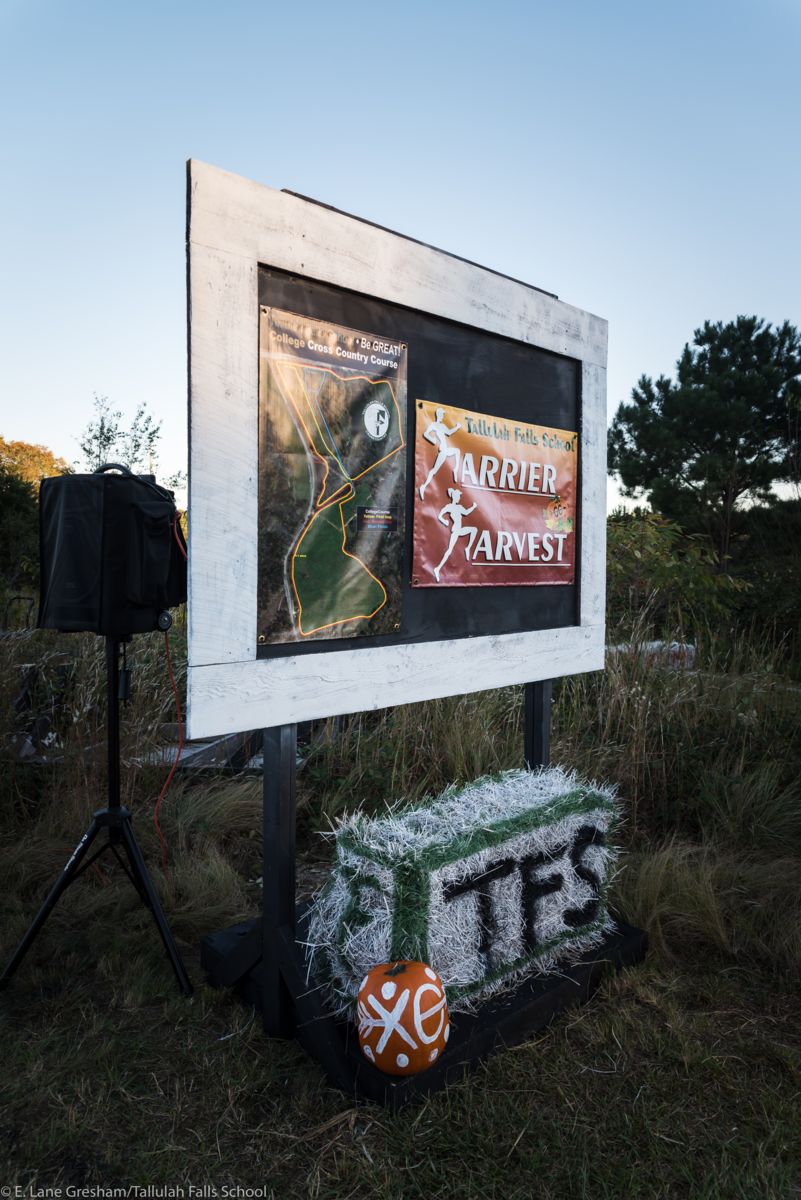 TFS seniors Sophie Burke of Chesterton, Indiana, Sarah Catherine Fordham of Cornelia, Perry Gresham of Clarkesville, Ben Griswold of Clarkesville, Deneeka Nelson of Loganville, and Max Teems of Sautee-Nacoochee were honored during Senior Night festivities, as were all seniors from each school.

Team Leaders sophomores Sophie Alexander and Sarah Edwards, both of Sautee-Nacoochee and freshman Collin Kelly of Demorest organized the meet, recognized the seniors, arranged all awards, and orchestrated the fall decorations of decorated hay bales and painted pumpkins.

Gresham placed third of 55 varsity runners in her final home meet.

"Perry continues to thrive as a runner, role model, and leader," said TFS Athletic Director Scott Neal.

TFS girls did not place as a team due to sophomore runners on an annual school trip, Neal said.

Junior Zac Smith of Longboat Key, Florida and Clarkesville led TFS boys (20th of 75), followed by freshman Grey Bourlet of Tallulah Falls (27th). The five varsity scoring boys were within 1:06 of each other, Neal said.

"The TFS Runner of the Meet Ben Griswold and junior Randy Shi of China ran season bests on what is certainly considered to be a challenging course that does not result in fast times," Neal said. "In fact, most harriers finished 60-90 seconds slower than the Unicoi State Park course from two weeks ago."

The fall-themed meet received a wide range of compliments for its uniqueness, organization, challenging venue, and aura, Neal said.

"The team sincerely appreciates the numerous volunteers who donated hay, baked the "World's Best Apple Pie," helped on the course and in the chute, filled hog holes and prepared the course," he said. "The TFS Culinary Arts department baked the top 10 individual awards and coach Jeff Jenkins of Piedmont College spent hours setting up the course."
---
TFS results: http://ga.milesplit.com/meets/283068/teams/4745
Full results: http://ga.milesplit.com/meets/283068/results