News & Announcements
Air rifle team on target for 2017-18 season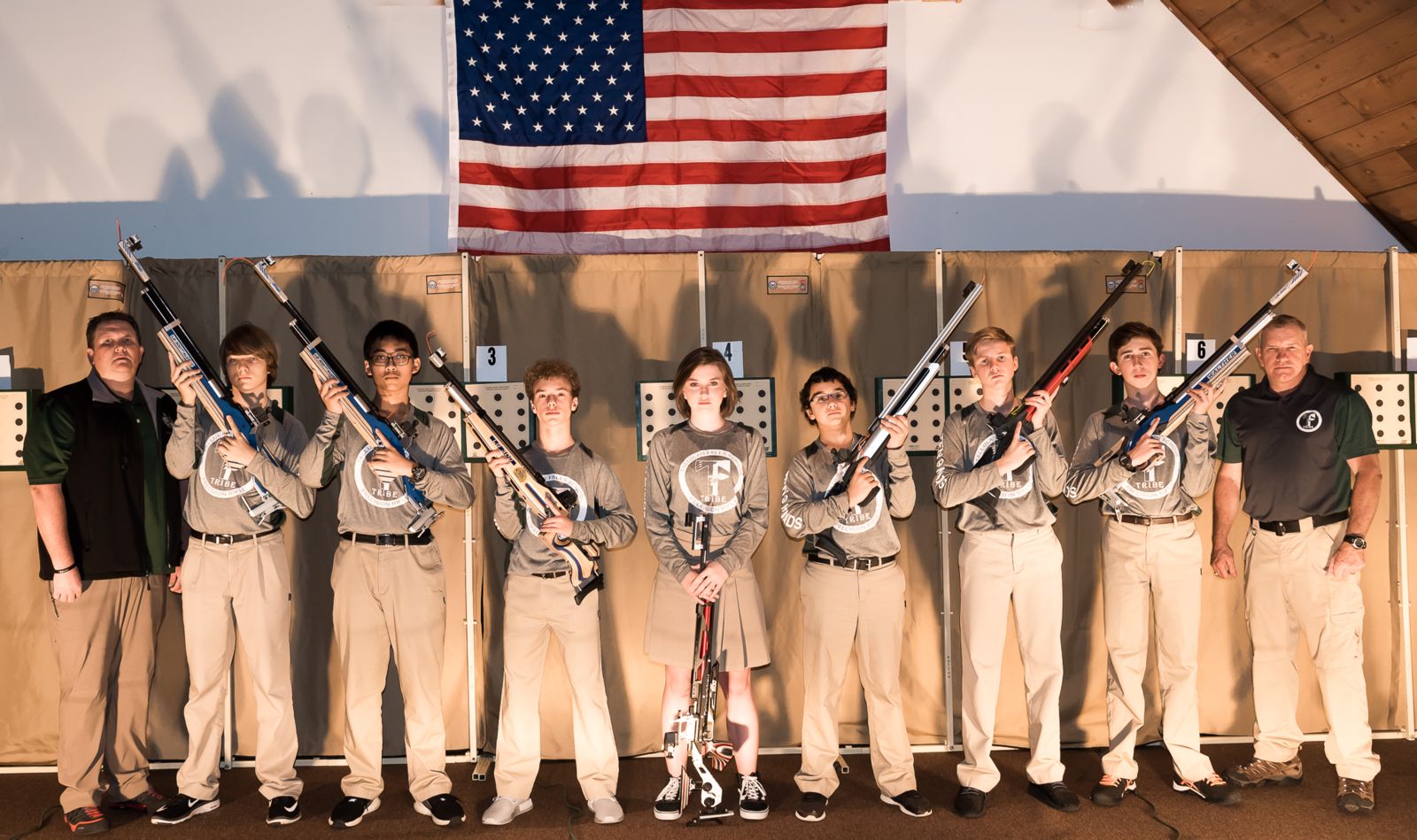 Tallulah Falls School is aiming for a new area of competition with the addition of a varsity precision rifle team. The team will compete in the Georgia High School Association Area 6 as one of 15 schools.
Practice started in August with the competitive season set to start in January, according to coach Casey Barron.
Of the seven freshman students on the team, one student has competed before – freshman Samantha Stamey of Batesville finished 12th in the nation in her age group in the June 2017 Three-Position Air Rifle Junior Olympic National Championships in Ohio. She has been shooting since she was 4 years old.
"This sport naturally attracted me, doing something I love as a sport at a competitive level against other people who love the sport just as much as I do," Sam Stamey said.
At the time of the championships, she had only been competing in precision air rifle for nine months. She was named No. 1 new shooter in the United States in December 2016 after the Civilian Marksmanship Program Gary Anderson Invitational, according to her father Tim Stamey, an assistant coach for the TFS team.
Tim Stamey is a USA Shooting Level 3 Advanced Rifle Coach and Certified Range/Match Official.
According to Sam Stamey, most people don't realize precision air rifle and small-bore are not just Olympic sports but are also NCAA sports with scholarships available to attend prestigious colleges such as the service academies, MIT and many other universities. Georgia is the only state to have shooting as a high school athletic sport outside of JROTC.
"Because of this there are many Georgia high school athletes that make National Junior Olympic Championships and help pay their way through college by shooting," Stamey said.
She said the sport can only grow at TFS.
"With an all-freshman team, we have more time to work together and improve to become an extremely competitive team before we graduate and to give guidance and wisdom of the sport to younger up-and-coming athletes," she said.
And, she said there are multiple benefits to being a part of the team as well as the personal satisfaction of individual accomplishments.
"Precision rifle benefits the individual by making the athlete concentrate and focus on such an extreme level. You can't over think or under think, you have to bring your mind to a peaceful quiet place, which is a hard state of mind to get to," Stamey said. "An athlete also has to be in tune with their body as well. Just something as small as a muscle twitch can turn a perfect 10 shot into a 7 or 8. With all these attributes it helps the athlete to focus and concentrate in school and being in tune with your body helps with overall health. As a team sport, you are constantly encouraging and helping your teammates but you will also end up competing against them as well. This friendly competition increases good sportsmanship and makes you strive to be better."
"We are proud to add precision riflery as a TFS sport. It meets the needs of a group of students, allows more opportunities for GREAT to be developed and provides these athletes an opportunity to compete in an Olympic sport," said Athletic Director Scott Neal.
"We are thrilled to have Coach Barron and Coach Stamey, whose vast experience is quite impressive, begin a GREAT tradition in precision riflery!" Neal added.
Photo:
E. Lane Gresham/Tallulah Falls School
Shown, from left, are, Casey Barron, head coach, Ben Fisher, Moshun Hu, Baylor Carnes, Samantha Stamey, Gabe Basso, Grant Barron, Jack Greene, Tim Stamey, assistant coach.