News & Announcements
Teems named TFS, system STAR student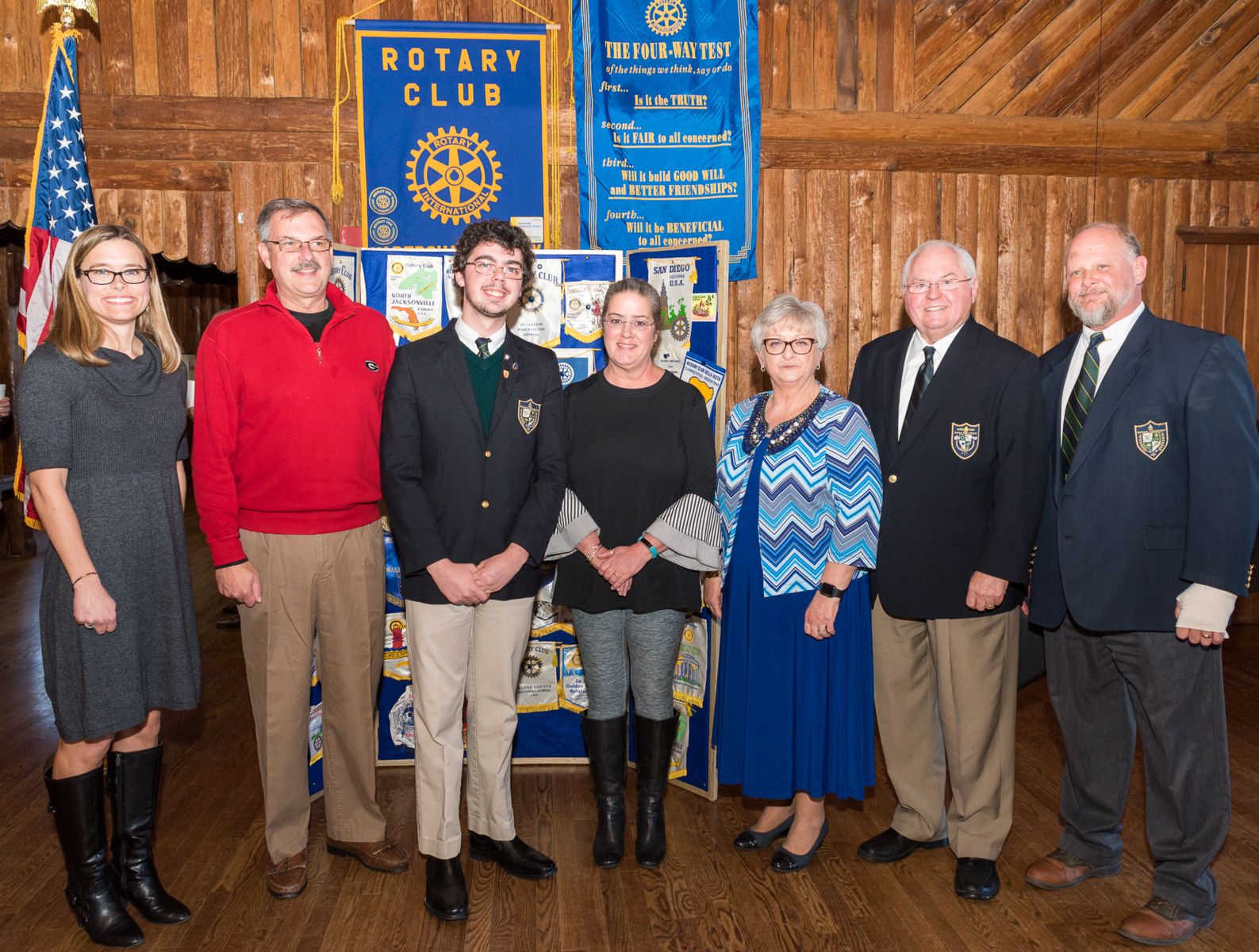 Reprinted with permission of The Northeast Georgian
BY: KIMBERLY BROWN
"Intelligent, motivated, dependable and responsible" are just a few of the words used to describe Maxwell Teems, this year's Tallulah Falls School STAR student.
Teems, 18, of Sautee, selected TFS science teacher Wanda Morris as his STAR teacher.
The Student-Teacher Achievement Recognition (STAR) program honors Georgia's highest-achieving high school seniors and the teachers who have been most instrumental in their academic development, according to the PAGE (Professional Association of Georgia Educators) Foundation.
Created by the Georgia Chamber of Commerce in 1958, the STAR program is 60 years old. It has honored nearly 26,000 high school seniors who have, in turn, chosen their STAR teachers to share their recognition. Every accredited high school in Georgia is eligible to participate.
During a Feb. 8 Habersham Rotary Club meeting, Teems and Morris, as well as Habersham Central High School's STAR student Maison Clouatre and STAR teacher Rhea Galati, were honored.
Teems, the son of Keith and April Teems, was also selected as the Habersham County system winner, and he will go on to compete at the state level. The system winner is chosen based on SAT scores and grade point average.
Teems has been a student at TFS since seventh grade. He serves as vice president of the National Honor Society; he is an International Thespian Society and National Art Honor Society member. He serves as a TFS ambassador, and he participates in varsity cross-country.
TFS counselor Bobby Hammond said Teems will graduate from TFS with 40 semester hours of college credit, in English, math, science, history and foreign language.
"Max is driven to be successful," Hammond said. "He's diligent in his studies and in everything else he does. He manages his time and he's organized. He sets goals, and without those things, you cannot accomplish what he's accomplished in his life."
TFS Upper School Academic Dean Kim Popham said Teems is "an outstanding student" who is always willing to help.
"Whenever I ask for help, Max has always been the first one [to volunteer]," she said. "That's an amazing quality."
Teems will attend the University of Georgia, where he will major in chemistry and Spanish. He plans to take the pre-med track and become a physician.
Teems thanked his parents, and said, from a young age, they taught him "to always be inquisitive, engage in my surroundings and learn about how the world works."
Teems said his favorite subject is science, and he said Morris was "especially challenging, encouraging and influential" to his learning. He was in her honors chemistry class last year, and he called her a role model and mentor.
"From helping us calculate multistep thermochemistry problems, to leading us through practical and exciting labs, Dr. Morris' humor, methodical teaching and loving compassion for each and every one of us has made a lasting impact on my high school career," Teems said.
Teems said it was believed Morris would be retiring at the end of last year, but to his "surprise and relief," she stayed on another year "to help us learn one of the most challenging subjects among high school courses, out of the kindness of her heart and the concern that another teacher might not be able to teach us as well as she can."
Morris lauded Teems as an "exceptional student," and she credited his parents and his previous teachers.
"He's intelligent, motivated, dependable and responsible," she said. "He's well-liked by his peers and his teachers."
Morris said Teems is an independent thinker and learner who has the ability to assimilate information and problem solve, and who "doesn't need constant affirmation."
"How refreshing this is, in a self-indulgent world," she added.
She said Teems listens and learns, and does not get frustrated with difficult material, but "welcomes the challenge."
"Equally important is Max's humanity," she said. "He's kind, he's considerate, and he's patient with his peers. I often watch him helping them with their understanding. Especially when I've just gone over something in college chemistry, they usually turn to Max."
Keith Teems told The Northeast Georgian his son has always been perceptive beyond his years.
"He continues to amaze us," Keith Teems said. "He's a very self-motivated and humble child. At 5, on the way to preschool, he looked at me and said, 'Daddy, tomorrow never comes, does it?'"
When Teems asked his preschool son what he meant, Max Teems said, "Well, by the time you get there, it's today again."
"He processed that at 5," Keith Teems said. "We knew he was special in a good way."
Photo:
E. Lane Gresham/Tallulah Falls School
Shown, from left, are Kim Popham, upper school academic dean, Keith Teems, Max Teems, STAR Student, April Teems, Wanda Morris, STAR Teacher, Larry A. Peevy, president and head of school and Bobby Hammond, III, college counselor.