News & Announcements
Conference highlights phenomenal growth of student-centered literacy society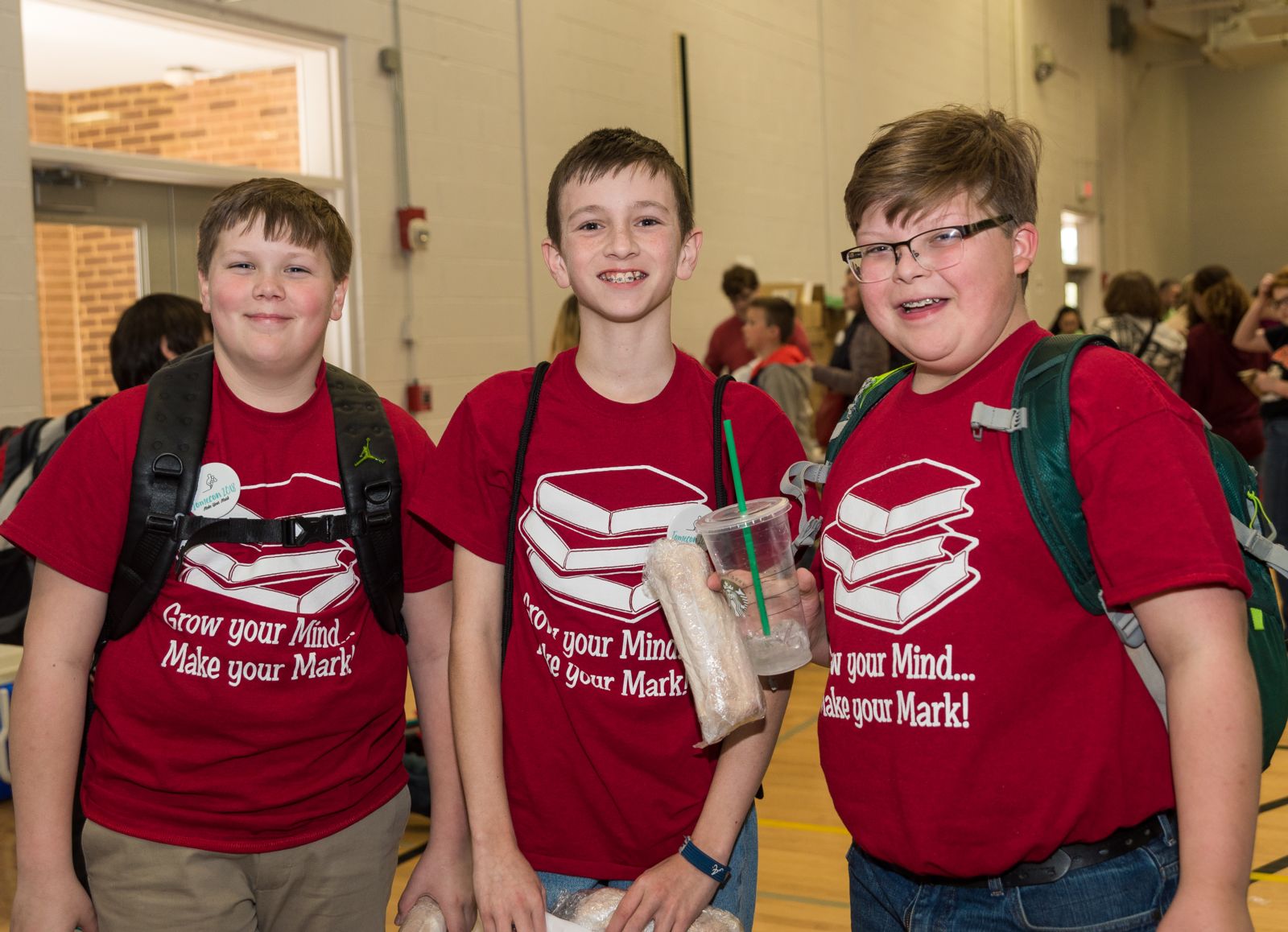 Starting with a small book club and barely 30 students, seeds planted seven years ago to cultivate student interest in reading are now in full bloom.
The Tome Student Literacy Society, established in 2012 by Georgia media specialists Shelby Day, Jennifer Parker and Rebecca Hamby and quickly joined by Ashley Walden, celebrates annually with a conference – TomeCon – a gathering of like-minded students, advisers and volunteers from chapters all across the state.
The fifth annual TomCon 2018 attracted 1,600 attendees to the Gainesville campus of the University of North Georgia on March 13.
Chapter members in grades four-12 attended break-out sessions, author talks both in person and through Skype and networked with other members from throughout the state. Awards for club chapters and individuals were celebrated during the packed-full day.
Day, media specialist for the upper school at Tallulah Falls School, enticed colleagues, students and alumni to serve as volunteers for the event, including several break-out sessions led by TFS teachers and students. Some 28 middle school students and 44 upper school students spent the day as attendees.
"One of our goals when starting Tome was to draw in students who maybe do not fit in with any other group- maybe they are not an athlete or a straight-A student," Day said. "Our hope was to focus on student strengths and allow students to find a niche. Literacy is our main goal, but providing a sense of belonging and helping students find others with common interests is a close second goal."
According to Annette Cochran, upper school chapter adviser, one highlight was hearing the announcement that the upper school was named Tome High School Chapter of the Year. This is the second year in a row to be named, Cochran said.
"This is a huge award for the students involved. The process to win the award is very time consuming and tedious," she said. "The students' hard work and participation pay off in the end. I am very proud of my students and their involvement as each year the competition gets more competitive."
Upper schools students Paul Chambers, River Fox Nickelson, Mu Fang Huang, Gunn Thiennukul and Marvin Thiennukul led the session "Video in 30", Mandy Santana, Michelle Thevenin and Akin Akinsanya led a session on coding, Sarah Edwards, with Ashley Crosby assisting, led instruction on watercolors and calligraphy.
"There were lines down the hall to get into the [calligraphy] session," Day said. "People were waiting up to 30 minutes to get into the room."
TFS IT specialist Josh Brady led popular talks on Star Wars, with several TFS middle school boys confirming their excitement about the subject matter. Brady, channeling his alter-ego Batman, changed costumes midday to join Flash and Spiderman for special appearances.
Wyatt York, seventh grader of Mt. Airy said Brady's passion for Star Wars enticed him to sign up for the session.
"It's great – he knows a lot about the subject," York said. "He really knows what he's talking about."
According to York, he likes that he gets to talk about common interests with his friends.
"I know that it's good," he said. "It was really fun; I'm definitely going to do it again next year."
He said reading was not as much fun in the fifth grade, but when he joined the Tome Society, his interest soared.
"This has made it fun again," he said.
York said being on a college campus was surprisingly not intimidating. Students navigated between two buildings and multiple floors to attend sessions, attend award ceremonies and meet classmates and teachers for lunch and breaks.
"It's good for us to experience what it's going to be like in five or six years… to get a feel for what college is all about," York said.
Trey Greene, seventh grader of Clarkesville acknowledged his involvement in Tome encourages him to read more books. Greene said he likes the conference because he can dig deeper into the books he likes.
"It definitely helps with writing and reading," he said. "It encourages reading a lot."
Henry Bowman, a seventh grader from Cleveland was excited to win a door prize and enjoyed all of the sessions he attended, especially an engineering session.
He's a member of Tome because he's a fan of TFS English teacher Kim McClurg, the middle school Tome Society adviser.
"And I do it because I like books," he said.
McClurg, in addition to coordinating the middle school's entries, judged high-school level book talk competitions throughout the day.
"The Tome Conference is a one-of-a-kind event that is difficult to describe unless you've been," McClurg said. "It brings together all types of kids who love all types of literacy. It's not just about books. It's about writing, technology, music, art, verbal communication, social media, and so much more. The Tome Society provides a means of connection for students who often don't feel connected, as well as to those students who just want to connect over a good book, a piece of writing, a song, or an art form (or a cup of Starbucks coffee!). It endorses healthy competition through its reading bowl and individual/group competitions."
Sixth-grader Lilly Kate Farrar of Mt. Airy said her best moment of the day involved a fangirl experience when she was part of a Skype interview with author Sandra Evans, who wrote: "This is not a Werewolf Story."
"She's my pen pal," Farrar said.
Tome has been a positive part of life for one TFS sophomore since sixth grade, according to Brenda Cochran of Demorest.
"I guess it's the experience you get reading the books, having to take the test and coming together to talk about the books," Cochran said. She really enjoyed the annual conference, especially the technology-based classes.
"Going into those classes helps me learn more," she said. "When most people think about Tome, it's like a club for 'nerds.' You don't have to like to read."
Anything related to books and literacy is fair game, she said, including connecting her love of art into the Tome experience by learning more about book cover illustrations.
The conference makes for a long day, she said. "It's long in a good way," she said. "It gives you time to go to each of the classes without being rushed. It was long but it was good."
Gallons of sweat equity later, the original organizers are writing their own book on how to organize and sustain a successful student literacy society.