News & Announcements
TFS team building class stakes claim on serving community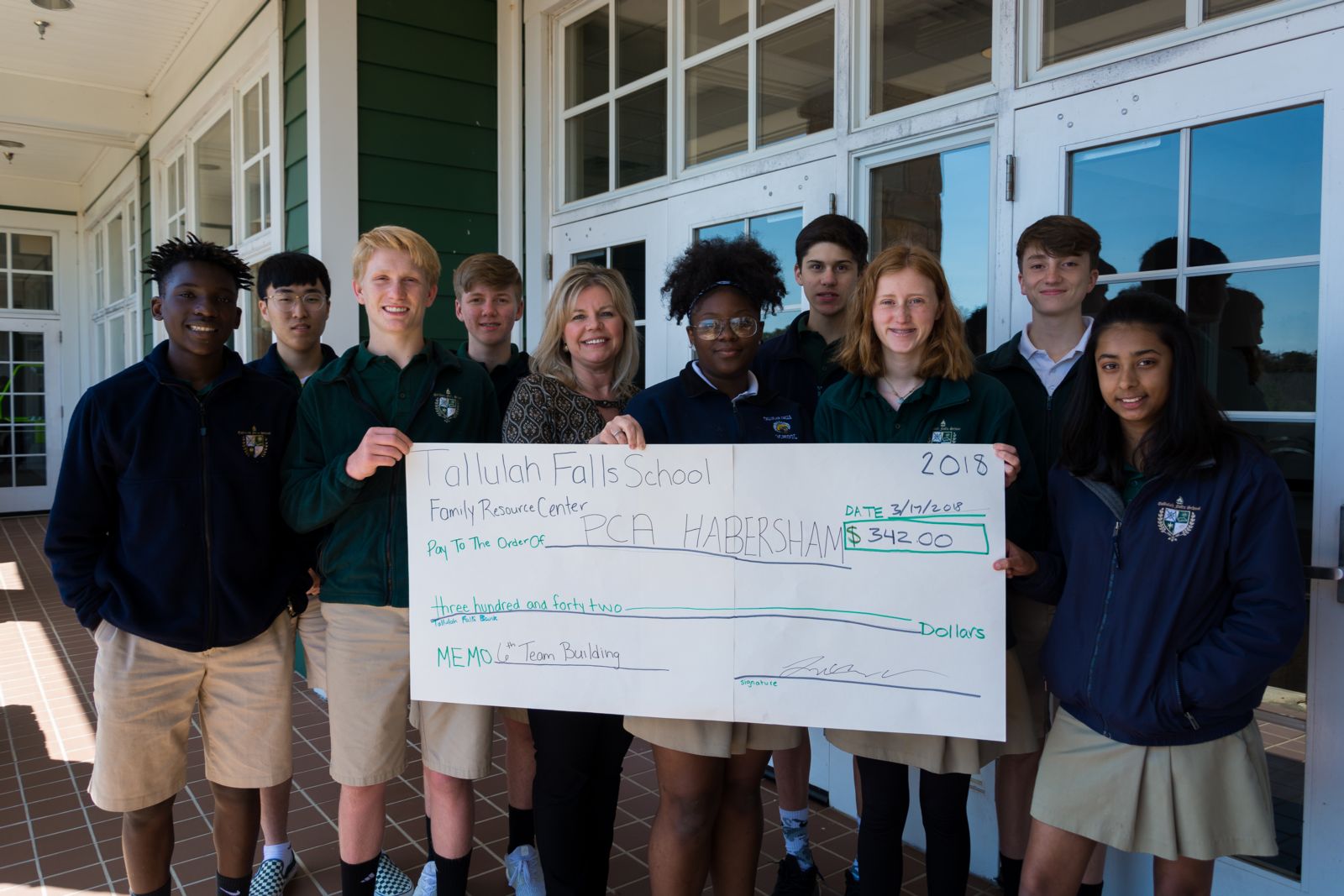 One enthusiastic group of Tallulah Falls School students put intention into action designing a fundraiser to benefit area children and families.
The sixth-period team building class, under the direction of Lowell Hamilton, created an event to raise funds for Prevent Child Abuse Habersham and its family resource center.
Working together, students created several games and activities for attendees at a March 17 middle school baseball game. Contest winners could then have a chance to win a gift basket.
"Even before game day, the students invited classmates to play a part in serving the community with a spirit day," Hamilton said. "I'm very proud of the way this class came together to communicate the goals for this project they all cared about. This diverse group displayed great support with each one contributing to making the project successful."
The class raised $342 and presented a check to PCAH Executive Director Jennifer Stein on March 22. Stein worked with the class in advance to educate the students on the mission of the organization. According to its website, the organization makes sure children are loved and nurtured by providing parents with the education, support and resources they need to raise well-adjusted, productive future adults.
"The students were fully engaged from the moment I gave the presentation and showed them our teaching baby doll that instructs parents on how to hold a crying child without causing brain damage by unintentionally shaking the infant or toddler. Because of the students' interest in how PCAH educates parents, our agency will use the funds to purchase the Purple Period of Crying instructional DVDs; these are provided to all new parents at Habersham Medical Center," Stein said. "The financial support will help us purchase close to 150 DVDs. These DVDs, paired with hand-knitted purple infant hats will help prevent Shaken Baby Syndrome and promote healthy ways to cope when babies have colic. It was such a rewarding experience to meet these fine young adults that truly wanted to make a difference in the lives of children."
---
Photo:
E. Lane Gresham/Tallulah Falls School
Shown, from left, are Simeon Respress, Tae Yoon Kim, Chathan Clouatre, Grant Barron, Stein, Saniya Harrigan, Shawn Huebner, Sydney Murdock, Joe Griswold and Janki Patel.